Jewish World Review June 8, 2004 / 19 Sivan, 5764

The Reagan legacy: It was about more than his optimism

By Laura Ingraham

http://www.jewishworldreview.com | If only President Reagan were here to take in some of the commentary we've been hearing and reading about his life, his presidency, and his effect on politics. Even his former critics have rushed to the airwaves and op-ed pages to remember this great and good man. Sen. Ted Kennedy described Reagan's optimism "infectious," and the New York Times wrote that "he managed to project the optimism of Franklin D. Roosevelt."


Of course Reagan was an optimist. The important question is why.


Twenty years ago President Reagan's critics saw his optimism as the by-product of a naïve, unsophisticated worldview. They believed that his sunny demeanor was no more than an irrational denial of reality, which was caused by his dogmatic and outdated beliefs. Reagan was caricatured as the "amiable dunce," an avuncular soul who quit work each day at 5 pm and took naps in the afternoon. Only an unsophisticated rube totally disengaged from the complexities of the world at home and abroad could have such a positive outlook.


Twenty years ago, Reagan's optimism was not viewed by the elites as a mark of his character but as evidence of his general lack of understanding. The reason he could smile after walking away from the Reykavik summit (where he rejected a deal on arms control) was because he just couldn't comprehend the need for America to compromise with the Communists. The reason he could say "stay the course" with his tax cuts during the 1982 recession was because he could not fathom the fact that lower taxes were inherently unfair to poor people. The reason that he went to the Berlin Wall and said "Mr. Gorbachev, tear down this wall" is because he was ill-suited to master the nuances of international diplomacy.


Critics never understood the broad-based popularity of Reagan's conservatism because they never really understood why this guy was always smiling. Reagan was optimistic because he was he confident. He was confident because he knew what he believed was true. Good and evil exist. The individual trumps the collective. Our rights are G-d-given, not government given. And an America committed to these truths would overcome any obstacle.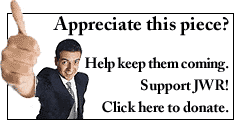 He was convinced that truth had a power beyond any individual and that it would ultimately prevail. More importantly he was deeply convinced that liberty could never make peace with tyranny. We could never compromise with evil but we must call it what it is and fight against it until it is vanquished. Reagan's optimism was founded on truth, on character, and ultimately on his great wisdom.

To his core, he was convinced that regardless of our political difference on this or that issue, the American people would always be committed to these truths and be willing to sacrifice for them. Reagan could be both self-deprecating and confident because his confidence was founded not on primarily a belief in himself, but on a belief in others.

This is why Reagan was rarely bothered by the cynics who enjoyed promoting the "Bedtime for Bonzo" caricature. (On the rare occasion on which the New York Times would write something positive about him, he liked to say, "I wonder what has gotten into them!")

The Reagan Revolution was a revolution of ideas based on basic truths about the human yearning for freedom, the power of the free market, and the dignity of all mankind. His political opponents routinely explain his success by attributing it to his masterful communication skills. "I wasn't a great communicator," Reagan insisted, years later, "but I communicated great things...and they didn't spring full bloom from my brow; they came from the heart of a great nation, from our experience, our wisdom, and our belief in the principles that have guided us for two centuries."

Indeed, his connection was with the "heart of a great nation," our people. This was the foundation of what the Washington Post yesterday referred to as "his buoyant optimism." That is why I came to Washington in 1987 to work as a junior staffer/speechwriter in his Administration. I was a kid just out of college and found myself working in the Reagan White House as an aide working in domestic policy. Most of us twenty-somethings came to Washington in the 1980s because we wanted to be some small part of the Reagan Revolution. His was a vision of an America that would never be defeated, of an America that is great not because of her government but because of her people.

When the President walked over from the West Wing to the Old Executive Office Building where most of the White House staff's offices are, the Secret Service would clear the hallways. But instead of a hush, immediately one could sense a palpable energy, and invariably, one would hear laughter. That man could lift your spirit with just a wink, his beaming smile, his strong wave. Even in the aftermath of the Iran-Contra scandal, he elevated us with his unshakeable belief in America's promise.

In the 1970s, Reagan was already speaking and writing of the coming collapse of the Soviet Union — often to great ridicule. But he knew what the educated experts in the détente crowd could never understand — that the "evil empire" was propped up by lies and subjugation and could not withstand the power of freedom's call. It was not the force of will, but the force of truth that propelled Reagan. It was this force that defined his life and will continue to define America for generations to come.

When I left the White House in early 1988, I had my five minutes with Reagan along with other domestic policy staffers. He showed us around the Oval Office and I was totally star-struck. Overcome with nervousness, I looked at him and said, "Mr. President, I think I'm going to faint." He looked at me, grabbed my arm for the presidential photographer, smiled and said, "Don't worry, I'll catch you."

President Reagan, thank you for catching us all when we as a nation were at risk of being overcome by cynicism and pessimism. Your optimism — based on an abiding belief in G-d and a fervent devotion to protecting the liberties that He has endowed us with — helped to lead a rebirth a freedom around the world and a renewed faith in the American spirit at home.

Mr. President, G-d has welcomed you home, and I have no doubt you have heard the words, "Well done, my good and faithful servant."
Every weekday JewishWorldReview.com publishes what many in Washington and in the media consider "must reading." Sign up for the daily JWR update. It's free. Just click here.


JWR contributor Laura Ingraham is the host of a nationally syndicated radio show and the author of the just released "Shut Up and Sing: How Elites from Hollywood, Politics, and the UN are Subverting America". Comment by clicking here.
© 2004, Laura Ingraham