Jewish World Review June 25, 2004 / 6 Tamuz, 5764

Lloyd Grove
"Don't jump!"; Rocco's rocky night; Rules? Which rules?; more
http://www.jewishworldreview.com | NEW YORK — ; Legendary rocker David Lee Roth, the famed frontman for the '80s megaband Van Halen, is apparently reinventing himself as an Emergency Medical Technician.

The other night at the Four Seasons Restaurant, the 48-year-old millionaire musician revealed to dinner companions that he has been living in a modest apartment on the Lower East Side and showing up most days for EMT training.

"I used to be a surgical orderly in South Central L.A.," Roth told me Thursday. "I started that when I got out of junior college in the early '70s, and that led to a variety of things in the outdoor medical fire force and training with the Green Berets." Because Roth's uncles and cousins also worked in the medical field, the career move came naturally, he explained.

Roth, who said he has relocated to New York from his estate in Pasadena, Calif., specifically to train as an EMT, said he hopes to obtain his certification in November and work as a volunteer one weekend per month.

"I want to be working in the outer boroughs. This city promises great color and insight in each and every neighborhood," Roth said. "On the Upper East Side, it's gonna be heart attacks and stomachaches. But in other neighborhoods, it's all trauma."

Presumably Roth won't be singing "Jump!" to a distraught person on a ledge.

He said he started his EMT training last Friday under the auspices of New York safety consultant Linda Reissman. "She's got a resume as long as your femur," Roth said. "That's a medical joke."

Speaking of jokes, fellow diner Lawrence Robins asked Roth at the table: "What would happen if you ended up having to work a rock concert and deal with somebody who had overdosed? Can you imagine the reaction when they saw you putting the oxygen mask on them?"

Roth, according to Robins, replied, "You know, it's funny, we've actually discussed what would happen if I rescued a Van Halen fan."

On Thursday, Roth — who has been very low-key about his new pursuit — demurred, "You're getting way off on a tangent, my friend. My dream would be to save a Scandinavian hikerette."

ROCCO'S ROCKY NIGHT

Embattled reality-television restaurateur Rocco DiSpirito seemed intent on blowing off steam at Wednesday night's model-glutted Mount Gay Rum party for the new mango and vanilla flavors at the Maritime Hotel.

The Rocco's restaurant namesake, who has been embroiled in a nasty legal battle with backer Jeffrey Chodorow, arrived at the rooftop Cabanas with an apparently already-liquid Bijou Phillips, who promptly put on a spastic, gyrating dance show for the paparazzi.

After hamming it up with fellow reality-TV whiz Bill Rancic of "The Apprentice," Rocco spent the evening darting around the packed party "hitting on everything that breathed," according to one of many witnesses.

Rocco looked increasingly sweaty and disheveled as the night wore on. By midnight, tongues were wagging that his typically well-coiffed hair was wild and crazy, and that he seemed to have suffered severe wear and tear.

On Thursday, a rep for Rocco told me, somewhat anti-climactically, "He was absolutely not intoxicated. As for Bijou Phillips, she was in his dinner group." Was there a love connection?

"He went home alone."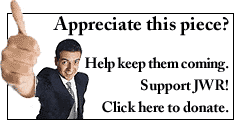 THE BRIEFING

COWARDICE WAR CANCELLED: A day after publicly suggesting that journalists in Iraq were afraid to really cover the country and instead were cowering in Baghdad and reporting rumors, Deputy Defense Secretary Paul Wolfowitz beat a hasty retreat and abjectly sought forgiveness. "I extend (my) heartfelt apology and hope you will all accept it," Wolfowitz said in a written statement broadcast on CNN Thursday. "I understand well the enormous dangers that you face and want to restate my admiration for your professionalism, dedication and, yes, courage. I pray that you all may return safely." A top Bush administration official apologizing to the news media? Has the world gone mad?

RULES? WHICH RULES?: While nearly 2,000 regular folks waited patiently in the rain outside Barnes & Noble the other day for Bill Clinton to sign copies of his presidential memoirs, "My Life," busy VIPs were escorted to the front of the line. Back in the last century, Clinton wasn't a multi-millionaire and he prided himself on representing, as he put it at the 1992 Democratic Convention, "all the people who do the work, pay the taxes, raise the kids and play by the rules — the hardworking Americans who make up our forgotten middle class." But a witness who was close by Clinton in the store's book-signing area told me that even a group from Madonna's concert crew received line-jumping privileges.


Comment by clicking here.

06/18/04: NBA numbers crunch; rap reversal?; strange bedfellows; more
06/19/04: I caused Howard Stern to go berserk
06/16/04: Lindsay Lohan is so, um, differently abled; Bill (O'Reilly) is busted!; naughty Natalie; more
06/04/04: Gwyneth gets hers in the U.K.; lost — and found — in translation; ladies who lunch — and the men they won't eat with; more
06/02/04: Stern warnings; X-Tina, the brand name; separating the Olsen Twins
05/28/04: "Sly Fox" outwits New York Times review; talk to the animals; Can't this man be stopped?; more
05/25/04: Picking over Bones; "W" this!; Motherhood, anyone?; more
05/21/04: Not so Ruff Ryders; fantastic voyage; sweeps month stunt?; more
05/19/04: A hex on 'Mr. and Mrs. Smith'?; girls just wanna get mad; more
05/14/04: What it was like to be Kerry's 'mistress'; Curious George (Stephanopoulos); more
05/13/04: The young (and snarky) JFK; Did Ford have a better idea?; more
05/07/04: Teresa on TV; Joan Rivers: "C-Class" at best; red-faced apology; more
05/05/04: Burger brouhaha over meat movie; the Age of Adu; what a difference an indictment makes; more
04/23/04: Ahoy, Katie!; Barbara and Martha, together again!; unreality TV?; more
04/21/04: Things don't go better with Coke?; swipes from the grave; "Mami" to the rescue; more
04/16/04: Does this 'Apprentice' need some etiquette lessons?; Kerry's laff-riot stepson; fully baked?; more
04/14/04: Dick Clark's diabetes; Barbara Walters' $6 Million book; reality (television) bites; more
04/09/04: S-e-x and the Koran; PETA targets Beyonce; more
04/08/04: Stephen King vs. ABC; trapping the love rat; Liv-ing it up; more
04/02/04: Don't mess with Brooke Hogan's dad; lawyers dancing on the head of a pin?; Trump vs. Trump?; more
04/01/04: D'OH! "Simpsons" actors in dispute with Fox; Diane Sawyer and Janet Jackson won't be bosom buddies; Condi and Maxim?
03/31/04: Hair-raising day on Wall Street; Foxy lady loses 50 Cent; How do you say "party animal" in Hebrew?; Rev. Al and Janet Jackson; more
03/26/04: Bye, bye Banfield; from porn to politics?; more
03/24/04: The perils of film criticism; Dole-ing out compliments; but what about a cure for career lag?; more
03/19/04: Trump trumps everything; Mario vs. Joe; Trudeau pays up; more
03/17/04: Remembering Hillary %*&$#! Clinton; PUT AWAY THAT KRYPTONITE!; more
03/12/04: OOPS!, did Jayson Blair do it again?; skewing Young; more
03/10/04: The laugh that dare not speaks its name; Mistaken identity? NAH!; Is this a great country or what?
03/05/04: Bush vs. Kerry: a Skull session; Kramer vs. The Times, scorch session; enthusiasm curbed; (Tina) Brown-nosing?
03/03/04: Oscars memorialize Hitler's fave filmmaker; baubles, bangles and Kelly Osbourne; moonwalking through cyberspace; more
02/27/04: Regan rebellion; Ed Limato strikes again!; tears for Tom; more
02/26/04: McCain predicts a nasty campaign; the misdirected missive; Janet Jackson, the interview; more
02/20/04: Introducing the Kerry sisters; cyberflap!; Snoop Dogg v. O'Reilly?; more
02/18/04: John Kerry's Friendster?; On the mend?; food for fraughtm; more
02/13/04: John & Carolyn, redux; Zell Miller shows the flag; kill Quentin?; more
02/11/04: HE FEELS BAD!; Dick Cheney, still not dead; more
02/06/04: Glittering Grammys; a laurel for Janet; Haryl's heart
02/04/04: Shriver quits NBC; "Marshmallow" Mike Tyson?; Super Bowl propriety?; MTV's next production?; more
01/30/04: The political forehead front; Alies meets Franken; the art of the hype; arrested career development?
01/28/04: Eyebrow-raising politics; call him indescribable; Woods vs. Williams; more
01/23/04: Eyebrow-raising mystery; who's punk'd anyway?; don't curb your enthusiasm; more
01/21/04: Ridiculous lives of the self-important stars; long arm of the law; all's fair in love and literature
01/16/04: Global warming at a glacial pace; targeting pop culture; Is 'the price of loyalty' too high?
01/14/04: Busting on the "cult buster"; Sarsgaard thinks globally; one angry woman; more
01/08/04: Sitcom star won't be excused from Blake murder trial; fierstein on fire; Drudge & Blumenthal, together again
01/07/04: Bono hits a brick wall; Britney, before the nuttiness; the Arianna primary; more
01/02/04: Where have you gone, Joe DiMaggio!?; "Bachelor" bruises; Returning to the scene of the crime?
12/31/03: Disaster for the defense; no-war Omar; the shoe must go on; more
12/19/03: Bob Shapiro's free commercial?; Are sophisticated and hip New Yawkers easily duped?; Positive Saddam fallout?; Ratty insult?
12/17/03: Magic Mystery Tour?; Russell Simmons battles ink by the barrel; Would it have killed her to say 'get well soon'?; no Gest room
12/12/03: Karenna defends her dad; now she tells us!; say it ain't so, Mo!; more
12/10/03: Man & wife, interruptus; pepperoni has feelings, too; more
12/05/03: The knives are out; Who's sorry now?; JWR in the news
12/04/03: The war of the gest-minnellis; something borrowed, something cashmere; fashion trendsetter, nailed!
12/03/03: Colombian grace under pressure; Lord of the Screwups; more
12/02/03: Curb your anti-Semitism?; fame fatigue?; bowing to pressure?; more
12/01/03: Dennis the Menace strikes again; first literary feud of the holiday season; Norma Jean & Hef in heaven?; the fog of McNamara; more
11/26/03: Catherine Crier raps Jacko's TV defender, refuses on-air hint of racism; At 50, Tina's in full cry; STAY OUT OF HER WAY!; more
11/25/03: The mogul strikes back?; go ahead, make Harvey's day; more
11/24/03: Georgette's pilfered baubles; prosecutor of pop?; absent but not missed?; Norman Mailer's prescription for education reform; more
11/20/03: Is a movie career in store for Maria Bartiromo?; People for the Unethical Treatment of Humans?; more
11/19/03: Scientologists on Razor's edge?; picking a winner?; source on a hot tin roof?; more
11/18/03: Clay Aiken neuters PETA?; THEM'S FIGHTIN' WORDS!; a mural for Joe
11/17/03: When networks attack!; leaky Fawcett; forget the Paris Hilton video!; more
11/13/03: Publicity hounds; Prophetic priest; Dumb and Dumber
11/12/03: Not so Rosie; do you believe in miracles?; catalogue of sins; My Heart Belongs to Koppel
11/10/03: Gen. clark on the Subway diet; life of the party; MTV's Dumb and Dumber?; the hug issue; but does the $6,000 shower curtain convey?; red faces at Buckingham palace?
11/06/03: Let them eat pita?; verbal jousting; pretenders to the throne?
11/05/03: Will Harvey Weinstein and Gregg Easterbrook now be pals?; crazed Quentin; more
11/04/03: Herding off the hipsters; more
11/03/03: Dean's tell-all on himself?; Lisaraye vs. Mya?; the odd couple; no need to panic; just don't call him "Scooter"!; Rosie scenarios
10/30/03: Autumn of the editor?; Cynthia Nixon's split may be costly; 'Burning' questions
10/29/03: Ah-nold, unauthorized!; a dilemma for Melissa Gilbert? not even Frank Gifford can help him now!; nobody wanted Elizabeth Hurley
10/28/03: It's Cher calling!; Brown Alert
10/27/03: Paparazzi uncensored!; where's Aaron Brown?; postcards from the middle; invasion of the party snatchers?; House flooded when not afire?; suspenders of disbelief?
10/23/03: Ace up Howard Dean's sleeve; Woody's ordeal; Paul Simon's kid makes good; the non-beginning of a beautiful friendship?
10/22/03: Showing the flag; Joe Frazier, smokin'!; see Carville bruised-up — sort of
10/21/03: Morris & Jaci's charm offensive; Hell hath no fury; Wintertime for Hitler
10/20/03: Isn't it rich?; men (and the occasional woman) behaving badly; peacenik John Lennon supporting the U.S. military?; courageous Connie
10/16/03: George Clooney and intolerable Drudgery; Cameron goes native; and you thought the war in Iraq was nasty?; now it can be revealed; star wars?
10/15/03: Kerik into the breach?; holiday pander?; "the Dink" corrects the record; more
10/14/03: Madge gets mad, lips are sealed; the candidates who listen; he who hesitates is Beatty
10/13/03: Clothes, but no cigar; New Yorkers put a Sox in it; mad at Matalin?; more
10/09/03: Gray Davis goes to the movies; Ali Wentworth, working blue; Law & Order?; pot of gold at the end of the rainbow room?
10/08/03: Art-time for Hitler; the actress who hates movies; lying "Liam"
10/07/03: Pond scum of the rich and famous
07/24/03: Ali and George, living it up; Mel Gibson's Washington power play
07/21/03: White House smear?
07/17/03: Yet another intern scandal; it's her party and she can pay if she wants to
07/14/03: On the auction block: JFK'S boxer shorts; love bytes the maestro
07/10/03: A hairy situation at Homeland Security; Van Susteren v. Orth
06/30/03: Rep. Patrick Kennedy: I've never worked a (bleeping) day in my life; Drudge's dressing down; Ken Lay's Kerry connection
06/26/03: Rapping the beat
06/23/03: Another Watergate scandal?; AL GORE TV!
06/19/03: Tony Snow, rocker?; that won't be crow on Mr. Carlson's plate
06/16/03: Missing dog, ransom demand, Hollywood ending
06/12/03: Giving both parties the needle
06/09/03: WHAT DID SHE KNOW, AND WHEN DID SHE KNOW IT?
06/05/03: Incoming from Barbara Bush?
06/02/03: Bob Dole's plan for fighting unemployment
05/29/03: Newt's new novel
05/27/03: Hitchens & Blumenthal, together again; He still believes in a man called Hope
05/09/03: Close, but no cigar; Romeo & Juliet with a happy ending?; Geraldo to help Heebs?
05/05/03: So Bill Gates and Tom Brokaw walk into a coffee bar . . .; hotel hell; more

© 2003, Creators Syndicate