Jewish World Review June 7, 2004 /18 Sivan, 5764
Now He Belongs to the Ages
By Lewis A. Fein


http://www.jewishworldreview.com | Americans of a certain age all have their memories of or opinions concerning Ronald Reagan, glorified as a hero or begrudgingly accepted as a political giant. But my fondest recollection of President Reagan is the piece of White House stationery that defines a personal album of growth, trust, acceptance and manhood: the letter with its cursive elegance — regardless of whether the signature bears the work of its namesake of the duplicative precision of a machine — expresses a sentiment, a profound sense of hope and joy — the president's best wishes for my bar mitzvah and its significance as a religious ritual and overall act of freedom.

The president's letter is both ordinary and profound because, though the words are themselves a customary act of thanks (both parties dispatch millions of letters, expressing joy, pain or admiration), Reagan's note, like the man himself, is something more, something better: A kindred wish that he, too, would like to recite the prayers and consume the wine — to bask upon the rabbi's words and the congregation's praise — and assume his rightful place in a processional of strength. For, if my coreligionists remember nothing else about this great man, they have a duty to recall Reagan's unshakable support for the Jewish people and the state of Israel.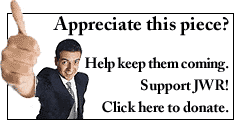 Indeed, history confirms that no Republican presidential candidate has yet equaled Reagan's share of the Jewish vote, garnering ballots from a people too easily lured by the false promises of liberalism in general and the Democratic Party in particular. This man — the same man who compelled his own children to watch the archival footage of Nazism's murderous campaign against the Jews, to remind his own family that anti-Semitism is the oldest and most foul hatred to have befallen mankind — neither sought nor needed the votes of such a small community of people. He educated his sons and daughters about the plight of the Jewish people, and the eternal righteousness of Israel's existence, for a simple reason: justice. He would not abide the private insults — the disgusting remarks about a sinister people, all of whom somehow manipulate the highest realms of politics, media and finance — that inevitably produce isolation, imprisonment and extermination. To this great disease of hatred and defeat, Reagan's words (like his warning to the Soviet Union) are firm and just, "No more!"

As Americans, we have a duty to remember these words and their historical significance. For Reagan's generation of free men and women are the very people who came before the gates of tyranny with the keys of freedom. It is the American soldier, forever memorialized by his actions in Europe (and justly celebrated yesterday by President Bush), who, like millions of other volunteer soldiers across this greatest of nations, bore witness to the crimes of fascist evil: gas chambers, gallows, barbed wire, electrified fences, attack dogs, crematoria, shallow graves, the wholesale murder of one million children and the virtual erasure of an entire people. Reagan's generation liberated the camps; Reagan himself tried to liberate the world. We forget these essential deeds at our own peril.

Historians will debate Reagan's position among the most important leaders of this country; partisans will fight about the wisdom of his strongest actions. But, for me, the words for this great man echo from the pulpit that marked my entry into adulthood.

Shalom, chaver. Goodbye, Mr. President. Now you belong to the ages.
Sign up for the daily JWR update. It's free. Just click here.
JWR contributor Lewis A. Fein is a writer and Internet entrepreneur in Los Angeles. Comment by clicking here.
© 2004, Lewis A. Fein