Jewish World Review June 10, 2004 / 21 Sivan, 5764

A chance to settle down and see where we are

By Collin Levey

http://www.jewishworldreview.com | When historians sit to pen the chapters on the 2004 presidential race years from now, Ronald Reagan will have a paragraph of his own. It won't be a tortured comparison with a current candidate. And it won't be because his death changed the outcome of the election — November is still a few months and many turns of the wheel away.


But the Gipper's voice this week resonated through the haze of years. It reminded us of his confidence in times more uncertain than these. And the sound cooled a molten period of national politics, at least for a moment.


Since the uprisings in Fallujah and Najaf, the news cycle has been relentless, careening from photos of flag-draped coffins to Abu Ghraib abuses to congressional hearings and back again. It seemed that the administration's sure-footedness had faltered and President Bush's supporters, some of them up for re-election themselves, began to look panicky. War was supposed to be easy and it wasn't. Why did we get ourselves into this?


Then Reagan died, and we heard him again: "Freedom is not the sole prerogative of a chosen few, but is the right of all G-d's children," he said while president. "We champion freedom because it is morally right and just." News anchors were reverent. Watching Americans filing by the coffin to pay respects, CNN's Anderson Cooper observed that the scene looked just the way Reagan had imagined his shining city on a hill would look: "Windswept, G-d blessed and teeming with people of all kinds."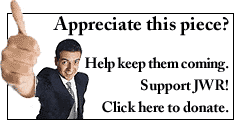 And for one week, the campaigning stopped and we all got a breather, a chance to settle down and see where we are.

We got to see we've been deeply divided before and got through it. As we've looked at the fog of war in recent weeks, it's seemed that latter-day American wars have been hobbled by a lack of public support for fighting an enemy we had mixed feelings about. That was the case in Vietnam (see Hanoi Jane) but it was equally so in the Cold War, when many of Reagan's own peers in Hollywood happily joined with friends of socialism and communism.

The antidote to the intellectual mushiness then wasn't subtlety or coercion; it was clarity. Reagan's success and the endurance of his legacy are a reflection that Americans respond best to big ideas.

Bush's presidency, in this column's view, doesn't approach the sheer size of Ronald Reagan's in its vision, but it does share something else: existence in a time when one single issue dominates, when a clash of civilizations informs every other discussion. Reagan steered the country through the whirlpools of the Cold War arms race and Bush must do so with Islamic terrorism. Those are legacies, rain or shine.

John Kerry's decision to take a few days off the fund-raisers and campaign trail was appropriate, but it was also smart. The moment gives him a chance to switch gears at the perfect time — just far enough from the convention to perfect a new tone. When he spoke in Seattle last month, Kerry's ovations weren't for his plans and policies. The crowd only howled ferally when he said the word "Bush." Until now, it was Bush who has raised Democrats' pulses, not the droning senator from Massachusetts.

That will change. For the next few weeks at least, the magic word for leadership will be "optimism." The Bush campaign has already been running ads in swing states like Washington using the word, but it will be even more important to Kerry as the challenger. Reagan defeated a beleaguered incumbent with soaring imagery and hope. Kerry will be under pressure to modulate the bitter and resentful coterie at the Democrats' convention, knowing the GOP's in New York will be a warm glowing tribute to Ron.

The substance matters, too. Aside from our international policy, Kerry's campaign has been marked by a focus not on traditional class warfare, but on a new kind of middle-class entitlement, a sense that the necessities of a suburban lifestyle are rights, freeing us to spend our money on more frivolous pleasures. We shouldn't have to pay high prices for gas or for prescription drugs, which drain the disposable income available to buy ever-bigger palettes of digital TV and plenty of mochachinnos, the platform suggests.

That's a budgeting philosophy at odds with the Reagan policies that brought an economic boom through the '80s and '90s. His economic policy was as optimistic as his foreign policy, and sewn from the same beliefs about humanity — that we had the ability to do it ourselves if we could just be freed from the yoke of government. Stephen Moore, president of the Club for Growth, called him "arguably the most important economist of the 20th century."

As somebody who was 5 when Reagan took office, I belong to a generation that already has to make an effort to recall the despair and pessimism that preceded him. Had Reagan died in a quieter time, we surely would have known his value and honored him still. But we wouldn't have needed him nearly so much.
Every weekday JewishWorldReview.com publishes what many in Washington and in the media consider "must reading." Sign up for the daily JWR update. It's free. Just click here.

JWR contributor Collin Levey is a weekly op-ed columnist at the Seattle Times. Before joining the Times in September 2003, she was an assistant editorial features editor for The Wall Street Journal. Comment by clicking here.
© 2004, Collin Levey