Jewish World Review June 30, 2003 / 30 Sivan, 5763

Arabs' choice: The 'road map' or Israeli fury

By Sidney Zion

http://www.jewishworldreview.com | Here's where Middle East doves and hawks come together on the Israeli-Palestinian war: They believe that George W. Bush is Bill Clinton. Huh?

Well, the doves love President Bush's road map. They see it as a return to former President Bill Clinton's hands-on-Israel policy that will deliver the West Bank and Gaza to the Palestinians.

The hawks hate it for the same reason.

Woe unto the Palestinians if they're both wrong. Because if Bush is true to his reputation as a man who means what he says, this road map will not be the road show they think it is. Instead, it will be the last chance they have for peace.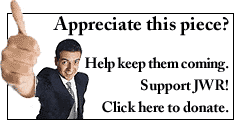 The road map they signed on to obligates them to destroy the infrastructure of Hamas and the other terrorist gangs as a first step. If they don't do that — and Mahmoud Abbas, the prime minister, says he'll never use force to do it — the only thing the Palestinians will have is the hope that Bush will double-cross Israel and force it into appeasement.
If they're wrong — and Israeli Prime Minister Ariel Sharon is betting his life, if not his country, that they are — Bush will walk away from the road map and allow Israel to do what we did in Afghanistan and Iraq.
The way of the world has never changed. If there is no diplomatic solution, there must be a military solution. Israel cannot sit around and have its citizens killed while the Palestinian politicians sit back and say they have no power over their terrorists.
Yet this is exactly what Israel was told to do by the Clinton administration and in lesser ways by the Bush administration.
(w)E-THE PEOPLE
Let your voice be heard! To express your concerns about the administration's plan for the Holy Land, you may contact

President George W. Bush by fax: (202) 456-2461, (Andrew Card, Chief of Staff) or by e-mail.

Dr. Condoleeza Rice, National Security Advisor, FAX (202) 456-2883, PHONE (202) 456-9491

Mr. Elliot Abrams, the Director for Near East and North African Affairs, at FAX (202) 456-9120, and by phone through his secretary Joanna, (202) 456-9121

Donald H. Rumsfeld, Secretary of Defense, 1000 Defense Pentagon, Washington, DC 20301-1000 or by e-mail form: http://www.defenselink.mil/

Paul Wolfowitz, Deputy Secretary of Defense, 1010 Defense Pentagon, Washington, DC 20301-1010 or by e-mail form http://www.defenselink.mil
So what's the difference?

It's Sharon, who has been around forever and has seen American presidents back — and then back away from — Israel, from Harry Truman through Dwight Eisenhower, Richard Nixon, Jimmy Carter, Bush I and Clinton. Sharon trusts this president.

I think he has good reason. Bush is the first American president to stand strong against terrorism. This surely has to do with what happened Sept. 11, 2001, but maybe more. Long before W became president, he and Sharon were friends — Sharon took him on a helicopter tour of the West Bank, and few who have done this with Sharon can forget his description of Israel's pre-1967 borders.

The Israeli hawks have been at Sharon ever since he agreed to the road map. They accuse him of selling out the land of Israel, and they cannot believe he used the word "occupation" for the West Bank.

The doves praise him for this. They see him as Nixon going to China — as if the Israeli public wanted nothing of peace until Sharon agreed to the road map. Or as if America wanted nothing to do with China until Nixon. The analogy is wrong, stupid.

The Israelis were never the problem. They wanted peace even before their existence as a state. The Arabs were the problem then, and they are the problem now.

The terrorist gangs that pledge to destroy Israel are right in one way about the road map: If it works — if Abbas overcomes his boss Yasser Arafat and destroys their arms and infrastructure — they will lose their dream of wiping out "the Zionist entity."

But it Arafat puts down his old deputy and thus kills the road map — well, as I said, woe unto the Palestinian people.

Every weekday JewishWorldReview.com publishes what many in Washington and in the media consider "must reading." Sign up for the daily JWR update. It's free. Just click here.

JWR contributor Sidney Zion is a columnist for the New York Daily News. Comment by clicking here.

© 2003, New York Daily News