Jewish World Review June 27, 2003 / 27 Sivan, 5763

Joe Scarborough
More bad news for the Bush haters
http://www.NewsAndOpinion.com | U.S. troops have uncovered millions of documents that detail Iraq's massive chemical and biological weapons programs. It's good news for America, but bad news for Bush-haters still looking for a reason to criticize the war.
REMEMBER THE U2 song with the hook "How long…how long must we sing this song?" Well, it's an appropriate chorus for those of us still dealing with those on the left who hate the fact that America won the war.
They first predicted a quagmire; they were wrong.
They then blasted the President for not putting in the troops required to win the war; on that count, they were wrong.
When we breezed into Baghdad, Bush-haters then predicted prolonged riots and chaos, saying Baghdad was better off with Saddam, wrong again.
Then they moved on to Pottery-gate, with Peter Jennings and the New York Times blaming America first for the looting of 170,000 priceless artifacts. When that number ended up being closer to 30, no apologies, no retractions.
Then they moved on to Weapons of Mass Destruction, so blinded by their hatred of Bush that they forgot Saddam himself admitted having the weapons in 1998, and the UN confirmed that fact last fall.
And today, these poor, whining naysayers have been proven wrong once again.
NBC learned that these documents give detailed instructions on how to hide materials and lie to UN weapons inspectors, and how to hide the deadly VX nerve gas. US troops also found materials to make the extremely deadly biological agent Ricin.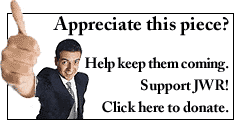 On top of that, an Iraqi scientist also led troops to nuclear weapons parts and documents
that were to be used to restart Saddam Hussein's nuclear program. All in all, a great day if you believe stopping the proliferation of chemical, biological and chemical weapons is a good thing. But, it was a very bad day indeed if world security takes a back seat to your personal hatred of George W. Bush.
Enjoy this writer's work? Why not sign-up for the daily JWR update. It's free. Just click here.


Former Congressman Joe Scarborough (R-Fla.) hosts "Scarborough Country," 10 p.m. ET, weeknights on MSNBC. Comment by clicking here.
06/26/03: Cancer or arousal?
06/25/03: Will institutional — and, now, governmemt-endorsed — racism ever end?
06/23/03: Held in Saudi Arabia against their will --- for oil!?
06/20/03: They're organizing to prohibit police from pursuing criminal suspects who refuse to stop
06/19/03: What burglars know about the Second Amendment
06/18/03: CBS courtship of Pfc. Lynch: Big media tries to win the heart of a teenage girl
06/13/03: 'The Real Deal' on White House hypocrisy
06/12/03: What's wrong with the way policy is made in Washington, D.C.?
06/11/03: 'The Real Deal' on Hillary and media double standard
06/09/03: Not in Babs' backyard!
06/06/03: 'The Real Deal' on Hillary's book deal
06/05/03: The way we get our news has been altered forever
06/04/03: 'The Real Deal' on the Martha Stewart witch hunt: Making a big deal while others get away
06/03/03: 'The Real Deal' on Sean Penn's screed
06/02/03: "Alternative-lifestyle bachelor"?
05/30/03: Amnesty International makes U.S. the number one human rights villain
05/29/03: Why do we ignore home grown terrorism?
05/23/03: Bizarre Blair
05/21/03: 'Capitol Offense'
05/20/03: A life in jail for 'conduct unbecoming'!?
05/19/03: You spoke, MCI listened
05/16/03: 'The Real Deal' on the Democrat attacks: Tasteless, and also untrue
05/15/03: 'Capitol Offense' goes postal
05/14/03: L.A. Times Book awards honor a child abuse manual
05/13/03: Reporter spills the beans on media's bias in covering Iraq
05/12/03: Danny Glover's supporters start letter writing campaign with ugly, racial overtones
05/09/03: Berkeley's Center for Middle East Studies funded by al Qaeda financial supporter?
05/08/03: Why they love Castro
05/07/03: Book industry finally opening doors to conservatives
05/06/03: 'The Real Deal' on ABC News: Another media insider expose
05/05/03: Why, despite recent successes, re-election is not a sure thing
05/02/03: 'Capitol Offenses'
05/01/03: 'The Real Deal' on Hillary Clinton
04/30/03: The Iraq-al Qaida link: The elitists were wrong
04/29/03: Shiites biting the hand that released them
04/28/03: What the capitulation of Iraqi Deputy Prime Minister, Tariq Aziz, means for the rest of the world's tyrants
04/25/03: Noble-sounding names mask political motives
04/22/03: Bill Clinton should heed Paul McCartney's advice
04/21/03: The president with an I.Q. of a pot of clay has made New York City elitists look like a bunch of bumbling idiots
04/16/03: Russia, France and Germany: Not stupid, just immoral
04/15/03: CNN's too little, too late apology
04/14/03: Who's the first elitist to admit they were wrong about the war?
04/10/03: He's baaack --- and his terror tactics deserve an 'F'
04/09/03: Iraqi lawyer and American teenaged girl proved themselves to be 'The Real Deal'
© 2003, MSNBC