http://www.NewsAndOpinion.com | Like Diogenes searching for an honest soul, I keep looking for good -- or, perhaps, even better -- applications for the Apple Machintosh. I found one, while another fell a bit short of expectations.
BUSINESS CARD COMPOSER, from BeLight Software of Odessa, Ukraine, is a remarkably capable program aimed at a specific need. For $39.95, you get a program capable of designing and printing business cards via ink-jet or laser printers. It's written to work with Mac OS X (stet) and it performs quite well.
Once the domain of private eyes such as TVs Jim Rockford, the need for fast printing of business cards has expanded to entrepreneurs, mobile executives and hobbyists of all stripes. Business Card Composer (details online at http://www.belightsoft.com/) features a bunch of templates and suggested layouts, horizontal and vertical, as well as the ability to design your own card.
Using some artwork at hand, I set to work on a blank form and designed a card of my own in about 20 minutes. It wasn't as intuitive as some processes might have been, but the end result was fine, and highly customizable. You can create cards with small type faces, for example; though the program lists 9 point as its lowest size, I had no trouble specifying some type at 8 points, or even 7 point size.
If one truly wants to be creative, it's possible to add a photo background to the card, something that is popular in some circles. This would probably work best when printing on a color ink-jet printer and using "photo stock" that breaks down to business card size.
The software also can integrate with Apple's Address Book application. This would let a company set up a standard card design and then print cards for employees as needed. Uniformity "an essential in the world of corporate 'branding'" can be easily maintained with this approach. Another very impressive feature is that this program will create a version of your design in the Adobe Acrobat PDF format, which a commercial printer could use to create cards on higher-grade paper stocks.
I don't know of another, similar program for Mac users, and as such, Business Card Composer has the market pretty much sewn up. For those needing this kind of function, it should be a welcome addition.
POWERMAIL 4.1.3, recently released by CTM Development of Switzerland, is a $49 paradox. The program is an e-mail "client" for Mac OS X users that is said to replicate many of the functions of the long-lost (and non-OS X-compliant) Claris E-Mailer. Like more popular programs, it offers the ability to filter e-mail by subject, sender, account (sent from or received by) and then, if you desire, file these in separate folders or e-mail boxes. It will simultaneously check multiple e-mail accounts and download e-mails, provided you have enough communications "bandwidth"? to do so.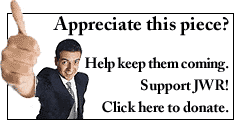 On the plus side, PowerMail will also, like Business Card Composer, integrate with Apple's Address Book application. This makes it easier to create and send e-mails. However, that's about all that PowerMail will integrate with, and this is the beginning of sorrows for some users.
One of the neat things about applications on the Mac is that you can specify something like PowerMail in your system preferences and then, no matter what program, if you click on a "create e-mail" or "e-mail this file" button, it fires up the application, attaches the file or creates the e-mail and you're ready. I've seen this done with Apple's own Mail.app (stet), with Microsoft Entourage, and with Qualcomm's Eudora. But not with PowerMail, not from Microsoft Word or Excel for the Mac.
Moreover, my testing of PowerMail saw the application freeze up on both an older PowerBook (G4 Titanium running at 500 Mhz) and a relatively new G4 desktop (running at 1.2 GHz). Getting "unstuck" was not pleasant. And, finally, my download version of the software lacked a manual -- or any hope of getting one -- and the firm didn't answer some questions I'd had posed via e-mail.
Instead of spending $49 on a program that would frustrate you, it might be better to go ?double or nothing? and spend $95 or so on a stand-alone copy of Microsoft Entourage. Or, stick with Mail.app, which is a pretty good program in and of itself.
Find this column useful? Why not sign-up for the daily JWR update. It's free. Just click here.
JWR contributor Mark Kellner has reported on technology for industry newspapers and magazines since 1983, and has been the computer columnist for The Washington Times since 1991.Comment by clicking here.