[ J E W I S H L I V I N G ]
gilo diarist
Lives on the
Bus of Death, Con't.
By Harvey Tannenbaum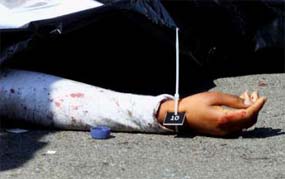 With this dispatch, we offer brief vignettes of the latest "sacrifices for peace" in the deadliest Arab bombing in Jerusalem in six years. Among those who died were individuals who had previously cheated death, an Ethiopian girl who feared the end was near, and a would-be ballerina.
How sad, nay, pathetic, that the snuffing out of human lives has become so frequent, that, in most of the media, the death of innocents is reduced to nothing more than another mark in a tally --- and afterthoughts.
reality check
Inviting losses on two fronts
By Frank Gaffney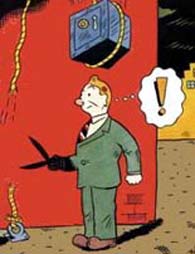 In the months that have followed the murderous attacks launched on September 11th, President Bush has repeatedly, and correctly, emphasized that the war on terror must be fought both at home and abroad. He has recently underscored his determination to make advances on these two fronts by creating a real capability for homeland defense and by adopting, where necessary, preemptive measures against our enemies overseas.
Unfortunately, Mr. Bush's efforts on the home front and abroad are in danger of being significantly undermined by actions expected to occur this week.
DEAR JWR READERS
JWR IN THE NEWS --- LITERALLY!


Your favorite website was recently profiled by the prestigious wire service, United Press International (UPI). Writer Lou Marano did an absolutely amazing job capturing, not only what makes JWR tick --- but also the overall situation we are facing. If you have a free moment, click here to view the feature-length article.


In friendship --- and gratitude,
Binyamin L. Jolkovsky,
Editor in Chief
JewishWorldReview.com


[ D A I L Y I N S P I R A T I O N ]



WISDOM EACH DAY:
How the really wise stay fit




[ L I F E S T Y L E S ]

Consumer Reports on JWR: Keeping your backyard alive in a drought

Dr. Ed Blonz: Legit nutritionists

Suit against a Catholic church ... by members not living up to its ideals

Police given free rein on buses

'Breakthrough' diabetes drug tested

Here's a tip: IRS will now be scrutinizing waiters, bellhops and other 'service staff'

[ I N S I G H T ]


Michael Kelly: The greediest bunch of no-talent morons the world has seen since the Harding administration

Ian Shoales: Spreading fertilizer on a dictionary to try to raise a novel

Art Buchwald: Homeland security parking

Argus Hamilton's political zingers!

Capital Comment: Daily news notes, political rumors and important events that shape politics and public policy in Washington and the world

Bob Greene: What if fans really prefer steroidball?

Dennis Prager: The commencement address I would give (MUST-READ!)

Debra J. Saunders: Delusions of suppression

Kathleen Parker: The event currently known as 9-11 needs a new name

MUGGER: McAuliffe, the pirate

James K. Glassman: Star Power? (SMART!)

Wesley Pruden: The golden perk of the presidency

Wendy McElroy: A dark cloud shades U.N. Women's Treaty

Linda Chavez: We didn't 'just do it'

David Limbaugh: The Bush Doctrine's other important pillar (EXCELLENT!)

Don Feder: Hate crime, don't criminalize thoughts

Jonah Goldberg: The Nazis aren't coming

Michelle Malkin: A world without "F's"

Dick Morris: Learning to love the feds

Walter Williams: Does it count?





[ W O R T H 1 0 0 0 W O R D S ]

Mallard Filmore

Lurie's World

Wayne Stayskal

Michael Ramirez

Jeff Stahler

Gary Varvel

(Att. working columnists and editorial cartoonists: Think you have what it takes to be featured on JWR? Drop us a note. And readers: We're always open for suggestions!)



[ F A S T P O L I T I C S&nbsp ]








require ("t-ssi/rtorah.html"); ?>