[ J E W I S H L I V I N G ]
jerusalem diarist
Troubled, but Not Terrorized
By Charles Krauthammer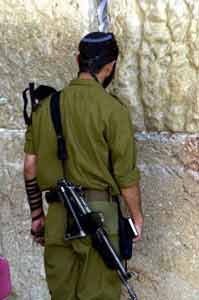 What despair there is in Israel, I found, tends to be generational. It is the parents who are depressed. The kids -- the young people in the army -- are defiant.






yiddishe kups
The Creator helps those
who help themselves


By Dr. Abraham Twerski, M.D.
We cannot allow the terrorists to create panic and to bring us to our knees. There are steps we can and must take to regain control so that we don't "lose our grip" on life. The British survived relentless bombing of London during the blitz in World war II. We too, will survive.
One of the things we can do to help ourselves is to pray. The power of prayer is widely recognized. In the aftermath of September 11 people of all faiths held special prayer services. The real question remains, however: "Why turn to the Creator? After all, He let the disaster happen, didn't He?"
perspective
Is the War On Terror
a war of ideas?
By Mona Charen
The notion that dictators can be more ruthless with their terrorists and radicals is a snare. The Israelis naively assumed at the start of the Oslo process that Arafat would be better able to handle groups like Hamas and Islamic Jihad. Instead, the Palestinians Arafat "handled" were the democrats -- nearly all of whom are dead, while the terrorists were given free reign.
DEAR JWR READERS
JWR IN THE NEWS --- LITERALLY!


Your favorite website was recently profiled by the prestigious wire service, United Press International (UPI). Writer Lou Marano did an absolutely amazing job capturing, not only what makes JWR tick --- but also the overall situation we are facing. If you have a free moment, click here to view the feature-length article.


In friendship --- and gratitude,
Binyamin L. Jolkovsky,
Editor in Chief
JewishWorldReview.com


[ D A I L Y I N S P I R A T I O N ]



WISDOM EACH DAY:
Learning from the Evil Inclination




[ L I F E S T Y L E S ]

Bruce Williams on JWR: Options for long-term care; will gives status as beneficiary, not policy; Medicaid and trailers

Dr. Robert Wascher's health report: Young Men, Obesity & Heart Disease; Breastfeeding & Obesity; Irritable Bowel Syndrome & rectal pain threshold; more data on cox-2 inhibitors & cancer; more

Folks with 'two left feet' and what we can learn from them about stroke and multiple sclerosis

[ I N S I G H T ]



Stanley Crouch: U.S.'s Own Powder Keg --- Convicts & Converts

Bill Steigerwald: On Media: U.S. News opens closet of Secret Service

Jack Kelly: Homeland insecurity: Vast majority $68.7 billion proposed for weapons will be spent on systems of little use in the war on terror

Jonathan Turley DESTROYING A FAMILY TO SAVE IT

Argus Hamilton's political zingers!

Capital Comment: Daily news notes, political rumors and important events that shape politics and public policy in Washington and the world

Jeff Jacoby: Looking at the horror

Clarence Page: Bush's security plan leaves large gaps

Dick Morris: Hey, journalists and Dems: Dubya is doing just fine

The Medicine Men: The FDA, drug companies and life-saving drugs:Who's the fox and who's the hen now?
---
FATHER'S DAY COLUMNS

Patricia Pearson: Men are not fathers first and foremost

Tom Purcell: Contemporary Father's Day: A conversation for the ages

David Brewster: The Value of a Father

Michael Long: Five Thoughts On Father's Day: Personal Stuff

Michelle Malkin: "He was a good man"

Lori Borgman: The Ways a Father Says "I Love You"


---
Greg Crosby: Yeah, Yeah, Yeah

Bob Greene: We act as if they are people separate from us

Marianne M. Jennings: The sum of all fears in vouchers

Joe Bob Briggs: Tyson's 2nd childhood

Steve Young: Coulter for the defense?: Will Ann Be Joining The Moussaoui Team?

Debra J. Saunders: A real-life Mrs. Cleaver

George Will: Along Via Ferlinghetti, the Beat Goes On





[ W O R T H 1 0 0 0 W O R D S ]

Mallard Filmore

Wayne Stayskal

Lurie's World

Bob Gorrell

Jeff Stahler

Gary Varvel

Mike Shelton

(Att. working columnists and editorial cartoonists: Think you have what it takes to be featured on JWR? Drop us a note. And readers: We're always open for suggestions!)



[ F A S T P O L I T I C S&nbsp ]








require ("t-ssi/rtorah.html"); ?>