[ J E W I S H L I V I N G ]
reality check
June 1967 Revisited
By Jonathan Tobin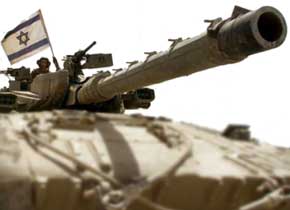 New book on war debunks myths and offers insight into a war that never ended.
perspective
Yasser, that's our baby: How
long will this farce continue?
By Paul Greenberg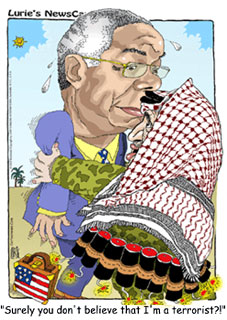 Nothing about Yasser Arafat is as frightening as how seriously he is still taken as some sort of partner in what is comically called the peace process, which is the diplomatic name for the war process that has now dominated the Middle East for almost two years.
l'chaim
The Promised Land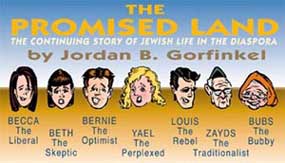 Jordan "Gorf" Gorfinkel's Jewish Gen-X strip is back! Sorry for the delay.
DEAR JWR READERS
JWR IN THE NEWS --- LITERALLY!


Your favorite website was recently profiled by the prestigious wire service, United Press International (UPI). Writer Lou Marano did an absolutely amazing job capturing, not only what makes JWR tick --- but also the overall situation we are facing. If you have a free moment, click here to view the feature-length article.


In friendship --- and gratitude,
Binyamin L. Jolkovsky,
Editor in Chief
JewishWorldReview.com


[ D A I L Y I N S P I R A T I O N ]



WISDOM EACH DAY:
Wisdom of the Torah (Bible) confirmed by modernity




[ L I F E S T Y L E S ]

Dr. Peter Gott: Assessing difficulty breathing

Monkeypox could be used as bioweapon

Supreme Court Justice named to cowgirl hall of fame

Prisoners accused in ID theft rings

Bruce Williams on JWR: Long-distance landlords; quit-claimed homes and problems




[ I N S I G H T ]


John Leo: Heck hath no fury...

Greg Crosby: Secret meeting (GREAT!)

Capital Comment: Daily news notes, political rumors and important events that shape politics and public policy in Washington and the world


---
JUNE 17 NAMED 'ATHLETES OBEY THE LAW DAY'
Sports Stars Must Abide By Laws That Govern Rest of Us for 24 Hours — Andy Borowitz
---
Argus Hamilton's daily chuckle (ZINGERS, SUPER-SIZED!)

Larry Kudlow: ANSWERS. NOW.

Don Feder: GOP wimps lacking courage to set record straight

Dick Morris: Sanctions are a potent weapon

Leonard Pitts, Jr: A gift of the Masai (SUPERB!)

Jonathan Turley: A comedy of eros

Wendy McElroy: This Father's Day, send justice

Jack Kelly: Some heads need to roll

Bob Greene: 'They made us feel like heroes' (POWERFUL!)

Jonah Goldberg: Mars needs women --- and men too

James K. Glassman: Squashing broadband

Suzanne Fields: The dead white males, they are a changin' (EXCELLENT!)

Nat Hentoff: The scary 'new' FBI

Kathleen Parker: Ashcroft's modest proposal a battle cry for hysterics

Jack Kemp: New role models for Africa

George Will: The AIDS Fear Factor

Bill O'Reilly: What does Bono want from us?

Thomas Sowell: An old "new vision"





[ W O R T H 1 0 0 0 W O R D S ]

Mallard Filmore

Lurie's World (PRINT-IT!)

Gary Varvel

Jack Higgins

Jeff Koterba

Wayne Stayskal

David Cox

Michael Ramirez

Gary Brookins

(Att. working columnists and editorial cartoonists: Think you have what it takes to be featured on JWR? Drop us a note. And readers: We're always open for suggestions!)



[ F A S T P O L I T I C S&nbsp ]








require ("t-ssi/rtorah.html"); ?>