[ J E W I S H L I V I N G ]
megiddo diarist
Lives on the Bus of Death
By Harvey Tannenbaum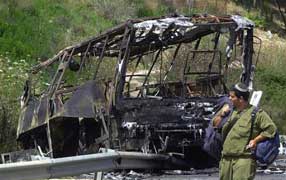 "A Palestinian suicide bomber pulled a car packed with explosives alongside a moving bus and blew it up Wednesday in a huge fireball that killed 17 passengers -- 13 of them Israeli soldiers," was how the Associated Press, ever so clinically, reported the massacre at the Megiddo junction in Northern Israel, immediately going on to offer some "analysis" of the event.
With this dispatch, we offer brief vignettes of the dead's lives. Among them, individuals who had previously cheated death, a "second mother" to a Down Syndrome child, and outright heroes. How sad, nay, pathetic, that the snuffing out of human lives has become so frequent, that, in most of the media, the death of innocents is reduced to nothing more than another mark in a tally --- and afterthoughts.
reality-check
Free the FBI: A plea
from a former 'radical'
By David Horowitz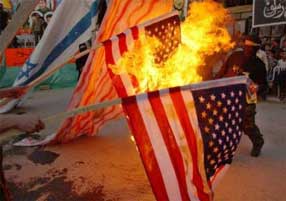 While many people in the civil rights business are genuine liberals, others are people who sympathize with terrorists like the Panthers and the Weathermen, and now Hamas and al-Qaeda. This should be a warning to all Americans who care about their country. It is not only that we have to take the threat to our homeland more seriously. We have to become more sophisticated about the threat we face.
advice
Ask Wendy
By Wendy Belzberg

Sensible advice from a lady who shares your values. Almost any question answered.
~
Sacrifice my happiness or my family's?; bad call on 'friend'
[ D A I L Y I N S P I R A T I O N ]



WISDOM EACH DAY:
The wisdom of the ... young; beautiful, short and insightful story




[ L I F E S T Y L E S ]

Dr. Peter Gott: Can aluminum anti-perspirants lead to Alzheimer's?; for almost a week after I shave my legs, they itch terribly

A year later cancer pill good, not great

Colon cancer test not for 40-somethings

Consumer Reports on JWR: Choose your PDA




[ I N S I G H T ]



Jonah Goldberg: The war on euphemisms

Richard Lederer: On Language: Jest for the health of it (FUN!)

Art Buchwald: The FBI changes its ways

Capital Comment: Daily news notes, political rumors and important events that shape politics and public policy in Washington and the world

Catherine Seipp: "The Man Show" signaled the end of civilization as we know it? Have you seen "Crank Yankers?"

Argus Hamilton's daily chuckle (ZINGERS!)

Michelle Kennedy: This game fits parents to a tee

Joe Bob Briggs: Ground Zero emptiness

Matt Towery: The emerging confused GOPer?

Linda Chavez: The GOP must win the Hispanic vote. Here's how (SMART!)

Bill Schneider: White House warnings were effective tactical move

Tony Snow on the issues of the day

Bob Tyrrell: Lack of "intelligence" --- and sheer stupidity

Marianne M. Jennings: Where was Agent Rowley when the FBI needed her? (OUCH!)

Michael Kelly: Guilty at the Top

James K. Glassman: Frank investing advice

John H. Fund: It's time for President Bush to stand up to California's senators

Michael Long: Stay Awake, Grads, I'm Almost Done Talking: Life, and How to Live It (GREAT!)

Suzanne Fields: There goes the bride

Mort Kondracke: India-Pakistan war would ruin Bush's foreign policy image

Larry Elder: Strange times at Santa Monica High (OUTRAGEOUS!)

Ann Coulter: Build them back

Cal Thomas: G (Global) W (Warming) Bush?





[ W O R T H 1 0 0 0 W O R D S ]

Mallard Filmore

Lurie's World

Gary Brookins

Gary Varvel

Mike Lukovitch

John Deering

Wayne Stayskal

Mike Shelton

(Att. working columnists and editorial cartoonists: Think you have what it takes to be featured on JWR? Drop us a note. And readers: We're always open for suggestions!)



[ F A S T P O L I T I C S&nbsp ]








require ("t-ssi/rtorah.html"); ?>