[ J E W I S H L I V I N G ]
perspective
Palestinian democracy
won't make Israel safer
By Don Feder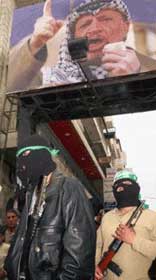 If we can only bring democracy to Ramallah, ensure accountability and secure civil liberties, Israel will have a real peace partner, the theory goes.

But Haiti's multiparty elections have done nothing to curb the reign of violence on the island. Democratic India and lurching-toward -democracy Pakistan are poised to go to war. Hitler came to power through the democratic process.






reality-check
Is George Tenet endangering
peace in Israel?


By Michael Ledeen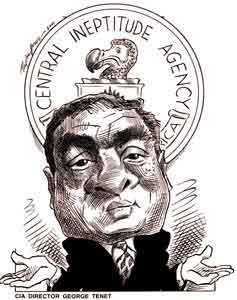 Perhaps the most astonishing thing about recent Middle East diplomacy is that the director of Central Intelligence has become a member of the Foreign Service and also a technical adviser to the Palestinian terrorists, and nobody seems to think there's anything unusual or objectionable about it.
perspective
Al Qaeda's more
dangerous new front
By Dick Morris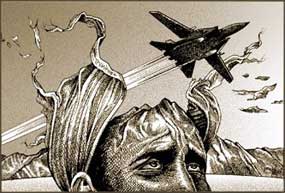 Like the "agents provacateur" anti-union bosses would send into the ranks of labor pickets to foment violence, Al Qaeda and other Muslim terrorist groups are trying to start jihads at each end of the Islamic world --- against the Jews in the Middle East and the Hindus on the subcontinent. They punch the Israelis in the nose to egg them on to retaliate against the West Bank Palestinians. They bomb the Indian Congress to ratchet up New Delhi's anger against Pakistan. Their goal? To foment a two front religious war.
[ D A I L Y I N S P I R A T I O N ]



WISDOM EACH DAY:
Oppression, gifts and fools




[ L I F E S T Y L E S ]

Dr. Ed Blonz: Sugarless gum can cause stomachaches; hair-vitamins and weight gain

New device for detecting melanomas

Cancer finally becoming a serious enough threat to receive increased senate funding?

Bruce Williams on JWR: Is gold a good investment?




[ I N S I G H T ]



Dayle A. Shockley: High School grads: One last reading assignment: 25 things you should know that you probably didn't learn in school (GREAT!)

Ian Shoales: Of Humice and Men

Capital Comment: Daily news notes, political rumors and important events that shape politics and public policy in Washington and the world

Paul Greenberg: 'Speak, that I may see thee' or: letters from an editor

Argus Hamilton's daily chuckle (ZINGERS!)

Larry Atkins: An American soccer fan hopes against hope

Martin Gross: We need a declaration of war

Kathleen Parker: Too tidy lives suppress the spontaneous spirit

MUGGER: All Arabs to one side

Bob Greene: How long will America be defensive?

David Limbaugh: Phantoms of lost liberty

Wesley Pruden: The spring fashion in flip-floppery (SPOT-ON!)

Dennis Prager: The stripper and the Christian school: Thoughts on what a Christian school should do when a parent is a stripper and on whom the biggest sinner here is

Michelle Malkin: The media's immigration blinders (OUTRAGEOUS!)

Mort Zuckerman: The next new thing

Walter Williams: Threats to rule of law in America

Thomas Sowell: The art of the impossible





[ W O R T H 1 0 0 0 W O R D S ]

Mallard Filmore

Michael Ramirez

Jeff Koterba

Gary Varvel

Gary Brookins

John Deering

Mike Shelton

(Att. working columnists and editorial cartoonists: Think you have what it takes to be featured on JWR? Drop us a note. And readers: We're always open for suggestions!)



[ F A S T P O L I T I C S&nbsp ]








require ("t-ssi/rtorah.html"); ?>