[ J E W I S H L I V I N G ]
perspective
Why does the Left
support the "Palestinians"?
By Dennis Prager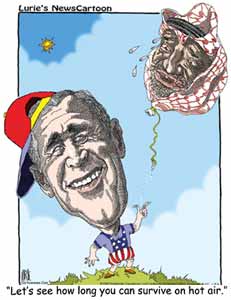 It is simply taken for granted that the left -- Europe, the Western news media, the universities, the liberal churches, the arts world -- supports the Palestinians and the larger Arab/Muslim worlds in their war against Israel.
But why? It is completely inconsistent with the left's professed values to side with Israel's enemies. Just about every value the left claims to uphold Israel upholds and its enemies do not.
outlook
What exactly did Bush say?
By Paul Greenberg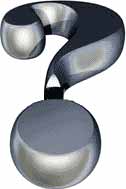 Under increasing pressure to do something about the Middle East, the president of the United States has done what any realistic political leader under pressure would do about an intractable problem: He pretended to do something.
It was quite a challenge.
outrage!
Open door for terrorists still open
By Joel Mowbray
The agency that let in all 19 Sept. 11th terrorists should absolutely be a part of the new Department of Homeland Defense--but that's not the plan. The State Department's Bureau of Consular Affairs (CA), however, has proven that it can't be trusted to keep potential terrorists out of the country -- or even to be honest with Congress and the American people.
DEAR JWR READERS
JWR IN THE NEWS --- LITERALLY!


Your favorite website was recently profiled by the prestigious wire service, United Press International (UPI). Writer Lou Marano did an absolutely amazing job capturing, not only what makes JWR tick --- but also the overall situation we are facing. If you have a free moment, click here to view the feature-length article.


In friendship --- and gratitude,
Binyamin L. Jolkovsky,
Editor in Chief
JewishWorldReview.com


[ D A I L Y I N S P I R A T I O N ]



WISDOM EACH DAY:
Two very short but inspirational stories






[ L I F E S T Y L E S ]

Dr. Peter Gott: Hiatal hernia may have serious effects

Blood vessel drug helps some disabled walk

Bruce Williams on JWR: Be cautious with 'rack jobbing'; corporate manipulations



[ I N S I G H T ]


Kathleen Parker: President Goody-Goody is beginning to get on my nerves

Andy Rooney: Plenty is in a name

Argus Hamilton's political zingers!

Capital Comment: Daily news notes, political rumors and important events that shape politics and public policy in Washington and the world

Bob Greene: The choices that are not theirs to make

Michael Barone: Rightward march?

Amity Shlaes: The evolution of eminent domain is the story of the lasting power of Supreme Court decisions to alter the American cultural fabric (IMPORTANT!)

James K. Glassman: Rebalancing Act

Scott R. Burnell: So long, solo inventors

Jonah Goldberg: Mentally confused over the mentally retarded

Stanley Crouch: Glimpses of threats fortify U.S.

Jack Kemp: Unsigning an unratified treaty

Don Feder: How would the Court fair on an IQ test? (OUCH!)

Betsy Hart: Party time!

Mort Kondracke: Congress should heed the other warnings in Hart-Rudman report

MUGGER: A stand-up New Yorker

Wesley Pruden: Does a beard make a Baptist a terrorist (EXCELLENT!)

Walter Williams: The role of profits

Thomas Sowell: Tough questions





[ W O R T H 1 0 0 0 W O R D S ]

Mallard Filmore

Michael Ramirez

Lurie's World

Jeff Koterba

Gary Brookins

Gary Varvel

(Att. working columnists and editorial cartoonists: Think you have what it takes to be featured on JWR? Drop us a note. And readers: We're always open for suggestions!)



[ F A S T P O L I T I C S&nbsp ]








require ("t-ssi/rtorah.html"); ?>