This weekend, the latest attempts to produce an agreement revitalizing the Middle East peace process failed to bear fruit. Israeli Prime Minister Binyamin Netanyahu and Palestinian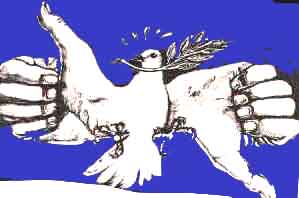 Authority Chairman Yasser Arafat, it was hoped, could meet in Washington yesterday to approve a deal rounding out the total Palestinian-held areas of the occupied territories to 40% and ushering in the long-awaited final status talks.
No dice. Mr. Netanyahu, who has preferred American mediation to direct contact with his negotiating partner, did not accept the solution offered in advance of the meeting, despite warnings of a possible "reassessment" of the American role. The Prime Minister may yet come to Washington this week, but an immediate agreement does not appear to be in the offing. Depending on one's point of view, Bibi may be seeking the best possible deal, or he may be deferring an unwanted development for as long as he is able. Perhaps he is not sure himself.
In sum, Oslo has not paid a visit to Washington lately. But the advocates of peace can take some solace in a call from Copenhagen. Egyptian, Israeli, Jordanian and Palestinian signatories to the Copenhagen Declaration are currently in the United States, carrying the message of the International Alliance for Arab-Israeli Peace to Capitol Hill, to Jewish- and Arab-American organizations, and to anyone open to the idea that peace must be promoted not only by governments but also by private citizens in face-to-face encounters.
The Louisiana Process — named for the Copenhagen modern art museum that hosted the group's establishment in 1995 and expansion in 1996 — is a dialogue intended to turn "cold peace" warm and advance the cause of cross-border understanding. The brainchild of Danish journalist Herbert Pundik, Egyptian writer Lofty El-Kholy, and veteran Israeli diplomat David Kimche, Copenhagen actually falls somewhere on Oslo's family tree; Israeli academic Ron Pundik, the son of journalist Pundik, was one of the initiators of the unofficial Oslo backchannel. Created under the auspices of Louisiana and the Royal Danish Ministry of Foreign Affairs, the Alliance appears to be prospering in the face of adversity.
Addressing a small gathering last night in Washington, Alliance member Mordechai Bar-On stressed the importance of the multilateral Arab-Israeli venture. A former officer in the Israel Defense Force, IDF historian, Meretz Party Knesset member and Peace Now activist, Bar-On recounted how he once responded to the challenges of Peace Now's political opponents: "'So where is the Arab peace movement?' I replied that the PLO was the Arab peace movement. After its 1988 declaration of independence, the PLO was ready for peace, having accepted a two-state solution. The Egyptian government also represented the Arab peace movement. But this was not so convincing." Not so convincing, he concluded, as the declarations and activities of the Arab members of the Alliance.
Egyptian political scientist, think-tank director and Alliance member Dr. Abdel Monem Said Aly voiced a similar sentiment. "When we saw the members of the Israeli peace movement acting together with Palestinians, it changed views. We are able to say, Netanyahu is not Israel. He represents one trend. But he is not the whole of Israel."
Dr. Said Aly also sought to dispel the image of Egyptian public sentiment as resolutely anti-Israel and anti-Jewish. "When the Alliance formed, there was a storm. But the storm cleared. Things calmed down and a valuable debate ensued. And it continues. There are some radical left or Islamic publications in Egypt that take a very anti-Israel line and are antisemitic. But their reach is exaggerated. Their circulation is minimal compared to Al-Ahram [Egypt's semiofficial daily newspaper, where Dr. Said Aly and Mr. El-Kholy are senior figures], which distributes a million copies a day. Israel has a similar phenomenon in publications like Hatzofeh."
"I would estimate that 10-15% of the population is strongly opposed to peace with Israel, to economic liberalization, to ties with Europe — basically, to all connections with the outside world. Most of the population is somewhere between them and us. For instance, I have a television call-in show twice a month. Recently I hosted six prominent Israelis. We did get one caller who asked, 'How can you have these people on your show?' But only one like that."
A Palestinian member of the Alliance and former professor at Bir Zeit University in the West Bank, Dr. Riad Malki directs the Panorama Center for the Dissemination of Democracy and Community Development, a non-governmental organization (NGO) dedicated to educating Palestinian youth about peace and democratic values. "We are far ahead of the government in this respect," Dr. Malki noted, capturing the essential point of the Louisiana Process: that peacemaking is too important to be left to governments. "We are seeking to add a prominent American representative, and a European representative," he stated. "After all, it's the International Alliance for Arab-Israeli Peace, and it's not limited to the Middle East. We're pursuing this with governments, with individuals, and were getting NGOs involved. We want to make this a mass movement."
For more info: The Louisiana Process
4/6/98: Take my alliance, please
2/22/98: Some thoughts on the eve of war
1/21/98: The dance of symbols: Bibi and Yasser in Washington
1/7/98: Iran's new opening to America
12/28/97: Arabic lessons are no substitute for Poli Sci: the dangers of the territorial fixation
---
Josh Pollack is a contributing editor at JWR.