Jewish World Review May 21, 2004 / 1 Sivan, 5764

Beyond physical limitations

By Rabbi Abraham J. Twerski

We should overcome the limitations of the familiar and learn to think expansively: Spiritually

"G-d spoke to Moses in the Sinai desert, in the Sanctuary, in the second month of the second year after their exodus from Egypt."

— Numbers 1:1



http://www.jewishworldreview.com | The Ohr HaChaim points out a subtle inconsistency. In regard to the place where G-d spoke, the Torah (bible) lists first the greater locality, the Sinai desert, and then the narrower, more specific site, the Sanctuary. In regard to when G-d spoke to Moses, the Torah lists first the narrower time, i.e., the month, and then the broader period, the second year. Why the inconsistency?


The Ohr HaChaim explains that it is not at all inconsistent. To the contrary, it is a most precise parallel. The intention of this syntax is to teach us that just as the ''year'' is more inclusive than ''month,'' so is ''Sanctuary'' a broader, more inclusive term than ''Sinai desert.''


Vast as it may be, the Sinai desert is a finite space. The Sanctuary, although it measured only one hundred by fifty cubits, was infinite.


The Midrash states that when G-d instructed Moses to build the Sanctuary, Moses was bewildered. ''The whole universe cannot contain you,'' he said, ''let alone a small structure.''


G-d responded, ''My thinking is not like yours. Ten cubits in the width etc.''


The physical dimensions may indeed be meager, but the spiritual dimensions are enormous.


When the great Chassidic master Rebbe Levi Yitzchok of Berditchev saw a copy of a certain work of profound Chassidic thought, he commented, ''What an amazing feat Rebbe Shneur Zalman accomplished! He contained an Infinite G-d in such a tiny book.''


Alas! Our human senses make us think small. Several thousand miles is a great distance, and billions of miles are an enormous distance. Our ears can detect sounds only thousands of feet away, and our powerful telescopes can detect light at great, but finite distances. We are so accustomed to think in small terms that infinite greatness is an alien abstraction.


Even Moses, the greatest of all prophets, was stymied by G-d's instruction to build Him a Sanctuary.


G-d's lesson to Moses and to us is that a small structure can contain infinity.


The Talmud relates that King Munbaz distributed lavish tzedakah, charity. His family criticized him, ''Why are you dissipating the royal treasury?'' Munbaz responded, ''My ancestors gathered wealth in this lower world. I am investing my wealth in a supernal world.'' Billions of dollars constitute a great sum when measured in human terms. The money given to tzedakah brings infinite returns.


The careful wording in the opening verse of this week's Torah portion, Bamidbar, alerts us to our propensity to err in thinking of everything in the physical terms with which we are most familiar. In our physical bodies we are limited. The reach of our neshamah (soul) reach is infinite.


We should overcome the limitations of the familiar and learn to think expansively: Spiritually.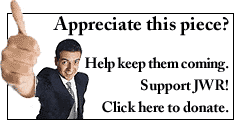 Every weekday JewishWorldReview.com publishes inspiring articles. Sign up for our daily update. It's free. Just click here.
Rabbi Abraham J. Twerski, M.D. is a psychiatrist and ordained rabbi. He is the founder of the Gateway Rehabilitation Center in Pittsburgh, a leading center for addiction treatment. An Associate Professor of Psychiatry at the University of Pittsburgh School of Medicine, he is a prolific author, with some 30 books to his credit, including, "Twerski on Chumash" (Bible), from which this was excerpted (Sales of this book help fund JWR). Comment by clicking here.
© 2004, Mesorah Publications, Ltd.