http://www.NewsAndOpinion.com | (KRT) - A plan to use unused television channels to transmit high-speed Internet access has been backed by the Federal Communications Commission.
By using a technology so signals can be transmitted without interfering with each other, FCC engineers believe it is possible to use radio spectrum more fully.
Rural areas are especially promising for the technology because many remote locations have no access to high-speed Internet.
"This technology has the potential to provide greater service to the American public," said FCC Chairman Michael Powell. "It promises to dramatically increase the availability and quality of wireless Internet connections - the equivalent of doubling the number of lanes on a congested highway."
Even though engineers are confident that unused TV channels can carry Internet signals without harming TV reception, the FCC's initiative is bound to raise opposition among broadcasters.
One commissioner, Jonathan Adelstein, voiced some concerns. While he acknowledged that rural Internet users need more service, he said that the timing is troubling.
"It is worrisome that we are undertaking this proceeding right in the middle of our important digital television transition," Adelstein said.
The FCC has allocated new channels that will be used by TV stations to transmit digital signals as they continue to broadcast analog signals on their old channels. Eventually, the plan is for the analog channels to shut down and become available for other use.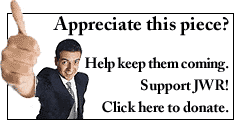 The FCC initiative will look at opening unused channels for Internet transmission.
The current system of distributing TV and radio channels was formulated decades ago when technology was comparatively primitive. With the use of computer chips and global positioning technology, modern radio receivers and transmitters can sense where they are and determine if their signals will interfere with other transmissions.
Engineers liken this to cars driving on a highway. If one driver changes lanes, those around him will slow down or move to avoid a collision. <
Appreciate this type of reporting? Why not sign-up for the daily JWR update. It's free. Just click here.
Comment by clicking here.