http://www.NewsAndOpinion.com | For several years in the personal computer business, it seems that $2,500 or so was the "sweet spot" of pricing. Ante up that kind of "moolah," the thinking went, and you were sure to get one of the more powerful computers around, one that wouldn't go stale before you got it home from the store.

On the Windows side, prices are much lower: you can spend around $1,500 to get a spiffy desktop PC; even $800 will buy a system that's more than enough for most users' needs, we're told. You can even get a decent notebook PC for that same $1,500, if not less in some cases.

So is it absurd to spend $2,500 on a desktop computer? Well that depends on who you are and what you want to do. If, like me, you're an Apple Macintosh fan, the $2,500 invested in a dual-processor Power Mac G5, with the CPU chips running at 1.8 GHz is not a totally bad idea.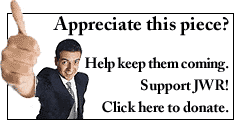 The Power PC G5 chip, unveiled to much fanfare last year, is a 64-bit processor and delivers what Apple calls "an exponential increase" in the machine's computing power. The 64-bit PowerPC G5 processor architecture lets the Power Mac G5 handle more tasks more quickly, as well as support up to 8GB of main memory - four times more than a typical PC. As I've often said before, the more RAM, the better.

My test unit of the Power Mac G5 boasts a little less than 8GB of RAM, but it certainly has enough to handle my daily needs. The two processors cut through tough tasks with ease, and this computer is whisper quiet. (I've become accustomed to the whirring of the fan in the dual-processor Power Mac G4 that sits at my day job, but quieter is better.)

There are ports on the front and back of the unit for 800 Mbps and 400 Mbps "FireWire" connectors, as well as USB cables. The front-side ports - something else missing from last year's G4's - make it super easy to hook up a digital camera or other device on an ad hoc basis. And, frankly, you haven't lived till you've transferred the contents of a digital camera to your desktop machine via FireWire - it's super fast.

But I'll admit that I'm not someone who does a lot of video or audio editing and manipulation. I don't have any software that is specifically designed to take advantage of the dual processors, at least none that I'm aware of. So is the power and performance of the machine wasted in my home office?

You could argue that, but I'd say no. First of all, go back to that $2,500 rule: this computer will have a couple of years of good life in it, at least. When the next revision to the operating system comes down the pike, it'll very likely run well on this machine. Future software applications may also take advantage of the G5's power.

So for those who depend on a computer for their daily bread, especially if you like the generally rugged stability of Apple's hardware and, especially, its OS, the dual processor PowerMac G5 is an alluring purchase. It's faster and more capable than most dual processor boxes that play in the Windows space, and it's so quiet you can even hear the cicadas outside your door.
Find this column useful? Why not sign-up for the daily JWR update. It's free. Just click here.
JWR contributor Mark Kellner has reported on technology for industry newspapers and magazines since 1983, and has been the computer columnist for The Washington Times since 1991.Comment by clicking here.