Jewish World Review May 21, 2004 / 1 Sivan, 5764

Lloyd Grove
Not so Ruff Ryders; fantastic voyage; sweeps month stunt?; more
http://www.jewishworldreview.com | NEW YORK — Is hard-core hip-hop Ruff Ryder Records suddenly going soft?

The Manhattan-based label has just signed 23-year-old recording artist LT to launch its new division, Ruff Pop. Let's just say that LT marks a shocking departure from the label's gangsta roots.

For starters, LT — born Lynne Timmes — hails not from the inner city but from Scottsdale, Ariz.

Second, she's blond and disarmingly polite — most definitely not in the tough-talking, profanity-laced rap star tradition.

Most of all, she's a self-confessed "straight-up pop artist."

On Thursday, this column asked LT, who got her start in The Elbow Room on Bleecker St., if she was wary of a label that features such razor-tongued rappers as Eve, Jadakiss and DMX — whose lyrics tend toward the unsentimental: "I f — with these hoes from a distance/The instant they start to catch feelings I start to stealin' they s — /then I'm out just like a thief in the night."

LT answered: "My parents were a little worried when they looked at the old Ruff Ryders Web site. It had gunshots — and blood dripping from Eve's face. But they think everything happens for a reason, and I do, too."

Ruff Ryders co-CEO Joaquin "Waah" Dean explained: "We ain't limited to doing hip-hop. We really wanted to do something outside the box. She just has raw talent. Her music speaks for itself. She got what it takes. A lot of these cats got a lot of people writin' for them, and she does her own writing."

But it's hard not to wonder if LT represents Ruff Ryders' response to Samantha Ronson, stepdaughter of Foreigner frontman Mick Jones and latest new flavor for rival Roc-A-Fella Records.

"No, I don't even know who she is," Dean insisted. "We don't do things based on what other people do — we do things based on what we feel."

For her part, LT isn't looking to start a hip-pop war. "The press creates things — but personally, I hope not."

Says her manager, Kristi Clifford: "Like other Ruff Ryder acts, she's upfront, very cocky. Most of her themes have the woman in the driver's seat."

Stay tuned for LT's debut single, "This Is Not About You," from the album of the same name.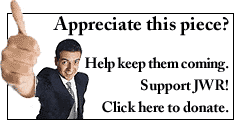 FANTASTIC VOYAGE

Four Seasons Restaurant honcho Julian Niccolini sure knows how to make a splash.

The other night at Metropolitan Home magazine's Design 100 party in his restaurant's Pool Room, Niccolini was so enchanted by the clear plastic Napali Kayak floating in said pool that he decided to take it for a test drive.

"I said, 'My G-d, it's really beautiful,'" Niccolini told this column Thursday, recounting his fabulous though brief voyage with champagne flute in hand. "I'm a kayaker — I go in the Hudson River. I had never seen a clear kayak, and I wanted to take it home."

He even asked the Metropolitan Home types for permission to borrow the vessel, but they cruelly dashed his dreams. "I guess they weren't impressed."

Maybe because Niccolini was paddling under the influence?

"No!" he roared. "We try to have some fun with the guests, otherwise it's so boring. Very boring. It's nice to let them experience something different."

In the end, Niccolini coaxed two young ladies into the kayak with the mildly disturbing pickup line, "You want to go for a ride?"

It turns out that the famed pool has been the scene of many shenanigans over the restaurant's 45 years.

"About 10 years ago, we had three naked women jumping in the pool. They were guests who had too much to drink. They were beautiful, and it happened around 2 a.m."

Niccolini's role?

"I was helping dry them off."

THE BRIEFING

SWEEPS MONTH STUNT?: The good people at ABC News were fielding curious phone calls Thursday in the wake of Internet rumors that the network has secured an exclusive interview with cult icon Andy Kaufman, the eccentric comedian who is presumed to have died of lung cancer 20 years ago at age 35. The rumors started after someone posted an online press release in which "Kaufman" was quoted as telling ABC News that he's "sorry about faking my death." The release added: "In order to reach legendary comic status and seal his place in the history of performance art, he said it was 'necessary to go away for 20 years.'" On Thursday, ABC News spokesman Jeffrey Schneider told me: "We do like to think we have the best bookers in the business, but as far as I can tell, they have been unable so far to book anyone who's dead." Really? I think viewers should be the judge of that.

HITCH WIELDS THE NEEDLE: Bulky left-wing propagandist Michael Moore has loomed very large over the Cannes Film Festival with his much-buzzed about documentary skewering the Bush White House, "Fahrenheit 9/11," which inspired a 20-minute standing ovation when it was screened the other day in the posh French resort. British essayist Christopher Hitchens, appearing the other night on MSNBC's "Scarborough Country," explained the near-orgasmic response: "Speaking here in my capacity as a polished, sophisticated European as well, it seems to me the laugh here is on the polished, sophisticated Europeans. They think Americans are fat, vulgar, greedy, stupid, ambitious and ignorant and so on. And they've taken as their own, as their representative American, someone who actually embodies all of those qualities."


Comment by clicking here.

05/19/04: A hex on 'Mr. and Mrs. Smith'?; girls just wanna get mad; more
05/14/04: What it was like to be Kerry's 'mistress'; Curious George (Stephanopoulos); more
05/13/04: The young (and snarky) JFK; Did Ford have a better idea?; more
05/07/04: Teresa on TV; Joan Rivers: "C-Class" at best; red-faced apology; more
05/05/04: Burger brouhaha over meat movie; the Age of Adu; what a difference an indictment makes; more
04/23/04: Ahoy, Katie!; Barbara and Martha, together again!; unreality TV?; more
04/21/04: Things don't go better with Coke?; swipes from the grave; "Mami" to the rescue; more
04/16/04: Does this 'Apprentice' need some etiquette lessons?; Kerry's laff-riot stepson; fully baked?; more
04/14/04: Dick Clark's diabetes; Barbara Walters' $6 Million book; reality (television) bites; more
04/09/04: S-e-x and the Koran; PETA targets Beyonce; more
04/08/04: Stephen King vs. ABC; trapping the love rat; Liv-ing it up; more
04/02/04: Don't mess with Brooke Hogan's dad; lawyers dancing on the head of a pin?; Trump vs. Trump?; more
04/01/04: D'OH! "Simpsons" actors in dispute with Fox; Diane Sawyer and Janet Jackson won't be bosom buddies; Condi and Maxim?
03/31/04: Hair-raising day on Wall Street; Foxy lady loses 50 Cent; How do you say "party animal" in Hebrew?; Rev. Al and Janet Jackson; more
03/26/04: Bye, bye Banfield; from porn to politics?; more
03/24/04: The perils of film criticism; Dole-ing out compliments; but what about a cure for career lag?; more
03/19/04: Trump trumps everything; Mario vs. Joe; Trudeau pays up; more
03/17/04: Remembering Hillary %*&$#! Clinton; PUT AWAY THAT KRYPTONITE!; more
03/12/04: OOPS!, did Jayson Blair do it again?; skewing Young; more
03/10/04: The laugh that dare not speaks its name; Mistaken identity? NAH!; Is this a great country or what?
03/05/04: Bush vs. Kerry: a Skull session; Kramer vs. The Times, scorch session; enthusiasm curbed; (Tina) Brown-nosing?
03/03/04: Oscars memorialize Hitler's fave filmmaker; baubles, bangles and Kelly Osbourne; moonwalking through cyberspace; more
02/27/04: Regan rebellion; Ed Limato strikes again!; tears for Tom; more
02/26/04: McCain predicts a nasty campaign; the misdirected missive; Janet Jackson, the interview; more
02/20/04: Introducing the Kerry sisters; cyberflap!; Snoop Dogg v. O'Reilly?; more
02/18/04: John Kerry's Friendster?; On the mend?; food for fraughtm; more
02/13/04: John & Carolyn, redux; Zell Miller shows the flag; kill Quentin?; more
02/11/04: HE FEELS BAD!; Dick Cheney, still not dead; more
02/06/04: Glittering Grammys; a laurel for Janet; Haryl's heart
02/04/04: Shriver quits NBC; "Marshmallow" Mike Tyson?; Super Bowl propriety?; MTV's next production?; more
01/30/04: The political forehead front; Alies meets Franken; the art of the hype; arrested career development?
01/28/04: Eyebrow-raising politics; call him indescribable; Woods vs. Williams; more
01/23/04: Eyebrow-raising mystery; who's punk'd anyway?; don't curb your enthusiasm; more
01/21/04: Ridiculous lives of the self-important stars; long arm of the law; all's fair in love and literature
01/16/04: Global warming at a glacial pace; targeting pop culture; Is 'the price of loyalty' too high?
01/14/04: Busting on the "cult buster"; Sarsgaard thinks globally; one angry woman; more
01/08/04: Sitcom star won't be excused from Blake murder trial; fierstein on fire; Drudge & Blumenthal, together again
01/07/04: Bono hits a brick wall; Britney, before the nuttiness; the Arianna primary; more
01/02/04: Where have you gone, Joe DiMaggio!?; "Bachelor" bruises; Returning to the scene of the crime?
12/31/03: Disaster for the defense; no-war Omar; the shoe must go on; more
12/19/03: Bob Shapiro's free commercial?; Are sophisticated and hip New Yawkers easily duped?; Positive Saddam fallout?; Ratty insult?
12/17/03: Magic Mystery Tour?; Russell Simmons battles ink by the barrel; Would it have killed her to say 'get well soon'?; no Gest room
12/12/03: Karenna defends her dad; now she tells us!; say it ain't so, Mo!; more
12/10/03: Man & wife, interruptus; pepperoni has feelings, too; more
12/05/03: The knives are out; Who's sorry now?; JWR in the news
12/04/03: The war of the gest-minnellis; something borrowed, something cashmere; fashion trendsetter, nailed!
12/03/03: Colombian grace under pressure; Lord of the Screwups; more
12/02/03: Curb your anti-Semitism?; fame fatigue?; bowing to pressure?; more
12/01/03: Dennis the Menace strikes again; first literary feud of the holiday season; Norma Jean & Hef in heaven?; the fog of McNamara; more
11/26/03: Catherine Crier raps Jacko's TV defender, refuses on-air hint of racism; At 50, Tina's in full cry; STAY OUT OF HER WAY!; more
11/25/03: The mogul strikes back?; go ahead, make Harvey's day; more
11/24/03: Georgette's pilfered baubles; prosecutor of pop?; absent but not missed?; Norman Mailer's prescription for education reform; more
11/20/03: Is a movie career in store for Maria Bartiromo?; People for the Unethical Treatment of Humans?; more
11/19/03: Scientologists on Razor's edge?; picking a winner?; source on a hot tin roof?; more
11/18/03: Clay Aiken neuters PETA?; THEM'S FIGHTIN' WORDS!; a mural for Joe
11/17/03: When networks attack!; leaky Fawcett; forget the Paris Hilton video!; more
11/13/03: Publicity hounds; Prophetic priest; Dumb and Dumber
11/12/03: Not so Rosie; do you believe in miracles?; catalogue of sins; My Heart Belongs to Koppel
11/10/03: Gen. clark on the Subway diet; life of the party; MTV's Dumb and Dumber?; the hug issue; but does the $6,000 shower curtain convey?; red faces at Buckingham palace?
11/06/03: Let them eat pita?; verbal jousting; pretenders to the throne?
11/05/03: Will Harvey Weinstein and Gregg Easterbrook now be pals?; crazed Quentin; more
11/04/03: Herding off the hipsters; more
11/03/03: Dean's tell-all on himself?; Lisaraye vs. Mya?; the odd couple; no need to panic; just don't call him "Scooter"!; Rosie scenarios
10/30/03: Autumn of the editor?; Cynthia Nixon's split may be costly; 'Burning' questions
10/29/03: Ah-nold, unauthorized!; a dilemma for Melissa Gilbert? not even Frank Gifford can help him now!; nobody wanted Elizabeth Hurley
10/28/03: It's Cher calling!; Brown Alert
10/27/03: Paparazzi uncensored!; where's Aaron Brown?; postcards from the middle; invasion of the party snatchers?; House flooded when not afire?; suspenders of disbelief?
10/23/03: Ace up Howard Dean's sleeve; Woody's ordeal; Paul Simon's kid makes good; the non-beginning of a beautiful friendship?
10/22/03: Showing the flag; Joe Frazier, smokin'!; see Carville bruised-up — sort of
10/21/03: Morris & Jaci's charm offensive; Hell hath no fury; Wintertime for Hitler
10/20/03: Isn't it rich?; men (and the occasional woman) behaving badly; peacenik John Lennon supporting the U.S. military?; courageous Connie
10/16/03: George Clooney and intolerable Drudgery; Cameron goes native; and you thought the war in Iraq was nasty?; now it can be revealed; star wars?
10/15/03: Kerik into the breach?; holiday pander?; "the Dink" corrects the record; more
10/14/03: Madge gets mad, lips are sealed; the candidates who listen; he who hesitates is Beatty
10/13/03: Clothes, but no cigar; New Yorkers put a Sox in it; mad at Matalin?; more
10/09/03: Gray Davis goes to the movies; Ali Wentworth, working blue; Law & Order?; pot of gold at the end of the rainbow room?
10/08/03: Art-time for Hitler; the actress who hates movies; lying "Liam"
10/07/03: Pond scum of the rich and famous
07/24/03: Ali and George, living it up; Mel Gibson's Washington power play
07/21/03: White House smear?
07/17/03: Yet another intern scandal; it's her party and she can pay if she wants to
07/14/03: On the auction block: JFK'S boxer shorts; love bytes the maestro
07/10/03: A hairy situation at Homeland Security; Van Susteren v. Orth
06/30/03: Rep. Patrick Kennedy: I've never worked a (bleeping) day in my life; Drudge's dressing down; Ken Lay's Kerry connection
06/26/03: Rapping the beat
06/23/03: Another Watergate scandal?; AL GORE TV!
06/19/03: Tony Snow, rocker?; that won't be crow on Mr. Carlson's plate
06/16/03: Missing dog, ransom demand, Hollywood ending
06/12/03: Giving both parties the needle
06/09/03: WHAT DID SHE KNOW, AND WHEN DID SHE KNOW IT?
06/05/03: Incoming from Barbara Bush?
06/02/03: Bob Dole's plan for fighting unemployment
05/29/03: Newt's new novel
05/27/03: Hitchens & Blumenthal, together again; He still believes in a man called Hope
05/09/03: Close, but no cigar; Romeo & Juliet with a happy ending?; Geraldo to help Heebs?
05/05/03: So Bill Gates and Tom Brokaw walk into a coffee bar . . .; hotel hell; more

© 2003, Creators Syndicate