[ J E W I S H L I V I N G ]
first person
Them and us
By Rabbi Avi Shafran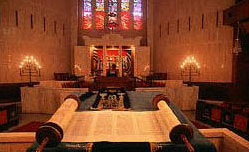 A silent prayer came back to me like a thunderclap a few days later, when I caught up on some reading I had missed (in the word's most simple sense) over the holiday. Apparently, during the very hours my son and I were studying holy texts, the presses at The Washington Times were printing a story datelined Gaza City.
outlook
Don't worry, New York, you are safe from a terrorist threat
By Dennis Prager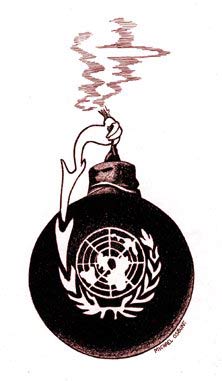 A captured high-ranking al-Qaeda terrorist has reportedly divulged that one potential New York City target for a terrorist attack is the United Nations building.
Don't believe it.
perspective
Good fight
By Martin Peretz
It may surprise some readers to learn that I strongly support a U.N. investigation into the violence in Jenin.
[ D A I L Y I N S P I R A T I O N ]



WISDOM EACH DAY:
Preparing for real security in the golden years




[ L I F E S T Y L E S ]

Consumer Reports on JWR: Sidestepping a spouse's will

Dr. Robert A. Wascher's health report: New biological insights into obesity & weight loss; broccoli kills cancer-causing stomach bug; anti-inflammatory drugs and the risk of heart attack

Technology summary

Pain killer zaps lung cancer

Memory gene won't let you forget

Bruce Williams on JWR: Non-transferable ticket quandary; priceless secrets … for $29.95 + tax; dividends




[ I N S I G H T ]


Mark Steyn: Unless we change our ways ... the world faces a future where things look pretty darn good (SUPERB!)

Richard Lederer: It is truly astonishing what havoc students can wreak on the chronicles of the human race

Michael Long: See This Movie: "The Sum of All Fears" is a wake-up call

Argus Hamilton's daily chuckle (THIS GUY IS FUNNY!)

Jonathan Turley: Beyond the 'reformed FBI' hype

Capital Comment: Daily news notes, political rumors and important events that shape politics and public policy in Washington and the world

Lori Borgman: No Pudgy Hour at the gym

Greg Crosby: Questions... (GREAT!)

Stanley Crouch: A Better FBI? I'll Believe It When I See It

Jack Kelly: So the FBI has finally caught up to our priorities?.

Thomas H. Lipscomb: Clock running out on US forces in the Philippines

D. T. Max: The end of the book? (EXCELLENT!)

Lewis A. Fein: The End of the Beginning

Wendy McElroy: When good women do nothing

Dick Morris: Why '04 looks tough for liberal Dems

Debra J. Saunders: FBI, investigate thyself

Larry Kudlow: Gold is on fire

Bill Tammeus: Reasonable doubts about executions

Diana West: Hillary's war media secret

Michelle Malkin: Dysfunctional dad of the year

Larry Elder: Shirking responsibilities: Dubya and Uncle Sam

Mona Charen: The shrinking Bush presidency?





[ W O R T H 1 0 0 0 W O R D S ]

Mallard Filmore

Michael Ramirez

Lurie's World

Gary Varvel

Gary Brookins

Mike Lukovitch

Mike Shelton

Bob Gorrell

(Att. working columnists and editorial cartoonists: Think you have what it takes to be featured on JWR? Drop us a note. And readers: We're always open for suggestions!)



[ F A S T P O L I T I C S&nbsp ]








require ("t-ssi/rtorah.html"); ?>