[ J E W I S H L I V I N G ]
perspective
The message in
Arafat's headdress
By Jeff Jacoby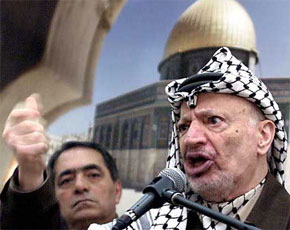 The next time you see a picture of Yasser Arafat, take a look at his keffiyeh, the black-and-white headdress he never appears without.
Arafat's oddly-arranged keffiyeh is meant to resemble the map of "Palestine" -- the Arab state whose creation is his all-consuming goal. It is an emphatic symbol: Without uttering a word, Arafat conveys to everyone who sees him that Palestine is always on his mind.
But look again.
on media
Mirrors of evil: Caution,
you are, what you read
By Larry Elder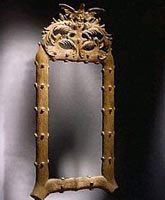 News, like beauty, lies in the eye of the beholder -- the reporter. The clearest examples of this can be seen in the reporting of recent events in the Middle East.






kochavim/star-gazing
Two Happenin' Hebes


By Julia Gorin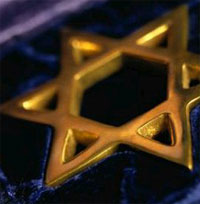 One is an actor who first caught my attention a few years ago when I started noticing a semi-Yiddishe punum insinuating itself into Hollywood movies like "Scream," "Hamlet" and "Kate & Leopold." It was conspicuously different from the usual young, overly photogenic fare, but not in the Adam Sandler/Jason Biggs mold, especially since it was sitting atop a six-foot-two body. I found out it belonged to a man named Liev Schreiber, and if it doesn't ring a bell, you're probably not female and Jewish.
The other one is a writer who just exploded onto the literary scene, with the release last month of his first novel, which sold to Houghton Mifflin for $500,000 and garnered him enough attention from the literary establishment to confirm his status at 25 as an official literary darling-slash-prodigy. This one, who is of standard Jewish size, started writing the book in college and finished soon after graduating. I could plotz.
[ D A I L Y I N S P I R A T I O N ]



WISDOM EACH DAY:
Stupid successors




[ L I F E S T Y L E S ]

Dr. Robert A. Wascher's health and science report: Molecular detection of tumor cells in the blood & prognosis; Cox-2 & breast/lung cancers; BRCA2 gene mutations & the risk of breast cancer; breast density & the risk of breast cancer

Medical devices for acid reflux

DNA study reveals racial differences

Gas prices well under last Memorial Day

Bruce Williams on JWR: Navigating the patent maze; give into municipal easement request?; selling jewelry




[ I N S I G H T ]


Mark Steyn: Sweet land of liberty: Britain and Europe have free governments, but only in the US are the people truly free (AMAZING!)

Capital Comment: Daily news notes, political rumors and important events that shape politics and public policy in Washington and the world

Andy Rooney: The "Days" of our years

Argus Hamilton's daily chuckle (THIS GUY IS FUNNY!)

Leonard Pitts, Jr: Has your life changed since 9/11?

Lewis A. Fein: Vipers within heroism's den

Bob Greene: 'The letters incapable of being written'

Michael Long: Richard Simmons for President?: What really motivates the fat-taxers (FANTASTIC!)

Lou Marano: Vietnam: The trail not taken

Doug Bandow: Threatening pharmaceutical innovation

Mort Kondracke: Partisan sniping over terror war hurts the country

Paul Greenberg: Let us cross over the river … (GREAT!)

Debra J. Saunders: The Bible and the stripper

Diana West: An antiquated luxury of the past

Lori Borgman: Ozzy, if you come for dinner, bring change

The Medicine Men: To clean up America's game: A (soggy) ground rule (DIFFERENT!)

Linda Chavez: Would Americans have been ready to go to war based on August warning?

Stanley Crouch: This Is War, & Rudy's Still Giving Good Counsel

Marianne M. Jennings: Should I embrace liberalism?

Michelle Malkin: From Flanders Fields to Roberts Ridge (EXCELLENT!)

MUGGER: Impressive, but still in second

Charles Krauthammer: NATO is dead. Long live NATO

Dick Morris: Democratic self-destruction

Mona Charen: Culture has consequences

Thomas Sowell: A winning issue





[ W O R T H 1 0 0 0 W O R D S ]

Mallard Filmore

John Deering

Lurie's World

Bob Gorrell

Gary Varvel

Wayne Stayskal

Michael Ramirez

(Att. working columnists and editorial cartoonists: Think you have what it takes to be featured on JWR? Drop us a note. And readers: We're always open for suggestions!)



[ F A S T P O L I T I C S&nbsp ]








require ("t-ssi/rtorah.html"); ?>