[ J E W I S H L I V I N G ]
rishon letzion diarist
Checkmate, you're dead!
By Harvey Tannenbaum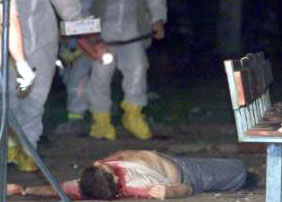 Our man in Israel captures a side of the news that will be, no doubt, either ignored or equivocated away by the likes of The New York Times. Read this piece only if you are not afraid to confront unsanitized reporting and raw emotion.
outlook
The Jewish Ethicist
By Rabbi Dr. Asher Meir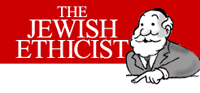 Q: Is it ethical to make a false claim to get money you rightly deserve?
[ D A I L Y I N S P I R A T I O N ]



WISDOM EACH DAY:
Undermining our own effectiveness




[ L I F E S T Y L E S ]

Consumer reports on JWR: The low-down on lawnmowers

Hyperthermia may help treat breast cancer

Protein makes night and day difference




[ I N S I G H T ]



Jonathan Turley: Do we really need a Federal Marriage Amendment?

Capital Comment: Daily news notes, political rumors and important events that shape politics and public policy in Washington and the world

Argus Hamilton's daily chuckle (THIS GUY IS FUNNY!)

Catherine Seipp: Drivers of wussy cars, Hollywood libs, and others in need of some serious help

Art Buchwald: Barbie Doll

Jack Kelly: Political terrorists

Michael Kelly: Political gods and monsters (FANTASTIC!)

Laura Ingraham: The press gunning for Ashcroft

Jonah Goldberg: No such thing as natural

Martin Gross: Second warning

Glenn Sacks: Stay-at-home dads could help fertility crisis (DIFFERENT!)

Bill Schneider: Giving the Dems an education on education

Mark Goldblatt: The SAT's the thing

Michael Barone: If dipping into the Social Security surplus is so terrible, why did Democrats do it every chance they got for 24 years? (MYTH-BUSTING!)

David Silverberg: Welcome to the Wonderful World of Intelligence

Lenore Skenazy: The return of the tight squeeze

Bob Tyrrell: In these times, thank Heaven for Clinton!

Julia Gorin: We didn't WANT to know, remember? (WOW!)

George Will: The right 9/11 probe

Ann Coulter: What do Dems know now?

Walter Williams: Do we want democracy?

Cal Thomas: When suicide bombers come to call





[ W O R T H 1 0 0 0 W O R D S ]

Mallard Filmore

Mike Shelton

Mike Lukovitch

Gary Varvel

Wayne Stayskal

Michael Ramirez

(Att. working columnists and editorial cartoonists: Think you have what it takes to be featured on JWR? Drop us a note. And readers: We're always open for suggestions!)



[ F A S T P O L I T I C S&nbsp ]








require ("t-ssi/rtorah.html"); ?>