DEAR JWR READERS
EDITOR'S NOTE


By the time you read this, the Jewish Holy Day of Shavous will have begun. We are updating our secular section for our non-Jewish readers, as we bend over backwards to please ALL of our readers. Click here to read Thursday's issue.


In friendship,
Binyamin L. Jolkovsky,
Editor in Chief
JewishWorldReview.com


[ J E W I S H L I V I N G ]
thought
Shavuos: Custom-made
for American Jews?
By Rabbi Avi Shafran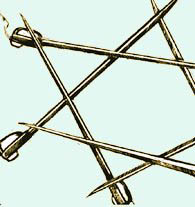 Shavuos, one of the trio of Jewish "pilgrimage" festivals that also includes Passover and Sukkos, tends to get short shrift from most American Jews. Coming mere weeks after the Passover seders, perhaps the "first-fruits festival" simply finds many folks "holidayed out." Or maybe it's because Shavuos lacks any unusual "mitzvah-food" of its own like matzoh or ritual practice like building a sukkah. Whatever the reason, though, Judaism's summer-season holiday has come to be neglected by much of the American Jewish community.
And yet, the argument could convincingly be made that no other Jewish festival is more timely or urgent for unity-challenged American Jewry.
outlook
The Supremacy of Reason
By Rabbi Yonason Goldson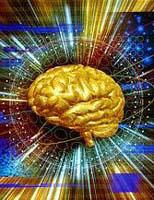 Conventional wisdom sees an incompatibility between faith and reason. Careful consideration, however, reveals that every single one of us truly does rely on faith. Whether we are scientists or laymen, clergymen or atheists, faith is as essential to our lives.
OUTRAGE!
Fast Times at the
Church of the Nativity
By Bob Tyrrell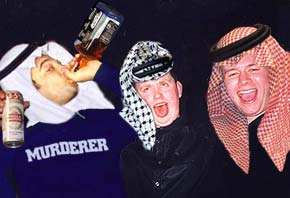 Hey, you remember that stand-off in Bethlehem. You know, the one at one of Christendom's most sacred shrines. A couple of weeks after the standoff began, Western reporters began reporting on the disgusting conditions, the intolerable suffering.
Wounded "fighters" were dying or dead. The stench was overwhelming from the dead, the dying and the unsanitary conditions suffered by the large number of people with insufficient access to toilets or to showers. There was not enough food and really not even enough air, at least fresh air.
Well, it turns out that the poor "Palestinians" turned a House of G-d into Animal House.
perspective
Two can play the aggression game, but only one will win: Wake-up "Palestinians"
By Charles Krauthammer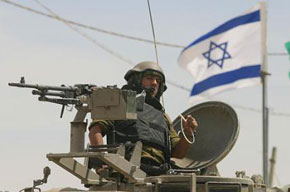 The fire will cease in the Middle East not when a piece of parchment is signed (remember Oslo?) but when the Palestinians conclude that they are no longer winning, that the Israelis are not going to give up and go away, as they did from Lebanon. Israel's offensive has begun to restore the deterrent that Israel forfeited with its unceasing concessions under Oslo and its precipitous withdrawal from Lebanon.
Palestinians will now have to recalibrate their thinking about Israeli will, rethink the impunity they imagined the "international community" would provide them, recalculate the efficacy of terror.
[ D A I L Y I N S P I R A T I O N ]



WISDOM EACH DAY:
Wisdom from crowing




[ L I F E S T Y L E S ]

Dr. Robert A. Wascher's health and science report: Moderate alcohol intake and blood sugar levels; more good news for tea drinkers; blood potassium levels & the risk of cardiovascular disease; ethnic differences in diabetic complications

High-fat diet colon cancer link explained

Privacy bill to reach beyond the Internet

Consumer Reports on JWR: Tire gauges can save money, wear and tear




[ I N S I G H T ]



Karen Lehrman: Dreams turned to nightmares: Now that men are seeing relationship shrinks womyn regret it!

Jonathan Turley: No "battlefield detainee" should leave home without a U.S. birth certificate


---
CARTER, IN WISCONSIN, SEES NO EVIDENCE OF CHEESE
Recently Failed Eye Test, Former President Admits — Andy Borowitz
---
Argus Hamilton's daily chuckle (THIS GUY IS FUNNY!)

Capital Comment: Daily news notes, political rumors, and important events that shape politics and public policy in Washington and the world

Laura Ingraham: El Jefe basks in Carter's Light

Clarence Page: A paradox of historical proportions

Steve Young: Hey world! How about trying the shoe on the other foot hypotheses (SPOT-ON!)

Debra J. Saunders: Euros could don white hats

Diana West: Hate U.

Suzanne Fields: The 'achilles heel' of history education

Greg Crosby: Ethnic cleansing -- California style

Lori Borgman Instant Messaging and LOL (GREAT!)

Mort Kondracke: Democrats Have Plan To 'Unmask' GOP To Win Latino Votes

Jeff Jacoby: Outspoken, Muslim -- and moderate

Michael Barone: The cul-de-sac of arms control: America's interest in protection against attack is secured not by arms control but by regime change

Larry Elder: The Second Amendment strikes back

Michelle Malkin: A Mexican visa-vending scandal

Leonard Pitts, Jr: New world disorder is nothing to smile about

Tom Purcell: Advice for prom goers this year: Hold onto your money (GREAT!)

Tony Snow: on the issues of the day





[ W O R T H 1 0 0 0 W O R D S ]

Mallard Filmore

Lurie's World

Mike Ramirez

Jeff Stahler

Jack Higgins

Joe Heller

(Att. working columnists and editorial cartoonists: Think you have what it takes to be featured on JWR? Drop us a note. And readers: We're always open for suggestions!)



[ F A S T P O L I T I C S&nbsp ]








require ("t-ssi/rtorah.html"); ?>