[ J E W I S H L I V I N G ]
reality check
Extreme hypocrisy in the
pursuit of 'peace' is ...
By Mark Steyn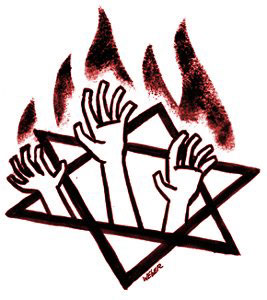 Could there be a more heartening sign that the "peace process" is once again rolling along than the cheery sound of Palestinian baby kaboomers? All we need now is some guy to lend his name to a new plan which would open the way to get us back to Tenet, which would get us back to Mitchell, which would get us back to Wye River, which would get us back to Oslo, which would get us back to Kansas. Have I forgotten someone? Zinni? Did he have a plan? Or was his plan not to have a plan?
perspective
Watching Arafat self-destruct: What the West just doesn't seem to grasp
By Thomas H. Lipscomb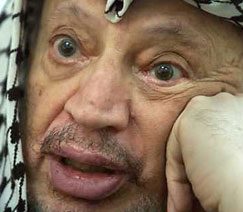 While the world remains fixated on how to revive the "peace process" between the Israelis and the Palestinians, time might be better spent understanding Yasser Arafat's extraordinary blunder in totally destroying his own Palestinian Authority's bargaining position.
context
The sophistry of suicide
By Suzanne Fields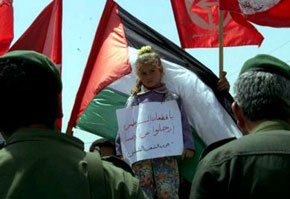 Teen-age suicide becomes all the more provocative as we look at what's happening in the Middle East, where recruits are sought for suicide bombers among teen-agers and young adults. While the international outrage, rightly, has been focused on the murder of innocents at seders, markets, malls, pizza parlors and most recently a pool hall, where is the outrage at the exploitation of Palestinian children recruited to kill themselves while killing others? Where is the outrage in the Muslim world toward those who encourage this culture of annihilation among the young?
[ D A I L Y I N S P I R A T I O N ]



WISDOM EACH DAY:
How the wise deal with their enemies




[ L I F E S T Y L E S ]

Dr. Ed Blonz: Is organic sugar better than granulated?

Important discovery about the mechanics of cancer

Child Online Protection upheld -- for now

Consumer Reports on JWR: Lawn trimmers, from A to Z




[ I N S I G H T ]



John Ziegler: Did she think I meant "h--ker"?

Ian Shoales: Entangled in Spider-Man's web!?

Andy Rooney: Cars I have known

Argus Hamilton's daily chuckle (THIS GUY IS FUNNY!)

Capital Comment: Daily news notes, political rumors, and important events that shape politics and public policy in Washington and the world

Stanley Crouch: A chance to sew up new allies (GREAT!)

Patricia Pearson : I'm an idiot --- and it's my mother's fault

Clarence Page: 'Murphy Brown' revisited in age of Ozzy

Leonard Pitts, Jr: White men can jump, so why do black kids come up short in the classroom?

Michael Ledeen: Open doors for thugs (EXCELLENT!)

Martin Sieff: The comic book wars and the free market

Paul Greenberg: Cloning words: a senator shows how it's done

Doug Bandow: The war crimes fantasy

Bob Greene: Even in death, the boy is kicked around (OUTRAGEOUS!)

John Fund: Thin moral ice: New revelations from a skater's Stasi files recall an oppressive era

Betsy Hart: Surprising news about anti-depressants

Amity Shlaes: The increasing number of new claims is hurting innocent companies and making a mockery of the Common Law system (SMART!)

Mort Kondracke: 'Reforming' Arafat Out of Power: Good but Risky Idea

Cal Thomas: Lessons from the recent past





[ W O R T H 1 0 0 0 W O R D S ]

Mallard Filmore

Jack Higgins

Jeff Koterba

Gary Varvel

Bob Gorrell

John Deering (AIN'T THAT THE TRUTH!)

Mike Lukovitch

Michael Ramirez

(Att. working columnists and editorial cartoonists: Think you have what it takes to be featured on JWR? Drop us a note. And readers: We're always open for suggestions!)

[ F A S T P O L I T I C S&nbsp ]








require ("t-ssi/rtorah.html"); ?>