[ J E W I S H L I V I N G ]
reality check
What Israelis are saying
By Dennis Prager


I have just returned from a week in Israel. In addition to broadcasting my syndicated radio show, I also brought a crew to make a documentary on Israelis in a time of terror.
I asked Israelis of every background these questions:
1. Why do you think that, with the exception of the United States, Israel is alone in the world?
2. Do you walk around afraid?
3. What is your primary feeling with regard to Arabs?
This is what I heard ...
perspective
Kofi's Choice: The U.N. secretary general gets entangled in l'Affaire Sommaruga
By Charles Krauthammer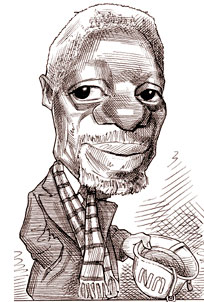 Kofi Annan has a problem. In his eagerness to nail Israel for the "Jenin massacre," the U.N. secretary general named an investigating committee of three, including one Cornelio Sommaruga, former head of the International Committee of the Red Cross (ICRC).
This was unfortunate for Annan, despite the fact that the committee was disbanded within days (a combination of Israel's insistence on conditions of fairness and emerging evidence that the entire massacre story was a fiction). In choosing Sommaruga, out of an entire universe of people who could have brought probity and impartiality to the investigation, Annan chose a man with a past.
context
Terrorists and Greek choruses
By Jackie Mason and Raoul Felder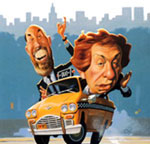 America in the past has had visited upon itself long-range problems when we deviated from making choices on a moral basis in the belief that a more expeditious approach would result in a world more acceptable to us. The end result was, when we made less than moral judgments, we ended up worse-off than when we started.
[ D A I L Y I N S P I R A T I O N ]



WISDOM EACH DAY:
Encouraging wrong-doing




DEAR JWR READERS
AN ARAB 'FUNERAL'


An Israeli drone flying over Jenin on Monday, April 28 caught a modern-day resurrection. Well, sort of.

As Arab propaganda cameras rolled, pallbearers repeatedly tried to carry a "dead" man wrapped in a green blanket. The only problem is that he couldn't keep his balance and kept falling. A highlight: At 1:35 on the film, a crowd of onlookers quickly breaks up, when the "corpse" picks himself off the floor and gets back up on the stretcher.

If the purpose of this video were not so EVIL, it would belong on one of those Dick Clark TV specials. After the 'massacre' and now this, can you believe ANYTHING the Arabs say? To view, click here. Windows Media Player needed to watch.


[ L I F E S T Y L E S ]

Dr. Robert A. Wascher's science and health report: Tea drinkers and the risk of death following heart attack; duration of breastfeeding & adult intelligence; abdominal aortic aneurysms: surgery or observation?

ACLU challenges abstinence program

Quayle 10 years after Murphy Brown


[ I N S I G H T ]



Jonathan Turley: The perfect constitutional storm

Julia Gorin: Arab Chic (OUCH!)

Capital Comment: Daily news notes, political rumors, and important events that shape politics and public policy in Washington and the world

Lenore Skenazy: Okay, start the movie already!

Mark Goldblatt: America's newest victims: "Persons of Density"

Argus Hamilton's daily chuckle (THIS GUY IS FUNNY!)

The Medicine Men: Free speech is good medicine

Larry Elder: Sexism in Hollywood?

Debra J. Saunders: Colorblind U

Mona Charen: STRUCK (READ FIRST, PLEASE!)

Clarence Page: America looks like a model of tolerance and inclusion

MUGGER: Clinton for an Emmy!

Wendy McElroy: Are parents boycotting public schools?

Mark Steyn: The home office of extremism (MUST-READ!)

Michelle Malkin: Crack down on criminal aliens

Michael Medved: Film puts best spin on USA

Tom Purcell: Don't take her for granted (POWERFUL!)

Lewis A. Fein: Let us praise ordinary men

Larry Kudlow: Production glows

Jeff Jacoby: The heroes in Castro's jails

Paul Greenberg: My mother vs. Europe (STELLAR!)

Lori Borgman: Some mothers get something more

Bill Tammeus: Business savvy for graduates

George Will: Always a bumpy ride





[ W O R T H 1 0 0 0 W O R D S ]

Mallard Filmore

Lurie's World

Gary Varvel

Wayne Stayskal

Bob Gorrell

Jeff Koterba

Joe Heller

(Att. working columnists and editorial cartoonists: Think you have what it takes to be featured on JWR? Drop us a note. And readers: We're always open for suggestions!)



[ F A S T P O L I T I C S&nbsp ]








require ("t-ssi/rtorah.html"); ?>