[ J E W I S H L I V I N G ]
reality check
Careful what we wish for
By Frank J. Gaffney Jr.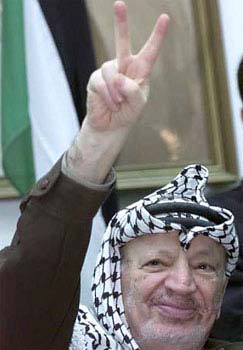 It is folly to believe that, once he has been freed again to move about the Palestinian Authority-controlled areas, he will use his political rehabilitation to wage a campaign for reconciliation and peaceful coexistence with Israel. It is all well and good for President Bush to announce that "[Arafatīs] responsibility is to renounce, to help detect and stop terrorist killings. We're going to continue to hold people accountable for results."
Actually, Mr. Arafat and his fellow terrorists are likely to conclude that - far from being held accountable, they will again be rewarded for intransigence and violence.
perspective
What wasn't heard out of Crawford
By Jack Kemp
If history is any guide, it's the warm and fuzzy diplomatic meetings where American politicians lose their shirts. That's why what we heard come out of Crawford was of less concern that what we didn't hear.
context
Bush risks losing
Evangelicals over Israel
By Don Feder
Evangelical Christians represent 26 percent of voters. In 2000, 84 percent of them voted for Bush. Had he lost just a fraction of this vote, George W. would have been one of history's also-rans.
No issue touches this community more deeply than Israel. Christian Coalition President Roberta Combs comments, "In some instances, Christian support for Israel seems to exceed that of Jewish supporters in America."
[ D A I L Y I N S P I R A T I O N ]



WISDOM EACH DAY:
A fool's deception




[ L I F E S T Y L E S ]

Bruce Williams on JWR: Keeping stocks street smart; a little equity long-range landlord

Dr. Peter Gott: How much calcium for osteoporosis therapy?; My grandson just had his tongue pierced (ugh!)




[ I N S I G H T ]



Catherine Seipp: When "zero tolerance" collides with children's health (OUTRAGEOUS!)

Ian Shoales: April Showers May Come Our Yadda Yadda


---
ARAFAT PLACED UNDER HOUSE ARREST WITH FORMER SOTHEBY'S EXEC
Unusual Arrangement Must Be Approved by Building's Co-op Board — Andy Borowitz
---
Argus Hamilton's daily chuckle (ZINGERS, SUPER-SIZED!)

Jackie Mason and Raoul Felder: A tough year for children

John H. Fund: Will Terror Leave Us No Choice? Teachers unions try to use Sept. 11 as an excuse for bad schools (OUTRAGEOUS II!)

Matt Towery: The hottest family on television might have to abandon the United States

Bob Tyrrell: Vindication for the Boy Scouts

Debra J. Saunders: Bush should end bad sentences

Paul Greenberg: Foggy Bottom blues (GREAT!)

Martin Gross: The irresponsible U.S. Senate

James K. Glassman: Japanese stock growth?

George Will: 'Final Solution,' Phase 2 (SPOT-ON!)

Bill Tammeus: Exporting our exclusivity

Marianne M. Jennings: Go ahead, pass judgment

Ann Coulter: French voters tentatively reject dynamiting Notre Dame

Cal Thomas: Judgment Day For "Touched By An Angel" (IMPORTANT!)





[ W O R T H 1 0 0 0 W O R D S ]

Mallard Filmore

Mike Shelton

Mike Lukovich

Gary Varvel

Lurie's world

David Cox

(Att. working columnists and editorial cartoonists: Think you have what it takes to be featured on JWR? Drop us a note. And readers: We're always open for suggestions!)



[ F A S T P O L I T I C S&nbsp ]








require ("t-ssi/rtorah.html"); ?>