[ J E W I S H L I V I N G ]
reality check
Slipping down the Eurinal of history: France, the joke is on you
By Mark Steyn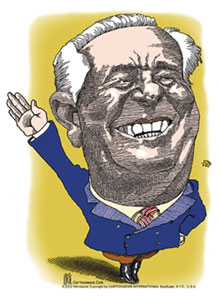 While M. Chirac has cast himself as the defender of France, M. Le Pen is apparently the defender of the Jews. While I was over there, he was the only candidate who was seriously affronted by the epidemic of anti-Jew assaults by French Muslims. The Eurosnots told me this was "cynical," given that M. Le Pen is notoriously anti-Jew and not above doing oven jokes in public. But that doesn't necessarily make him cynical.
perspective
The U.N. won't investigate
the real tragedy
By Yossi Klein Halevi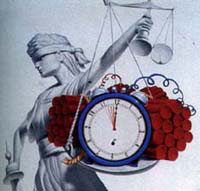 The United Nations commission formed to investigate the nonexistent Israeli "massacre" in the West Bank town of Jenin could have been a means for some desperately needed truth-telling about the Middle East conflict.
Instead, should it go forward, here's a detailed list of what to expect.
context
Massacring the truth
By Jonathan Tobin
Let's take it as a given that there are probably some people of goodwill who are taken in by the media barrage against Israel. But once we eliminate from consideration this small group of pacifists, we are forced to confront an ugly truth about many of Israel's critics. Some are either left-wing idealogues who are appalled by the idea of a Jewish state defending itself.
Others are part of the growing numbers of closet anti-Semites who purge their own guilty feelings by ascribing to the Jews all of the murderous attributes that have characterized the feelings of Europe toward the Jews for more than a millennia.
[ D A I L Y I N S P I R A T I O N ]



WISDOM EACH DAY:
Happiness and the acquisitive drive




[ L I F E S T Y L E S ]

Bruce Williams on JWR: Protecting your homestead; my boss stole my retirement fund!

Dr. Peter Gott: Treatment for aging muscles; sarcopenia; too much Tylenol PM?




[ I N S I G H T ]



Barbara Amiel: Why has it taken Le Pen to ask the awkward questions? (SPOT-ON!)

Argus Hamilton's daily chuckle


---
MINNELLI MARRIAGE ENTERS DAY 47, BAFFLING EXPERTS
Icky Showbiz Union In Danger of Losing "Sham" Status — Andy Borowitz
---
Laura Ingraham: Bush: "California here I come ... sort of"

Dick Morris: Immigration fault li(n)es (IMPORTANT!)

Lenore Skenazy: Driven nuts by drive-time cell phoners

Bob Greene Just when you thought the world was too cold …

Kathleen Parker: On Bush's ranch, diplomacy keeps on truckin'

Jules Witcover: No blank check to invade Iraq

Wesley Pruden: When the president wears a clothespin (EXCELLENT!)

MUGGER: Another Cuomo bites the dust?

David Limbaugh: Chilling Christian expression

Larry Kudlow: Keep Bush the Elder away from our Dubya

Chris Matthews: The 1930s all over again

Walter Williams: Who should decide?

Michelle Malkin: White and Wong profiteers (OUTRAGEOUS!)





[ W O R T H 1 0 0 0 W O R D S ]

Mallard Filmore

Michael Ramirez

Gary Varvel

Gary Brookins

Wayne Stayskal

David Cox

(Att. working columnists and editorial cartoonists: Think you have what it takes to be featured on JWR? Drop us a note. And readers: We're always open for suggestions!)



[ F A S T P O L I T I C S&nbsp ]








require ("t-ssi/rtorah.html"); ?>