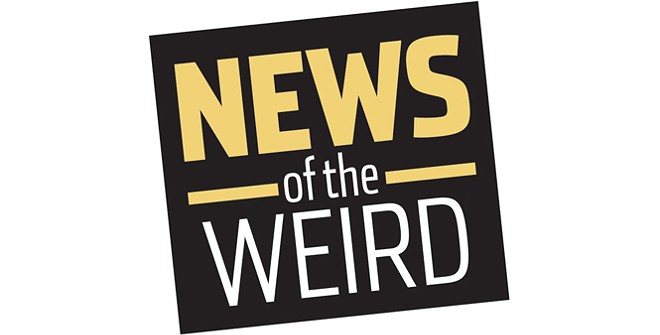 •
It seems Cynthia Grund, 58, is not one to back down from a challenge.
Particularly after her 37-year-old son had been drinking all day at her home in Salem Township, Minnesota.
So when he lay down on the driveway and asked, "Why don't you just run me over?" she was happy to oblige, reported KIMT TV.
"He didn't believe I would. He has been drinking all day. We gave him a chance," Grund told deputies who responded to her husband's 911 call on March 18.
Grund said she had arranged for her son to stay with a friend and was prepared to give him a ride when he stretched out on the ground. He suffered significant injuries to his head and pelvis, and Grund is accused of second-degree assault and may face an attempted murder charge.
Neighbor Samuel Haefner was shocked by the incident: "They were always friendly ... I would never describe them as off or malicious in any sort of way." [KIMT, 3/19/2019]
• Along the Iroise coast in Brittany, France, residents have been puzzled by a mysterious phenomenon for more than 30 years.
Broken pieces of orange plastic landline phones in the shape of the cartoon character Garfield have been washing up on the beach.
BBC News reports the mystery has now been solved: A local farmer remembered the phone parts started showing up after a particularly fierce storm in the early 1980s, and, more important, he also knew the location of a lost shipping container -- in a sea cave accessible only at low tide.
Members of the Ar Viltansou anti-litter campaign climbed down to the cave and found not only the remains of the container, but also more Garfield phones, preserved better than any that had made it to the beach.
The container cannot be removed, so officials have pledged to keep picking up Garfield phones as they wash ashore. [BBC News, 3/28/2019]