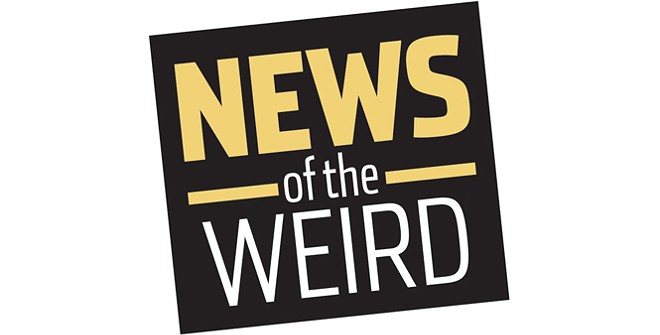 As a wedding party of 30 guests gathered on the beach at Oceanfront Park in Ocean Ridge, Florida, on March 3, Jeffery E. Alvord, 27, and his bride posed for photos before the ceremony.
Trouble erupted instead when a 24-year-old man would not move from his spot on the beach to make way for the photos, the Palm Beach Post reported. In fact, Alvord told police, the man wouldn't relocate even after being offered $50 and became "very belligerent," so Alvord punched him in the nose.
The victim told Ocean Ridge police a groomsman held him while Alvord punched him three times, and the police report noted that the victim's "nose appears to be out of place sitting more to the right of his face," and his glasses were broken.
Alvord spent what would have been his wedding night in the Palm Beach County Jail and faces charges of aggravated battery and criminal mischief.
He and his fiancee married the next day, shortly after his release from jail. [Palm Beach Post, 3/6/2019]
• He's been dubbed the Naked Carpenter for renovating his home wearing only a tool belt, but Robert Jenner, 43, of Snodland, Kent, England, seems to have crossed the line with local jurors. Jenner was convicted on March 12 of 10 counts of indecent exposure in Canterbury Crown Court.
Jenner's nudist habits have put him on the wrong side of law enforcement before, reported Metro News, but this time his offenses included delivering packages for a courier service wearing trousers with a hole cut out of the crotch, exposing himself to a teenage girl, and running past a children's play area while wearing "see-through trousers."
Jenner's attorney, Kate Chidgey, tried to explain her client's behavior: "It was not his intention that people were caused distress by what he did or didn't wear." She added that he strongly believes in "naturism." [Metro News, 3/12/2019]