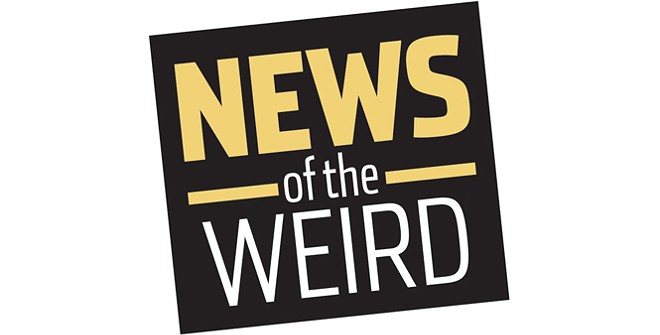 •
The long, harsh winter must have got to folks in Muskego, Wisconsin.
To wit: Police were called to a home on Feb. 22 after "a big teddy bear" was reported to be at a neighbor's front door.
As it turned out, the human-sized panda -- not native to the Badger State -- was a 48-year-old man who had been asked to check on the dogs and thought it would be funny to prank his neighbors through their security system.
"I knew my neighbors had cameras, and I thought I was going to make the ordinary extraordinary and dress up in the panda suit," the unnamed man told CBS 58.
Apparently he has also picked his daughter up at school and met her at the bus stop in the suit (pandas are her favorite animal). [CBS 58, 2/28/2019]
• Neighbors of Michal Prasek, 33, of Zdechov, Czech Republic, were rightly concerned about the animals living on his property.
In 2016, Prasek bought a full-grown lion, and two years later added a lioness, for breeding purposes.
He built enclosures for them, defying government regulations, and would not allow authorities onto his property to investigate.
BBC News reported on March 5 that Prasek's project had met a tragic end: He was discovered by his father in the lion's cage, mauled to death.
The father said the cage had been locked from the inside. Police who were called to the scene killed the two lions in order to reach Prasek's body.
Presumably grasping for a silver lining, Zdechov Mayor Tomas Kocourek commented: "Today's incident will perhaps finally help to resolve this long-term problem."
Cold, dude. [BBC News, 3/5/2019]
• Judith Streng and her son, Rod, traveled to Iceland in February, where they visited Diamond Beach, in Jokulsarlon. The tourist attraction features huge chunks of ice that have broken off a nearby glacier. The Texas grandma saw other visitors having their pictures taken on a beached iceberg that was shaped like a throne, so she climbed aboard for her turn.
That's when a "sneaker wave" swept in and took Streng out into the lagoon.
"A very large wave came in and kind of made the throne kind of rock," she told ABC News. Streng was rescued by a boater, Randy Lacount of Florida, who happened to be nearby when she drifted away from shore.
"You know I always wanted to be queen," Streng said. "That was my chance." [ABC News, 3/1/2019]