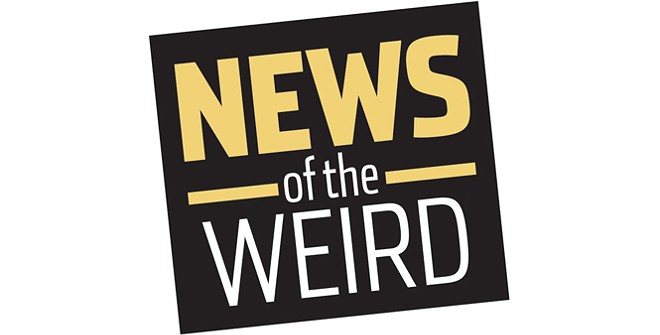 Detective Constable Claire Fitzpatrick is no shrinking violet, evidenced by the fact that she's in danger of losing her job at the village police station in Bedwas, South Wales, England.
The 44-year-old says her inappropriate language and habit of audibly breaking wind are just part of the "culture of banter" at the station, but she faces 25 counts of inappropriate behavior, including: farting outside her sergeant's office, using the C-word with a suspect, and propositioning a junior officer (asking if he wanted an affair with a "fatter, ugly, older woman").
DC Fitzpatrick told Metro News that swearing is "just the nature of the place" and she had replaced the F-word with the C-word as her word of choice. However, she appeared to have regrets about her actions, calling them "stupid." [Metro News, 2/26/2019]
• Silence of the Lambs, indeed. A Manchester, England, woman named Joan has a unique project in mind for a custom clothing designer. It seems Joan, 55, is anticipating having her leg amputated because of peripheral arterial disease, reported the Daily Mail, so she posted on Sewport.com, requesting help to "create something beautiful and useful" -- a handbag, using her own skin. She has budgeted about $3,900 for the project, which she envisions as a "medium-sized handbag with a short strap and a section down the middle that will be made from my skin," she explained in the post.
"I know it's a bit odd and gross ... but it's my leg, and I can't bear the thought of it being left to rot somewhere." There are no laws against her keeping the limb, although there is paperwork to fill out. Boris Hodakel, the founder of Sewport.com, reports that no designers have come forward yet to help with Joan's request. [Daily Mail, 2/20/2019]