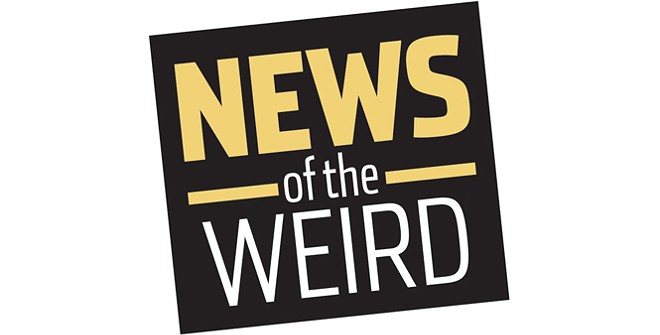 •
The moral of the story? If you're going to rob a bank in February, target Florida or Texas. Jason Mackenrodt, 37, was making his getaway after robbing the Bangor Savings Bank in Waterville, Maine, on Feb. 12. He scrambled across four lanes of traffic and into a restaurant parking lot -- where he slipped on the ice and sprawled on the ground, right in front of Maine State Police Special Agent Glenn Lang, who was sitting in his parked car.
Lang didn't know the bank had been robbed, but he became suspicious when "the money and the gun he had stashed in his jacket pocket spilled onto the parking lot," Police Chief Joseph Massey told the Morning Sentinel. (The weapon turned out to be a BB gun.) Lang tackled Mackenrodt and took him into custody as police were responding at the bank. Mackenrodt was charged with robbery and terrorizing. [Morning Sentinel, 2/12/2019]
• On Jan. 31, Julian R. Mitchell, 20, tried to use a debit card from a wallet he had stolen at a Nashville, Tennessee, bar, according to WZTV. But a fraud alert tipped off bar employees that the card had been lost or stolen, so they asked for photo ID. Mitchell fished out the Tennessee driver's license from the wallet, which, according to the Davidson County arrest affidavit, made it "plainly obvious" that the photo was not of him because of the difference in height.
Mitchell, who strangely resembles a Ken doll, with blond hair, a red beard and black eyebrows, was charged with identity theft; officers found several other cards belonging to the same victim in the wallet. [Atlanta Journal-Constitution, 2/2/2019]