Jewish World Review April 9, 2004 / 19 Nissan, 5764

Leonard Pitts, Jr.
WOW! and special thanks, too
http://www.NewsAndOpinion.com | My first reader was a welfare mother with a heart condition. She lived in a housing project near downtown Los Angeles.

This is circa 1962 or '63 and technically, she wasn't my reader back then but my listener. I would follow her around as she ironed clothes or prepared a meal, reading aloud from my latest epic, which, like all my epics, was about a boy who was secretly a superhero, with super strength and the ability to fly.

Surely there came a point where the poor woman secretly regretted having taught the bespectacled child his ABCs, but she never let on. Just nodded and exclaimed in all the right places and when the story was done, sent me off to clean up my room or wash my hands for dinner.

And time rushes past like a bullet train. Until suddenly it pulls up at Monday of this week, 40-something years and many thousands of readers later. I'm standing in a newsroom encircled by a hundred or more of America's finest journalists as a bulletin flashes on a computer screen saying that I've won the 2004 Pulitzer Prize for commentary. My fist thrusts itself into the air, people cheer, my wife cries, there's a TV camera in my face and I'm looking down on all this from somewhere over the moon, thinking ...

Wow.

Just ... "wow."

A moment like that belongs to so many people, a long list you want to call out by name. You want to acknowledge favorite teachers, special editors, old friends, the wife who has stood by you when times were good and not so good.

But I keep thinking that as much as that moment belongs to all those people, it belongs first to my first reader.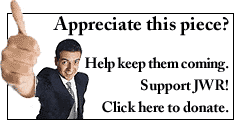 She was not a learned woman, never finished high school. But then, it's hard to be learned when you grow up black in Depression-era Mississippi. Still, not being learned is not the same as not being smart. My first reader was a voracious consumer of books and newspapers, a woman filled with a thirst to know.

Hers was not an easy life. Money was tight and she was always scrimping to get by. She had a husband who drank and who hit her.

But you'd never have guessed these things if you'd ever met her. My first reader carried herself with that serene majesty that often comes to black women of a certain age. You'd have thought she was some nation's queen, not a battered wife on a budget.

My first reader was always looking out for me. She bought me a toy typewriter to pound out my stories on when I was 8. Found a real one, used, and helped me buy it on layaway when I was 14. Sometimes, somehow, she'd save out a few coins and slip them to me so I could run down to the store and see what Spider-Man and the Fantastic Four were up to.

I remember once, we were in a supermarket when I was 19 or 20 and free-lancing for a teenybopper entertainment magazine. She picked up a copy at the checkout stand and asked me, in a voice intended for everyone within 10 feet, if any of my work had been published in this particular issue. I said no, in a quiet, embarrassed voice. She asked again, loudly again, just to be sure.

I can only imagine how she would have reacted to Joseph Pulitzer's prize. On Thursday, it will be 16 years since her death from breast cancer.

The bullet train rushes past and suddenly, a newsroom erupts in applause and I'm standing there stunned and overwhelmed and grateful to G-d for readers.

Idealistic young scribes who insist their work is for them alone will disagree, but a writer without readers is like shouting in an empty room. And I'm humbled to think how much I owe to all the people who've kept me from shouting into that silence all these years. It is a line that stretches from you who are reading this right now all the way back to a woman in the projects trying to get dinner on, but still finding time to hear stories about a boy who can fly.

So, thank you. And thanks, Mom.
Every weekday JewishWorldReview.com publishes what many in Washington and in the media consider "must reading." Sign up for the daily JWR update. It's free. Just click here.
Comment on JWR contributor Leonard Pitts, Jr.'s column by clicking here.
© 2003, The Miami Herald