Jewish World Review April 16, 2004 /26 Adar, 5764
Freud, windbags, and politicians
By Jackie Mason & Raoul Felder

http://www.jewishworldreview.com | Dr. Freud said that there are no such things as coincidences, and at least on this one thing, we agree with him. And talking about Freud nobody outside of a lunatic asylum would believe that it was just a coincidence that Richard Clarke's book came out the same week that he appeared before the 9/11 Commission. But before we talk about lunatics B and worse B there should be a word said about anti-terrorism experts in general.

Anti-terrorism experts are as phony as a hookers smile at 3 o'clock in the morning. Your brother-in-law well, maybe not your brother-in-law but any reasonably intelligent person could call himself an anti-terrorism expert. We have not seen any signs outside a college that say, Anti-Terrorism University or any Internet diplomas being sold to put on your wall that say, Ph.D. in Anti-terrorism, nor will you ever meet a kid that says to you, I have to hurry, I will be late for my class in Anti-Terrorism.

There are, of course, trained professionals who do the field work. They are the people who learn to listen in and bug the terrorists communication systems, who infiltrate their camps and who man the satellites that track them. But anyone who doesn't have to lip-read, and who studies all the reports, intercepts, analysis, recommendations from field people, and reads Soldier of Fortune magazine or can live with some of the women we know for six months or more, will qualify as an anti-terrorist expert.

In fact, Clarke himself earned his degree from MIT in Management. At the State Department, they appointed him an intelligence official. However, in 1992 he was forced to leave because of poor performance after the Inspector General found he failed to adequately perform in the matter of Israeli exports to China. He was transferred to the White House and was politically savvy enough to worm his way into becoming a Presidential Advisor on anti-terrorism. The height of his power came during the Clinton administration when Clinton, too bored or preoccupied inspecting throngs of overweight and under-aged girls, did not attend the morning CIA briefing, as does President Bush, and instead, later in the day received his summary from Clarke. He then had the mornings to sleep late and the rest of the day to chase girls.

Even Clarke, while damning the Bush administration, when directly asked at the 9/11 hearings, admitted that the attacks could not have been prevented.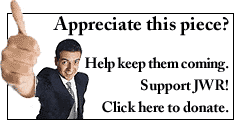 It is no coincidence that it was only after much of Clarke's staff was taken away from him, along with his fancy office in the White House and that he did not receive a high position in the newly-formed Department of Home Land Security, that he quit government and decide to write a book B a book which has now earned him two million dollars.

Clarke attempted to make one woman the cause of the 9/11 happening and the subsequent world upheaval that followed it. But Condoleezza Rice's matter-of-fact-by-fact calm presentation was an effective antidote to Clarke's testimony to the point that he is now in yesterday's newspaper dust bin. The six hundred pound factoid that the Democrats had to deal with was the reality that Clinton had been in office eight years and Bush, eight months, when 9/11 occurred and clearly the attacks were long in the planning stage.

When the allegedly explosive Presidential Briefing memo was released on Saturday, it caused more of a whimper than a bang. It was basically historical and non-specific and, indeed, supported Ms. Rice's testimony and her description of it. If anything, it pointed out that the situation leading to 9/11 was on-going for years and that Bin Laden's organization ...prepared events years in advance. We also now know that the criminals responsible for the World Trade Center attack had established residences in the U.S., some had legitimate jobs and attended flight school in the U.S. In some cases, later evidence revealed that they did not even know their assignments until shortly before 9/11. All of this, of course, pre-dates Bush's presidency by many months in some cases, years. We suggest that it will not tax anybody's attention span to read the exact text of the briefing that President Bush received. It becomes obvious that the report contains little more than what a high school student who read the papers would have known. You do not have to be Dr. Kissinger to know that Bin Laden had acts of terrorism on his agenda. Bear in mind that he had already bombed the World Trade Center in 1993 and bombed our embassies in Kenya and Tanzania in 1998.

The document speaks about a millennium plot that was thwarted in Canada in 1999, and an attack that had (past tense) been planned on the Los Angeles International Airport, and that in 1998, Abu Zubaydah had planned an attack on the U.S. It pointed out that the attacks in Kenya and Tanzania Ademonstrated that he [bin Laden] plans operations years in advance... which would bring us into the first Clinton administration. It indicated that some al-Qaida members are U.S. citizens - in fact, none of the plotters of 9/11 were U.S. citizens - and that in 1998 Bin Laden was recruiting Muslim-American youth so what else is new? What seems to be the most damning point for Bush's critics is the statement that in 1998, Abin Laden wanted to hijack a U.S. aircraft to gain the release of Blind Shaykh Umar Add al-Ramman and other U.S.-held extremists. What instead happened was plain and simple suicide people smashed into buildings, not seeking the release of any hostage, person, or group of people.

The document then goes on to say that since 1998 these suspicious activities (it would be suspicious if they were not suspicious activities) included surveillance of Federal buildings. The World Trade Center was, of course, not a Federal Building.

After Pearl Harbor there were two dozen commissions and investigations that sought to fix blame. Blame finally fell on Admiral Kimmel and General Short neither of whom, as history as subsequently proved, bore any true responsibility for what occurred. The real subject then as now should have been until President Bush's actions in Iraq why does the American public deny their leaders the political support to act in the face of a gathering danger, preferring to wait until there exists no other option but resort to military action in self-defense after an attack takes place.

The sad part of the 9/11 Commission is that its purpose is primarily political, in a political year. Certainly neither Bush nor Clinton wanted 9/11 or anything similar to happen. They both acted in a way they (Clinton for 8 years; Bush for 8 months) believed appropriate based on the information they received. Neither knowingly ignored any of the warnings we now read about with the help of the 20/20 vision of hindsight. And, of course, we never know what policies and safeguards they did, in fact, pursue that prevented prior or subsequent assaults although in Bush's case, in view of the open declaration of war by the successful bombing of the World Trade Center, it is logical that there were more subsequent attacks prevented than under Clinton.

Commissions with their windbag politicians are, to paraphrase Shakespeare ...full of sound and fury, and signify nothing. The people who perished on 9/11 deserve better.
Sign up for the daily JWR update. It's free. Just click here.
JWR contributors Jackie Mason and Raoul Felder need no introduction. Comment on this column by clicking here.
© 2004, Mason and Felder