http://www.NewsAndOpinion.com | As I write, a recording of pianist/conductor Murray Perahia's performance of Mozart's Piano Concerto No. 25 in C (K. 503) is filtering into my workspace. A small video camera is at the ready, if I want to have an online chat. And then there's the Motorola MPx200, a wireless phone discussed here before: I've found new possibilities for it.

All of these are connected in "small" ways to my computer, but each can play a big part in making my computing life - and perhaps yours - a tad better and easier.

Let's start with the Mozart and Mr. Perahia, who celebrated his birthday on April 19. I'm hearing this rather marvelous piece of music thanks to WQXR-FM in New York City, which is transmitting its broadcasts over the Internet. Big deal, you say; stations have done that for years. Yes, I reply, but I'm listening not with Real Networks' "RealPlayer," but rather with Microsoft Corp.'s Windows Media Player. (The "Real" product is balking at playing radio stations, and I'm not sure why.)

So what, you say? So, I'm doing it on an Apple Macintosh G5 desktop running OS X version 10.3, also known as "Panther." It may not be as widely known as it should be that there is a version of Windows Media Player for the Mac, but you can find it at http://www.microsoft.com/windows/windowsmedia/software/Macintosh/osx/default .aspx, free of charge.

It's good to have alternatives, and though many Macintosh die-hards will smirk at the irony of Microsoft providing a nice alternative to Apple's iTunes (stet) and RealPlayer, that's the reality. I hope the Microsoft folks will continue to support Mac users with its media software, which can bring the wonders of great music to one's desk.

Another nice item, not tiny but useful, are the JBL Creature 2.1 Computer Speakers made by Los Angeles audio firm Harmon Kardon, retail price just under $130, but available for under $98 at Office Depot's online store. The cute "space alien" design bespeaks the moniker, but these "Creatures" produce fantastic sound in not too much space. The subwoofer doesn't look out of place on a desktop. The "right" speaker has touch sensitive volume controls, although a keyboard "mute" button is still a good idea for when the phone rings or a colleague drops by. The "Creature" speakers are suitable for PC and Mac systems; I'll bet they'd handily impress a Linux user for that matter.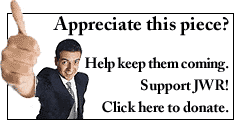 Equally impressive is Apple's iSight, a $149 video camera (with built-in microphone) that uses a FireWire (IEEE 1394) cable to convey picture and data to the computer. The product works only with Macs at this point. What I find striking is the small size, easy setup and stunning picture the device provides. Whether I want that picture available to the rest of the world is another matter.

One thing that should become more widely available in the weeks ahead is the Motorola MPx200, which lists for $499, but can be had for half that price, or less, depending on the deal you strike with either AT&T Wireless or one of its dealers. I've seen prices ranging up and down the line, all the way down to free after rebates. (Those probably involve two-year service commitments, but that's something buyers would want to investigate.)

The MPx200 is a phone that can handle e-mail, Internet browsing, MP3 music files (stereo headphones are included) and a range of other tasks including contact management, appointments and task lists. All this in a "flip" phone that is not at all too much to carry or remember. It's stylish (a black case highlights the LED display on the front and the fold-up LCD display inside), rugged, and has worked well for me in and around Washington, D.C., a place with not a few cell phone users.

Best of all now, the phone can synchronize addresses, photos, calendar items and to-dos with my Mac, thanks to PocketMac Smartphone 3.0, $28.88 from www.pocketmac.net. The program supports file transfers between Microsoft's Entourage for Mac, as well as Apple's Address Book, Mail and iCal programs. Such convenience has been years in the making, and it's another bit of democracy for Mac-oids: we can now use worthwhile accessories, no matter who makes them.
Find this column useful? Why not sign-up for the daily JWR update. It's free. Just click here.
JWR contributor Mark Kellner has reported on technology for industry newspapers and magazines since 1983, and has been the computer columnist for The Washington Times since 1991.Comment by clicking here.