http://www.NewsAndOpinion.com | Be candid, please: When was the last time you sat down, away from your home or office, and thought about the computing tools you're using?

I heard a story last week that seemed incredible at first, but is probably far too representative of what happens in many offices, organizations and even home businesses. It involved someone in an office, who was using a word processing program to manage a mailing list of 6,000 names. They were coping well enough, but using a word processor to handle what is, essentially, a database, is akin to taking a Bradley armored vehicle (assuming you could borrow one from the U.S. military) to run down to the neigborhood convenience store for a quart of milk. Yes, the Bradley will get you there, but it's far from ideal for the task.

The same goes with word processors - or any other piece of software, for that matter. In the early days of personal computing, and even until fairly recent times, the word processor was shoehorned into many applications for which - truth be told -- it wasn't ideally suited. The "mail merge," or form letter, feature of word processors is powerful enough to handle mailing lists, but the better, faster, easier way of doing it is with a sophisticated spreadsheet such as Microsoft's Excel or Corel's Quattro Pro. The more classic alternative is to use a database program. When a mailing list gets above 100 names, I'd suggest it's time to drop the word processor for a more suitable tool.

Most spreadsheets, including Excel and Quattro Pro, allow you to create a spreadsheet where that 6,000-name list becomes a series of rows and columns. The columns would denote various components of the person's contact information: name, address, city, state, postal code, etc.; each row would be a separate record.

While a 6,000-row spreadsheet is better than a word processing document, it's not the best solution. A list of such a size would be better served by a full-fledged database program. These used to be sold in two flavors, "relational" and flat-file. The latter was the digital equivalent of a box of index cards, which you could reshuffle and index easily. The relational database was a way to set up "relationships" between various types of data, and today has grown into products that use highly complex computing tools to "query," or use, data that resides on large, corporate-wide computer systems.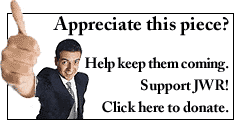 Now, the newest version of one of my favorite programs, FileMaker Pro, bridges the gap between flat-file and relational programs. The newest version, released early in March and retailing for $299, contains 30 different "solutions," including a contact manager that would be ideal for my friend with the 6,000-name list. It might take some work to make the initial transition, but updating and maintaining that list will be so much easier. What's more, FileMaker Pro is produced for both Microsoft Windows and Apple Macintosh platforms, making it ideal for mixed computing environments. Details can be found at http://www.filemaker.com, and it's worth investigating.

Similarly, Dymo's LabelWriter 330 Turbo, which retails for just under $210, is a far better solution for printing one-at-a-time address labels than anything else on the market. It beats, hands down, using address label sheets in a laser or inkjet printer because the device is dedicated to the task at hand; label sheets can jam and stick in even the best of desktop printers. It's also easy to forget which position to set when reusing a partially used label sheet, and that's the stuff of errors and waste. The Dymo device eliminates this.

As in the case of the database program, some users may not be aware of a standalone label maker like the Dymo unit. They may also be skittish about dedicating a USB port to the device. But if your day calls for producing mailing labels on an ad hoc basis, this is a product that could add years to your life by reducing the frustration generated by less fruitful methods.

The bottom line: it's a good idea, every now and then, to review the way you handle various tasks via computer, and see if there's not a better idea out there. You might be pleasantly surprised at how many such solutions can be found.
Find this column useful? Why not sign-up for the daily JWR update. It's free. Just click here.
JWR contributor Mark Kellner has reported on technology for industry newspapers and magazines since 1983, and has been the computer columnist for The Washington Times since 1991.Comment by clicking here.