[ J E W I S H L I V I N G ]
reality check
The U.N.'s Israel
Obsession: A primer
By David Tell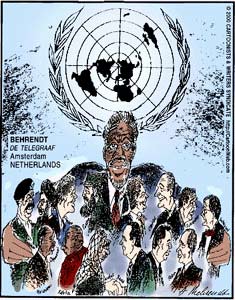 In 1948, when the armies of five surrounding Arab dictatorships invaded tiny, newborn Israel--in what the secretary general of the Arab League announced was a "war of extermination" against "the Jews"--the United Nations sat on its a--. And did not send a fact-finding mission.
But, oh, how the U.N. has been making up for that oversight ever since. For more than 50 years now, the Jews have been its favorite subject
perspective
Stop the war on 'terror'!
By Jonah Goldberg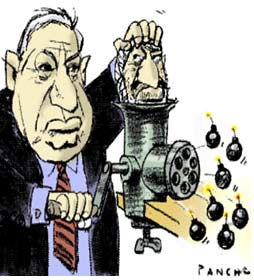 To the extent conservatives are disappointed with Bush's zig-zagging on Israel there's another motivation worth noting: The war on terrorism doesn't make sense if Yasser Arafat isn't a terrorist. There's vastly more evidence that Yasser Arafat is a terrorist than there is against Osama bin Laden.
Don't get me wrong, I think there's more than enough evidence against bin Laden, but Arafat has been killing innocent people around the globe for decades, from the Munich Olympics to the most recent suicide bombing.
context
Hope and despair
in the Middle East
By Suzanne Fields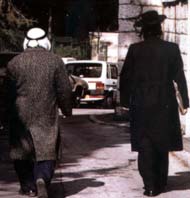 My daughter's middle name is Hope. On my way to the hospital on June 6, 1967, I listened with alarm to the radio descriptions of the bombs exploding in the Middle East.
The Six Day War had begun. Hope was in my heart then, as it is today. Thirty-four years later we're heirs of that war, still caught between hope and despair. (Despair would not have made a good middle name.)
[ D A I L Y I N S P I R A T I O N ]



WISDOM EACH DAY:
Strengthening your ability to do good and avoid evil




[ L I F E S T Y L E S ]

Consumer Reports on JWR: High cost not sure sign of quality shoe

Dr. Ed Blonz: Is grazing good for you?; homeopathy, con't




[ I N S I G H T ]



John Ziegler: An End To An Endless Story? Why I will never say 'the n-word' aloud again

Argus Hamilton's daily chuckle


---
SAUDIS INCREASE PRODUCTION OF BOSSY FOREIGN POLICY LECTURES
Plan to Become World's Leading Producers of Unsolicited Advice — Andy Borowitz
---
Michael Ledeen: Iran on the Brink … and the U.S. does nothing

Jan C. Ting: Reorganization plans ignore the real problems at the INS (IMPORTANT!)

Robert H. Haught: Donkeys and elephants: Is it really art or is it politics?

Bill Steigerwald's Q. and A. 10 Minutes with ... The New York Sun's Seth Lipsky

Mort Zuckerman: Roller-coaster nation

Linda Chavez: Putting honor before opportunity

Stanley Crouch: Time to get serious on immigration

John Leo: High-minded citizens eager to break laws they don't support

Amity Shlaes: Wine lovers may at last be able to stray across state borders. The Internet is coming to the aide of free trade (AHEAD OF THE CURVE!)

Doug Bandow: The price of postal monopoly

James K. Glassman: Trust the Bells?

Betsy Hart: Home is where the heart is

Nat Hentoff: Anti-Semitism springs eternal (CHILLING!)

Cal Thomas: A prince of a fellow





[ W O R T H 1 0 0 0 W O R D S ]

Mallard Filmore

Jeff Koterba

Gary Varvel

John Deering

Lurie's World

Bob Gorrell

Joe Heller

(Att. working columnists and editorial cartoonists: Think you have what it takes to be featured on JWR? Drop us a note. And readers: We're always open for suggestions!)



[ F A S T P O L I T I C S&nbsp ]








require ("t-ssi/rtorah.html"); ?>