[ J E W I S H L I V I N G ]
reality check
The 'Palestinian' victims?
By Robert Tracinski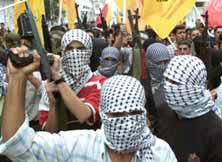 When a whole society lionizes terrorists, accepts them as its leaders, and rallies to cries to "write in blood the map of the one homeland and one nation" and send "a million martyrs marching on Jerusalem" -- what right do they have to complain when their wish for blood and death is granted?
perspective
In search of Arab dignity
By Jack Kemp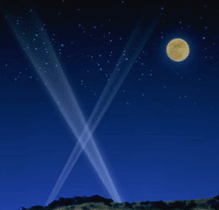 The victims of the Middle East conflict are not just the Israelis who have been fighting a 50-year war of survival against hostile Arab states; the victims are also Arab Muslims and Christians living in the territory under the British mandate at the end of World War II and today, now commonly referred to as "the Palestinian people," who have been oppressed, manipulated and betrayed by radical Arab countries, including their own "Palestinian" leaders, particularly Yasser Arafat, who happens to be Egyptian.
context
'Palestinians' chose their suffering
By Don Feder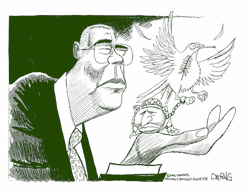 One can feel sorry for the Germans and Japanese who suffered their fate, and still understand that they brought it on themselves.
Hitler was democratically elected. By 1939, Germans were prepared to march into hell (and send others there) for the fuhrer. Japan's war on America and the people of East Asia was equally popular at home.
That Palestinians overwhelmingly support their leaders and the evil they've unleashed is beyond dispute.
[ D A I L Y I N S P I R A T I O N ]



WISDOM EACH DAY:
The pause that ... gives you wisdom




[ L I F E S T Y L E S ]

Bruce Williams on JWR: Insurance coverage in question; getting rid of useless land; proving ownership of account after bank folds

Dr. Peter Gott: Excess water consumption is not related to hypertension; tormented by severe itching




[ I N S I G H T ]



Richard Lederer: On Language: Abstemious words (FUN!)

Edward N. Luttwak: Le Pen's win is about more than just hate


---
AlGORE REGRETS BREAKDANCING INCIDENT
Ill-Advised Attempt to Reshape Image — Andy Borowitz
---
Argus Hamilton's daily chuckle (ZINGERS GALORE!)

Tony Snow on the issues of the day

Mort Zuckerman: A critical tipping point

Mark Goldblatt: On Being Whiteballed: Why my novel is nowhere near your bookstore (CONTROVERSIAL!)

Matt Towery: One step ahead of devious minds capable of unthinkable crimes?

Martin Gross: How to slice the pork out of congress' hide

Bill Tammeus: Life's stories carry messages about values

Michael Medved: How a frustrated, overlooked Hollywood actor gets instant respectability (EXCELLENT!)

Linda Chavez: This tragedy was the result of reform

Dick Morris: It's the war, stupid

George Will: Conservatives should be quite pleased

Bob Tyrrell: A topic almost no other columnist will touch

Cal Thomas: Karen Hughes' priorities







[ W O R T H 1 0 0 0 W O R D S ]

Mallard Filmore

Ranan R. Lurie

World Editorial Cartoon Showcase: The view from ... Netherlands

Gary Varvel

Joe Heller

Mike Lukovich

Jack Higgins

(Att. working columnists and editorial cartoonists: Think you have what it takes to be featured on JWR? Drop us a note. And readers: We're always open for suggestions!)



[ F A S T P O L I T I C S&nbsp ]








require ("t-ssi/rtorah.html"); ?>