[ J E W I S H L I V I N G ]
reality check
The litmus test for authentic 'freedom fighters'
By Binyamin Netanyahu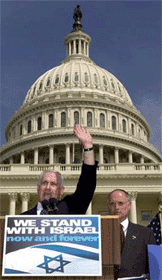 Another masterful address by the former Israeli prime minister. This time, to the 100,000-strong pro-Israel rally at the Mall in Washington, D.C on Monday.
~~
We're publishing these prepared remarks after numerous requests by our readers to do so. Yes, folks, at JWR, we aim to please.
perspective
What the Arabs of Gaza and the West Bank gained from the "peace accords"
By Jack Kelly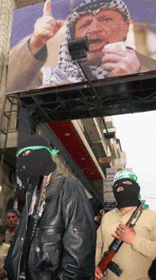 Much has been written about the deleterious effect the Oslo "peace process" has had upon Israel. Not enough attention has been given to the harm it has done to Palestinians.
Arguably, the worst thing that has happened to the Palestinians since the Six Day War in June, 1967, was the creation of the Palestinian Authority in 1993.
context
Read My Lips: No Negotiating With Terrorists
By Greg Crosby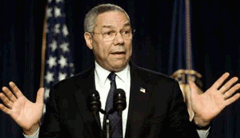 Secretary of State Powell has returned from the Middle East and all we got was ... heck, we didn't even get a lousy T-shirt. Ten days in the balmy Middle East. How would you rate his "peace trip?"
[ D A I L Y I N S P I R A T I O N ]



WISDOM EACH DAY:
"If your friends call you a mule, put on a saddle."




[ L I F E S T Y L E S ]

Consumer Reports on JWR: No lack of choices for SUVs

Robert A. Wascher: Change your sex by drinking water?; Anti-inflammatory RXs may reduce growth of breast cancer cells; radiation treatment reduces repeat narrowing of bypass grafts




[ I N S I G H T ]



Richard Lederer: This Riddle Isn't Letter-Perfect (NEW CONTRIBUTOR!)

Bill Steigerwald on media: Saddam starting to show his age


---
ALLY MCBEAL GOES ON EATING RAMPAGE
Hits Olive Garden, Sizzler in Three-State Thrill-Swill Spree — Andy Borowitz
---
Argus Hamilton's daily chuckle (ZINGERS GALORE!)

Bill Tammeus: Our life force's search for fellow life forces

Wendy McElroy: World Bank or World Government?: The World Bank is blackmailing impoverished nations

Patricia Pearson: Should we allow psychics to be sued for fraud? (DIFFERENT!)

Clarence Page: It's high time to open up pot-law debate

Lori Borgman: Paper trail to college

Bob Greene: Could this be the sound of World War III?

Leonard Pitts, Jr: A reminder of how small the world has become (SUPERB!)

Richard Z. Chesnoff: Road to Mideast peace detours around Arafat

Tony Snow on the issues of the day

Jules Witcover: What makes Reno run?

Lewis A. Fein: Feeding the Enemy: Leftist Excuses for Anti-Semitism

Michelle Malkin: See Dick and Jane weep

Larry Elder: Pass the Advil on taxes

Mona Charen: Two sides of modern America

Marianne M. Jennings: Claire's life (POWERFUL!)





[ W O R T H 1 0 0 0 W O R D S ]

Mallard Filmore

World Editorial Cartoon Showcase: The view from ... Austria

Michael Ramirez

Lurie's World

Gary Brookins

John Deering

Wayne Stayskal

Gary Varvel

(Att. working columnists and editorial cartoonists: Think you have what it takes to be featured on JWR? Drop us a note. And readers: We're always open for suggestions!)



[ F A S T P O L I T I C S&nbsp ]








require ("t-ssi/rtorah.html"); ?>