[ J E W I S H L I V I N G ]
reality check
Why Israel must not withdraw
By Robert W. Tracinski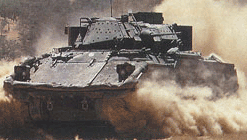 The conventional wisdom is that the Israeli occupation and resulting Palestinian "resentment" is the cause of the current conflict. This is the exact opposite of the truth. The massive escalation of the Palestinians' terrorist war actually coincides with the withdrawal of Israel's occupation.
Under the 1993 Oslo accords, Israel has spent most of the last decade pulling out of Palestinian territories and transferring control to Yasser Arafat. The result was not peace, but the creation of a Palestinian regime based on anti-Jewish terrorism.
perspective
Making sense of
Bush's Mideast actions
By Michael Kelly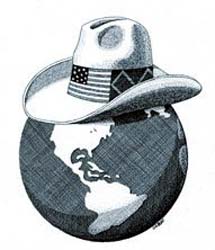 On April 4, George Bush gave a lecture to the Middle East in which he (already famously) said that he expected results. Given the results to date, it is tempting to look upon the president's demand as ill conceived and his nascent initiative as a failure. But the results Bush really expected were not exactly those he called for.
context
No chicken soup
for the Muslim hearth
By Suzanne Fields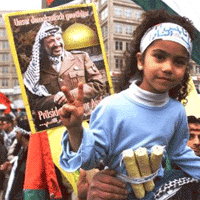 Mothers, according to Jewish tradition, are protective of their children. "No matter how many children parents have," according to a Yiddish folk saying, "each child is the only one they have."
Such attitudes may create pampered sons and Jewish princesses, but also mean that Jewish parents expect their children to live life to the fullest. It's inconceivable that suicide bombers could come out of such a culture. This is why the terrorists try to break the Israeli will by using their own children as suicide bombs, sending them to places where Jewish children are most vulnerable, in pizza parlors, malls, buses and at the Passover seder.
[ D A I L Y I N S P I R A T I O N ]



WISDOM EACH DAY:
Better is a near neighbor than a distant brother




[ L I F E S T Y L E S ]

Consumer Reports on JWR: Rating the elliptical exercisers

Dr. Peter Gott: Don't stop medicines without M.D. approval




[ I N S I G H T ]


Marianne M. Jennings: Claire's life (POWERFUL!)

Argus Hamilton's daily chuckle (ZINGERS GALORE!)


---
IN LATEST DOCTORED TAPE, OSAMA APPEARS AT LIZA MINNELLI'S WEDDING
Least Convincing Video To Date; Al Qaeda Special Effects Wizard Fired — Andy Borowitz
---
Art Buchwald: Conflict of Interest

Andrei Codrescu: Advertisers and poets exchange places

Michelle Kennedy: Yes, They're All Mine! (GREAT!)

Matt Towery: Alaskan battleground?

Bob Tyrrell: 'Conventional Wisdom' --- and those who defy it

Larry Kudlow: DEM-agoguery

David D. Perlmutter: To jump-starting the market, the animals need to be re-trained (SMART!)

Stanley Crouch: When it comes to race, we're all mixed

James K. Glassman: I'm a Seoul man

George Will: GM's Car Guy, in overdrive (DIFFERENT!)

Ann Coulter: Nine out of 10 Caribou support drilling

Cal Thomas: Byron White's life legacy

Thomas Sowell: "Good" teachers





[ W O R T H 1 0 0 0 W O R D S ]

Mallard Filmore

David Cox

Lurie's World

Bob Gorrell

Jeff Koterba

Gary Varvel

(Att. working columnists and editorial cartoonists: Think you have what it takes to be featured on JWR? Drop us a note. And readers: We're always open for suggestions!)



[ F A S T P O L I T I C S&nbsp ]








require ("t-ssi/rtorah.html"); ?>