[ J E W I S H L I V I N G ]
perspective
Truth about Israeli casualties is being ignored in this war
By Barbara Amiel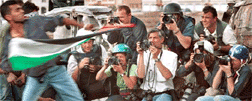 Frankly, were I the Israelis, I wouldn't bother with a semi-effective job of keeping the press out of the war zone. I'd offer directions -- the war is down that street, ma'am -- and see how the press likes finding itself in crossfire or booby-trapped buildings.
The media seem to have taken the vocabulary of a "theatre" of war literally, as George Jonas points out in his Ottawa Citizen column, and believe this is a production in which they should have a lead role. Never mind that many of them have been doing the work of Goebbels without bothering to wear the brown uniform identifying their agenda.
manipulation
How do you say 'media
bias' in Hebrew?
By Joel Mowbray
In a recent lead of a Page 1, above-the-fold story, the Washington Post stunningly announced that Israeli forces were pulling out of two "conquered" West Bank towns. Conquered?
Is the bias of the Post -- and other media -- so thoroughly ingrained that it can nonchalantly bandy about brazen words uttered only by fierce Palestinian partisans? Going town-by-town in the disputed territories to dismantle Arafat's terrorist infrastructure in a defensive effort can hardly be considered in the ilk of Spanish conquistadors plundering to acquire new land.
context
Holy sanctuary or terrorist shield?
By Diana West
A visit to Jerusalem's Temple Mount in the fall of 2000 by Ariel Sharon was enough to kick off this second Palestinian war of terror on Israel known as the Intifada. Or so the legend goes.
In fact, as even Palestinian Authority spokesman Imad Al-Faluji has stated on more than one occasion, Palestinian military action against the Jewish state was planned long before Sharon's "provocative visit" to Judaism's most holy site, which adjoins a site revered by Muslims as Haram-as-Sharif.
But imagine: If a mere day trip by Sharon into the vicinity of an Islamic holy site -- which, frankly, as Islamic sites go, ranks way below your Meccas and your Medinas -- could be considered reason enough to go to war, what about the armed Palestinian occupation, now into its second week, of one of Christianity's most sacred sites, the Church of the Nativity?
[ D A I L Y I N S P I R A T I O N ]



WISDOM EACH DAY:
Better is a near neighbor than a distant brother




[ L I F E S T Y L E S ]

Bruce Williams on JWR: Changing from rental to residential; keeping one's home after foreclosure

Dr. Peter Gott: Treatment for constipation; thoracic outlet syndrome




[ I N S I G H T ]



Dick Morris: Bush goes small bore

Argus Hamilton's daily chuckle (ZINGERS GALORE!)


---
SEGWAY CREATOR INVENTS 'ROUND THINGY'
Amazing New Invention Shrouded In Secrecy — Andy Borowitz
---
Jack Kelly: Logical Muslim allies

Paul Greenberg: Masterful indirection: an American tradition

Amity Shlaes: Special relationships and free trade do not mix

Laura Ingraham: While the cat's away....

David Limbaugh: Marching to one drummer

Kathleen Parker: Ought to be award for McKinney's idiotic 9-11 comments

Bob Greene: The odd new theory that news is old

Jules Witcover: Dems' open season on Bush

Tony Snow on the issues of the day

MUGGER: The home turf

Wesley Pruden: A pregnant pause
for breath-catching (OUTSTANDING!)

Don Feder: Road to peace runs over Arafat

Jonah Goldberg: Too many people are afraid of holding black politicians to the same standard as everybody else

Michelle Malkin: Sick: Kiddie suicide bomber chic

Walter Williams: America's biggest crook





[ W O R T H 1 0 0 0 W O R D S ]

Mallard Filmore

World Editorial Cartoon Showcase: The view from ... New Zealand

Lurie's World

Wayne Stayskal

Gary Brookins

Gary Varvel

Mike Shelton

(Att. working columnists and editorial cartoonists: Think you have what it takes to be featured on JWR? Drop us a note. And readers: We're always open for suggestions!)



[ F A S T P O L I T I C S&nbsp ]








require ("t-ssi/rtorah.html"); ?>