[ J E W I S H L I V I N G ]
washington diarist
A moment at the Mall: When "Jewish unity" was more than a slogan
By Josh Pollack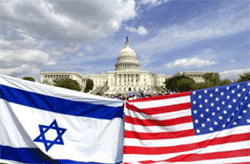 Some in attendance may have felt the need to show Israelis that they are not alone. Others, may have wanted to show the same thing to themselves. Togetherness was the order of the day, even if this meant overlooking a broad range of political and religious differences.
reality check
Mideast war exposes
'ugly Europeans'
By Mark Steyn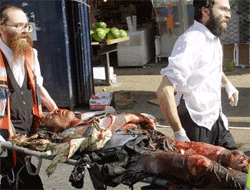 What have we learned from this last extraordinary month? Not much about the Middle East, but quite a lot about Europe.

What happens when Palestinian civilians strap on plastic explosives and head for Israeli pizza parlours? Europe says Israeli checkpoints for Palestinians are "humiliating." Palestinian Red Crescent ambulances permit themselves to be used as transportation for bombs and explosives -- and Europe attacks Israel for refusing them free movement. Documents are found signed by Arafat authorizing funding for a suicide bombing on a young girl's bat mitzvah, and members of the Nobel committee publicly call for taking back the 1994 Peace Prize -- from Shimon Peres. Synagogues are firebombed in France, Belgium and Finland, and the EU deplores the wanton destruction of property -- in Ramallah.






context
Our Vichy gamble


By Michael Barone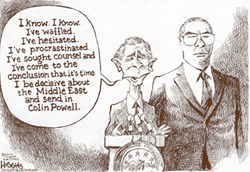 Sometimes in war it is good policy to treat enemies like friends. You may lack the resources to take them on directly. You may want to delay taking them on, or you may want to indulge the fiction that the enemy is neutral for a time. But such a policy is morally troublesome and can be difficult to maintain.
One example of treating an enemy like a friend was Franklin Roosevelt's relationship with Vichy France in the early days of World War II. Another example is George W. Bush's policy of sending Colin Powell to the Middle East.
[ D A I L Y I N S P I R A T I O N ]



WISDOM EACH DAY:
The mind's defensive maneuvers




[ L I F E S T Y L E S ]

Bruce Williams on JWR: Airline ticket prices can be tricky; Pay off our 30-year mortgage in approximately 15 years?

Dr. Ed Blonz: Is homeopathy for real?




[ I N S I G H T ]



John Ziegler: Congresswoman claims on-air that prez knew about 9-11 in advance and nobody seems to care!?

Argus Hamilton's daily chuckle (ZINGERS GALORE!)


---
OSAMA BIN LADEN, MULLAH OMAR TO APPEAR ON VH1'S 'WHERE ARE THEY NOW?'
Forgotten Evildoers Reap Ratings Gold — Andy Borowitz
---
Norah Vincent: Will folding Oprah's Book Club reverse the damage done to literature?

Dennis Byrne: Callous parents deaf to calls of common sense

Michael Ledeen: It's the war, stupid … someone remind Colin Powell

Leonard Pitts, Jr: 100 death-penalty mistakes and counting

Lenore Skenazy: Chats of a lifetime (GREAT!)

James K. Glassman: Analyze this

John H. Fund: 'I, Uh, I Have No Comment': A union plays dirty in opposing an antitax initiative

Linda Chavez: The mother of all IRS tax rip-offs

Betsy Hart: The politics of fertility --- and the right to have it all (EXCELLENT!)

Jack Kemp: Taxes and history lessons

Doug Bandow: The forgotten human right

Mort Kondracke: Powell Should Tell Arafat: 'It's Now or Never'

John Leo: Is pedophilia going mainstream?

Cal Thomas: Black and white, or shades of gray? (OUTSTANDING!)

Thomas Sowell: Another war created by pacifism





[ W O R T H 1 0 0 0 W O R D S ]

Mallard Filmore

Lurie's World

Joe Heller

Michael Ramirez

Gary Varvel

David Cox

Bob Gorrell

(Att. working columnists and editorial cartoonists: Think you have what it takes to be featured on JWR? Drop us a note. And readers: We're always open for suggestions!)



[ F A S T P O L I T I C S&nbsp ]








require ("t-ssi/rtorah.html"); ?>