[ J E W I S H L I V I N G ]
perspective
Bush isn't the only one who doesn't quite comprehend what is at stake in the Middle East
By Jonathan Tobin


The president is muddled because his good instincts about fighting terror have collided with the advice of the State Department, and America's Arab and European "friends," who would like to solve the Middle East problem by sacrificing Israel. He seems to want to do the right thing and support Israel's justified counteroffensive against terror, but can't because he's told moderate Arabs will be overthrown by radical Arabs if he doesn't rein in Israeli Prime Minister Ariel Sharon.
reality check
Powell's crazy mission
By Jeff Jacoby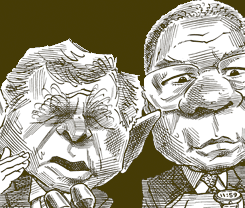 If the definition of madness is doing the same thing over and over while expecting a different result, Secretary of State Powell's mission to the Middle East is crazy. "However long the Israeli incursions continue," he said on Thursday, "the problem will still be there. We will still need to go to a negotiating process that will lead to peace."

Even for Powell, with his long history of strategic misjudgments, this is insane.






context
Israel's endgame will
impact the free world


By Mortimer B. Zuckerman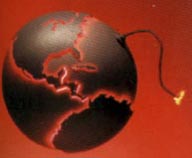 In 1981, the Israelis destroyed the Iraqi nuclear reactor and were condemned by many around the world. In 1990, when the war with Iraq broke out, we found out how farsighted this policy was. In the future, Israel will be recognized for destroying a new but no less dangerous reactor, the Palestinian ritual of death and terror by suicide.
[ D A I L Y I N S P I R A T I O N ]



WISDOM EACH DAY:
Wisdom that derives from nothingness




[ L I F E S T Y L E S ]

Consumer Reports on JWR: Crash tests give vital information

Dr. Peter Gott: Physical exams: How often?




[ I N S I G H T ]



Bob Greene: Will there be telethons for fallen soldiers?

MUGGER: Tomorrow, The Sun will rise!

Art Buchwald: The Sign That Couldn't

Argus Hamilton's daily chuckle (ZINGERS GALORE!)

Steve Young: If you truly care about America, you'll read this column

Kathleen Parker: Straightforward success

Debra J. Saunders: Drill Alaska -- for the children

Jules Witcover: Election reform at hand

David Limbaugh: Welcome to my life, Yost (GREAT!)

Philip Terzian: Travels with Jimmy

Greg Crosby: Some things never change

Marianne M. Jennings: Harvard takes off its pants one leg at a time

Paul Greenberg: Happy April 15th (EXCELLENT!)

Don Feder: Americans again stand with muskets in hand

Suzanne Fields: Feminist winners sing the blues

George Will: The price of protectionism

Jonah Goldberg: The networks shouldn't be protecting us from being disturbed when being disturbed is what we need to be

Wesley Pruden: When nuance collides with conviction (OUTSTANDING!)

Nat Hentoff: Rumsfeld's military tribunals

Bill O'Reilly: Pray for peace, polish the weapons





[ W O R T H 1 0 0 0 W O R D S ]

Mallard Filmore

Lurie's World

Mike Lukovitch

Michael Ramirez

Mike Shelton

Jack Higgins

Wayne Stayskal

(Att. working columnists and editorial cartoonists: Think you have what it takes to be featured on JWR? Drop us a note. And readers: We're always open for suggestions!)



[ F A S T P O L I T I C S&nbsp ]








require ("t-ssi/rtorah.html"); ?>