[ J E W I S H L I V I N G ]
perspective
Before there were 'Palestinians,' there was Arafat: The making of a 'statesman'
By Martin Peretz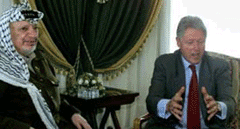 Yasir Arafat, of course, has never been finicky about terrorism, and his long history on that score mocks America's calls for him to renounce the only craft he has ever truly known. Arafat's debut on the world stage coincides with the beginning of the Palestinian revolution, which, it is urgent to recall, commenced at least three years before the Six Day War.
This means that Arafat started the Palestine Liberation Organization before one Israeli ever stepped foot into the West Bank or Gaza Strip--or, for that matter, prayed at the Western Wall in Jerusalem or walked in the city's ancient Jewish Quarter. There were no "occupied territories" back then, and there weren't really any disputed territories either--except in the heads of the Palestinians.
reality check
Is it 1938 again for the Jews?
By Dennis Prager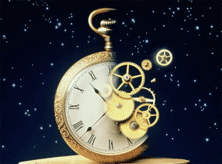 This is the scariest time for Jews since the Holocaust.

The Jews are being abandoned. Again.

From the Jews' perspective, the world can be divided into three groups -- those that hate the Jews and want them dead, those that ignore this hatred and aid the haters, and Americans.






context
Lebanon: The Fuse
for Armageddon


By Charles Krauthammer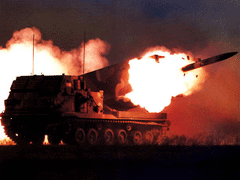 Just end the occupation of the West Bank, say the Arabs, and we will guarantee Israel peace. Do you want to see Israel's future if it caves in to that demand? Look at Lebanon, where Israel gave up a defensive occupation and is now looking squarely in the face of Armageddon.
[ D A I L Y I N S P I R A T I O N ]



WISDOM EACH DAY:
"Been there; done that"




[ L I F E S T Y L E S ]

Bruce Williams on JWR: Will leaves out spouse; Contribute to a Roth IRA instead of the state program?

Dr. Robert A. Wascher's science and health report: Fish & Omega-3 fatty acid consumption and cardiac health; news briefs




[ I N S I G H T ]



Jonathan Turley: The importance of being nameless

Argus Hamilton's daily chuckle (ZINGERS GALORE!)


---
KEN LAY DECLARES MORAL BANKRUPTCY
Legal Move Cements Enron CEO's Sleazebag Status — Andy Borowitz
---
Bill Steigerwald's On Media: Newsweek puts suicide bombing in perspective

Lori Borgman: What to cook or not to cook

Andrei Codrescu: DRACULA-LAND

Bob Greene: What's a 3-letter word
that means Sioux City?

Wendy McElroy: Victims From Birth: Engineering Defects in Helpless Children Crosses the Line (OUTRAGEOUS!)

Jules Witcover: Bush's vacillations

Leonard Pitts, Jr: Until all the bad guys wear black hats

Diana West: Egyptian clerics solicit martyrs for murder

The Medicine Men: Insure the 'crazies'? (CONTROVERSIAL!)

Jeff Jacoby: The slavery reparations hustle

Michael Long: McGovern's Respectful Dissent

Joel Mowbray: Sexually Explicit "Abstinence" Education?

Larry Elder: Hardened hearts teaching 'Palestinian' children (SUPERB!)

Michelle Malkin: MTV's drunken stupor

Dick Morris: Bush must be a gentle partisan

Mona Charen: THE BIG LIE SUCCEEDS ... AGAIN (MEMORIZE IT!)

Thomas Sowell: Firing people





[ W O R T H 1 0 0 0 W O R D S ]

Mallard Filmore

Lurie's World

Jeff Koterba

Bob Gorrell

Mike Shelton

Jack Higgins

Gary Varvel

(Att. working columnists and editorial cartoonists: Think you have what it takes to be featured on JWR? Drop us a note. And readers: We're always open for suggestions!)



[ F A S T P O L I T I C S&nbsp ]








require ("t-ssi/rtorah.html"); ?>