[ J E W I S H L I V I N G ]
perspective
Arafat has begun his countdown to oblivion. Now it's time to crush the Palestinian uprising
By Mark Steyn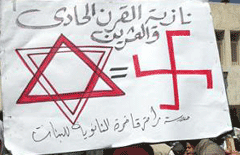 On September 19, when everyone was making Pearl Harbor comparisons, I stood at Ground Zero and thought instead of August 1914, and the Archduke's assassination - another terrorist act by a 'non-state actor', as they say, that wound up shattering four of the great empires. On the edge of that strange dustscape in Lower Manhattan, I wondered what this latest thread of history would unravel.

We're about to find out.
reality check
LIVE FROM RAMALLAH: The Theater of the Absurd
By Robert Tracinski
In the late 1940s, a group of playwrights started a movement called the Theater of the Absurd, based on the Existentialist notion that life is rationally incomprehensible. According to one description, practitioners of the Theater of the Absurd sought "to convey their sense of bewilderment, anxiety, and wonder in the face of an inexplicable universe."

Apparently, some of these playwrights are still alive and have been writing the script for recent events in the Middle East. Behold the Peace Process Theater of the Absurd, as broadcast live from Ramallah and Washington.






context
Intriguing questions on contemporary Mideast issues


By Yaffa Ganz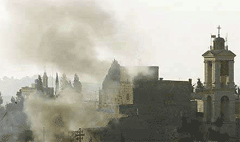 Between fifty and eighty (the reports vary) priests and nuns are being held hostage by Palestinian forces (all arms of the Palestinian Authority) in the Church of the Nativity in Bethlehem. Israeli forces have abstained from entering or attacking the building out of respect for Christian sensitivities plus the absolutely horrific reaction of the Vatican were (Jewish) Israeli forces to enter church property.
[ D A I L Y I N S P I R A T I O N ]



WISDOM EACH DAY:
Good double standards; How to emulate the Creator




[ L I F E S T Y L E S ]

Bruce Williams on JWR: Ramifications of quitclaim; rent and lifestyle; tenants by the entirety; Changing names on stock

Dr. Ed Blonz: Is guarana like coffee?; good way to avoid cholesterol and save money




[ I N S I G H T ]



Diana West: Defining terrorism down

Argus Hamilton's daily chuckle (ZINGERS GALORE!)


---
OPRAH CLOSES BOOK CLUB, OPENS PIE CLUB
Winfrey Expected to Become a Major Force in Pies — Andy Borowitz
---
Phil Perrier: Welcome back, Phil

Laura Ingraham: Preview of 2004: See how Dick runs! (WELCOME BACK!)

Bill Schneider: Politics Remain Stalemated

Joel Mowbray: A price on the heads of Americans overseas

The Medicine Men: No Time for Litmus Tests: In War We Need a Surgeon General and NIH, CDC, and FDA Directors (DIFFERENT!)

Bill Steigerwald: How polls distort the news, change the outcome of elections and encourage legislation that undermines the foundations of the republic

Debra J. Saunders: Tied up and Taliban

Betsy Hart: And now, breast-feeding rights?

James K. Glassman: The Dot.Con con game (SMART!)

Linda Chavez: What have we gotten for our efforts to appease so-called Arab moderates?

Jack Kemp: Arabs must take a stand against terrorism

Tony Snow on the issues of the day

John Leo: Enslaved to the past

Marianne M. Jennings: The Clinton legacy: Politics of personal destruction (OUCH!)





[ W O R T H 1 0 0 0 W O R D S ]

Mallard Filmore

Lurie's World

Jeff Koterba

Mike Lukovitch

Mike Shelton

Michael Ramirez (WOW!)

John Deering

Gary Varvel

(Att. working columnists and editorial cartoonists: Think you have what it takes to be featured on JWR? Drop us a note. And readers: We're always open for suggestions!)



[ F A S T P O L I T I C S&nbsp ]








require ("t-ssi/rtorah.html"); ?>