[ J E W I S H L I V I N G ]
perspective
Passover offers hope
to each generation
By Don Feder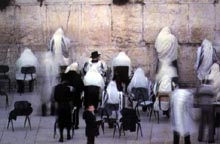 In a world of tragedy and terror, suffering and fear -- Passover's message is a life-preserver for the soul: the Creator is here. He cares. Though the wicked may flourish for a day, ultimately evil will be vanquished.
l'chaim!
The Promised Land



Jordan "Gorf" Gorfinkel's Jewish Gen-X strip, exclusively online at JWR




CONTROVERSY!
A Muslim plea for introspection


By Irshad Manji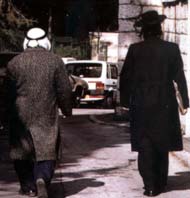 An impassioned plea from a highly regarded Muslim broadcast journalist -- a product of a madresa religious school -- about the need for the Islamic community to confront its haters.
"Instead of acknowledging that there's a serious problem with the way our religion is practiced ... we romanticize Islam. The peer pressure to stay on message -- the message being that we're not all terrorists -- seduces us into avoiding the most crucial of jihads: introspection." (ATT. TALK-SHOW HOSTS: GIVE THIS COURAGEOUS WOMAN FACE AND AIR TIME!)
[ D A I L Y I N S P I R A T I O N ]



WISDOM EACH DAY:
Biblical psychological insights into child rearing




[ L I F E S T Y L E S ]

Consumer Reports on JWR: Finding the best deals on new cars

Dr. Ed Blonz: Watch out for scams; Jordan Almonds




[ I N S I G H T ]



Frank Gaffney: First principles in the Mideast

Michelle Malkin: Another lesson in Rioting 101(UPDATED!)

Mona Charen: A Sickening Respect (UPDATED!)

Thomas Sowell: The great meeting expose (UPDATED!)

Richard Z. Chesnoff: Sharon had to declare war (UPDATED!)

Argus Hamilton's daily chuckle


---
BASEBALL PLAYERS STRIKE
Demand 'Extra Payment' For Running to First Base — Andy Borowitz
---
Joel Mowbray: Bush's New Version of Compartmentalization

Thomas H. Lipscomb: Filipinos battle for Americans' ransom (YOU READ IT HERE, FIRST!)

Michael Ledeen: Faster, Please: The war falters

Michael Long: The Right to Do Wrong: The Creator, A Clockwork Orange, and war

The Medicine Men: The scoop on soot: A dirty rotten shame?(DIFFERENT!)

Norah Vincent: Where There's No Big Deal Over Flag-Waving

Diana West: Acting, equality and the Academy

Paul Greenberg: Fidel and friends

Julia Gorin: Comfort measures

John Ziegler: Calling All White Males

Bob Greene: 'No, no, please, that's for hitting people' (OUTRAGEOUS!)

Jonah Goldberg: Media, government rationalize Mideast violence

Don Feder: Alice and the White Rabbit lead Israel to ruin (OUCH!)

Larry Kudlow: Riding on Volcker's wagon

John Leo: Bogus bias at MIT

Nat Hentoff: Liberal bias in the media?

Mort Kondracke: Lack of soft money hard on campaigners

Jack Kemp: Nuevo dependencia and world government

Chris Matthews: An American night

Walter Williams: Jiving us about security

Cal Thomas: The Middle East fantasyland





[ W O R T H 1 0 0 0 W O R D S ]

Mallard Filmore

Lurie's World

Gary Brookins

Mike Lukovitch

Michael Ramirez

Bob Gorrell

Gary Varvel (EXCELLENT!)

(Att. working columnists and editorial cartoonists: Think you have what it takes to be featured on JWR? Drop us a note. And readers: We're always open for suggestions!)



[ F A S T P O L I T I C S&nbsp ]








require ("t-ssi/rtorah.html"); ?>