[ J E W I S H L I V I N G ]
first person
Men in Black: A Passover
tale of fish and family
By Helen Teitelbaum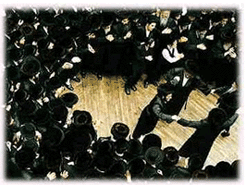 The writer, today an observant Jew, recalls a special Seder with Jewish royalty --- her own distant relatives. An intriguing essay on assimilation, in-fighting and reconciliation.
perspective
The Promised Land



Jordan "Gorf" Gorfinkel reminds us that the Middle East situation should be an open-book.




efrat diarist
'Good neighbors' til the very end


By David Bedein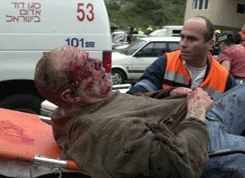 In January, without warning, Moscow's Channel One filmed the Arab villages near Efrat, expecting to hear stories about the "Israeli occupation" and tensions between the small Arab village and the 16 expanding Israeli Jewish settlements of Efrat and the Etzion Bloc. The Russian TV crew heard the opposite message --- only praise for the Jews there, and seething anger against Arafat and the "PLO occupation" of their fellow Palestinian Arab brethren in the Bethlehem region.
Family after family in these Arab villages told Russian TV that they were getting the best medical treatment possible from their Jewish friends in Efrat, while their families in Bethlehem had to bribe officials just to get the basics of treatment from the PA. They also spoke with pride about the school we had built for them.
It would seem that the PA was watching. (ATT. JOURNALISTS: READ THIS FIRST!)
[ D A I L Y I N S P I R A T I O N ]



WISDOM EACH DAY:
"There are things that are crooked that cannot be made straight."




[ L I F E S T Y L E S ]

Bruce Williams on JWR: Resume tips; rental formula

Dr. Robert A. Wascher's science and health report: Pre-diabetes: a newly defined category of health risk; teen television viewing and subsequent aggressive behavior; the benefits of strength training in the elderly; more ...




[ I N S I G H T ]


Wesley Pruden: Fear but no peace in a handful of dust

Argus Hamilton's daily chuckle (ZINGERS GALORE!)


---
LAUGHTER NO LONGER THE BEST MEDICINE
Bumped From The Top Spot By Red-Hot Antidepressants — Andy Borowitz
---
Greg Crosby: Choices (EXCELLENT!)

Michael Barone: Europeans for the U.S.

Jules Witcover: Energy: corporate or political scandal?

Jack Kelly: Why is the commander of U.S. Central Command not coming clean to the American people?

Suzanne Fields: What to do when 'I Do' becomes 'I Don't' (SUPERB!)

David Limbaugh: The tyranny of the majority

Kathleen Parker: Jesse Jackson: Man of the moment, nation of one

Debra J. Saunders: Schools, yes; fat police, no

Bob Greene: 'I didn't know how to clean the furniture' (OUTRAGEOUS!)

George Will: 'Reforming' Free Speech

Steve Young: My Uncle Miltie

Michelle Malkin: America's sex scandal (SENSITIVE SUBJECT!)

Larry Elder: The "B" word and disrespect

Bob Tyrrell: A McCain-Feingold Act for Hollywood

Dick Morris: Only Internet will bring real campaign finance reform (DIFFERENT!)

Ann Coulter: I like black people too, Julia!

Mona Charen: This would be news

Thomas Sowell: Foreign "aid"





[ W O R T H 1 0 0 0 W O R D S ]

Mallard Filmore

Lurie's World

David Cox

Jack Higgins

Michael Ramirez

Mike Shelton

Gary Varvel

(Att. working columnists and editorial cartoonists: Think you have what it takes to be featured on JWR? Drop us a note. And readers: We're always open for suggestions!)



[ F A S T P O L I T I C S&nbsp ]








require ("t-ssi/rtorah.html"); ?>