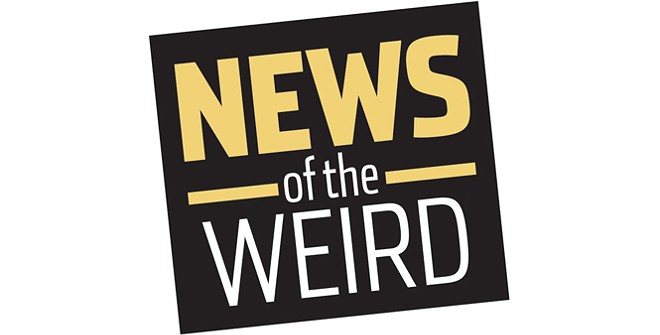 •
Dennis Palmer, 31, appeared to be guilty of more than TMI on Jan. 10 when police were called to a Walmart in Stuart, Florida. TCPalm.com reported that Palmer was in the pillow aisle when he was seen exposing and touching himself inappropriately. Palmer told police "he was just itching himself because he has crabs."
But surveillance video recorded Palmer indulging in "rubbing" and activities other than scratching; "this continued for several minutes," the affidavit stated.
When police asked Palmer what he was thinking, he replied that "he wasn't thinking, but he should have been thinking." He was jailed for exposure of sexual organs. [TCPalm.com, 1/22/2019]
• When a 33-year-old unnamed Irish man was admitted to a Dublin hospital with swelling in his right forearm and a rash, he surprised the attending physician with the "cure" he had been using for his back pain. For a year and a half, reported Canoe.com on Jan. 16, the man had been injecting his own semen into his right forearm. X-rays revealed a pool of the fluid under his skin, which had become infected. "He had devised this 'cure' independent of any medical advice," noted Dr. Lisa Dunne in the Irish Medical Journal.
He also told Dr. Dunne that his back pain had worsened after lifting a heavy metal object. [canoe.com, 1/16/2019]