Please come pick up your acting awards, ESPN commentators, you've earned them
By Jim Mullen





http://www.JewishWorldReview.com | They say over a billion people will watch the Academy Awards this year. Which is why it's so sad that the best acting of this, or any other year, wasn't nominated. The awards should go to those in the media who acted surprised to find that superstar athlete Tiger Woods was fooling around on his wife.

Any sports reporter who has been in the locker rooms, who has traveled on the team airplanes and buses, who knows all the wives and the serial girlfriends, who sees the groupies sitting in the lobby of the hotels where the teams stay on road trips, and still has the chutzpah to act surprised deserves an Oscar. Robert De Niro would have a hard time with this role.

There are high-school quarterbacks who have to fight off groupies, so who exactly is supposed to be shocked, shocked I say, that the most famous athlete in the world would have them? Watching the press denounce Tiger Woods was like watching a bunch of pole dancers denouncing a stripper for not living up to their high moral standards. Maybe Tiger was more randy than some professional athletes, which is hard to believe if you've read Wilt Chamberlain's autobiography, or perhaps he was more adept at it than others. But shedding crocodile tears and bemoaning the "damage" he's done to the sport of golf is something that should only be said if there is a laugh track behind it. The only damage Tiger's done to the sport of golf is to stop playing it while he gets his act together. The average fan wants to watch golf without Tiger like they want to watch "Avatar" in 1-D.

It's funny, I don't hear a lot of pro athletes dissing Tiger. I wonder why? Is it because maybe, just maybe, they're doing the same exact thing? The only thing that's saving their rear ends is that the press only cares about the No. 1 golfer in the world. No one gives a rat's tail what the 18th best golfer in the world is doing. He could be caught sleeping with Osama bin Laden's pet goat, and no one would ask him to apologize. Not even the goat.

Why should Tiger apologize to anyone but his wife for things that less famous, less talented men brag about all the time to their buddies while they are out playing golf, safely out of the hearing range of their wives? There are people who think men will straighten up and fly right once they get married. There's a word for those people: divorcees.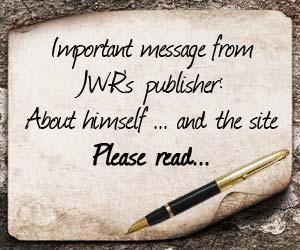 Rock stars and movie stars (except Hugh Grant) don't ever apologize for having countless groupies, affairs and marriages. But golfers, televangelists and politicians are required to. Who wrote these rules about who should apologize to whom and how? Where can one find this list? If a sports reporter cheats on his wife, should they have to make public apologies at a press conference?

In every golf league foursome, there is always some clown trying to hit on the cute high-school girl who is driving the refreshment cart to save up for college. Every shot he misses, he curses. He throws clubs, and he drinks a six-pack of beer. After the round, he goes to Hooters and tells anyone who'll listen what a bum Tiger is. Then he calls his wife and tells her he's stuck in traffic. No one ever calls him out on his foul behavior. But if Tiger did it ... Please come pick up your acting awards, ESPN commentators, you've earned them.
Every weekday JewishWorldReview.com publishes what many in the media and Washington consider "must-reading". Sign up for the daily JWR update. It's free. Just click here.
Comment by clicking here.
Jim Mullen is the author of "It Takes a Village Idiot: Complicating the Simple Life" and "Baby's First Tattoo."
Previously:

You've been superpoked by the U.S. gov't
e-Readin', e-Writin' and e-Rithmatic
A pose by any other name
Warning: Column contains 2010 spoilers
'He loves only gold, only gold'
Think about direction, wonder why …
Flushing your money down a diamond-studded toilet
More like 'wack' Friday
The good, the ad and the ugly
The desert of the real
Let books be large and in charge
I was insulting people way before the Internet
GPS drill sergeant: Left, right, left!
Butterfly in the sky, you make winds go twice as high
Music to my ears it's not
You don't light up my life
Fair or not: Country living is far from 'Little House'
A parable for the 'ages'
Top 100 Cable news stories of the century
Green dumb
A developing story
Thinking outside the lunch box
What's good for the goose is good for the scanner
Newspapers will survive, but network TV?
A really big show of generation gaps
When pigs flu
The reports of our decline have been greatly exaggerated
Mergers and admonitions
Invest in gold: little, yellow, different
Stuck in Folsom Penthouse
Collecting karma
Setting loose the creative 'juice'
It's all in the numbers
You're damaging your brain with practical skills
The real rat pack
The unspeakable luxury of the Park-O-Matic
Gross-ery shopping

© 2009, NEA