Jewish World Review April XX, 2004 / XX Nissan, 5764
Tradition is more than a song — especially on Passover
By Israel Zucker


http://www.jewishworldreview.com | "The whole upstairs is already Pesach'dik [cleaned for Passover]!" my six-year-old daughter exclaimed with an excited grin, upon returning home the other night. She was vigorously brushing her clothes with her hands to make sure no hints of supper — foods that in a few days will become no-nos, crusty knishes and breaded chicken nuggets, — trailed behind her as she went up to bed.

My wife smiled at me as I entered the kitchen, her expression was tired but satisfied. "Next we're doing the playroom. The children will clean all their toys, and then we'll clean out the games' closet and the toy chest. Then we do the dining room, which means that next Shabbes [Sabbath] we already eat in the kitchen. After Shabbes, all we'll have to do is the kitchen, which is, of course, the biggest job of all. Thank goodness for the new Pesach kitchen!" She stopped to catch her breath.

This, of course, is "Passover Cleaning". It happens every Spring in hundreds of thousands of Jewish homes the world over. It's all a grand effort to rid the house of chometz, foods containing leavened dough, which Jews are biblically proscribed from eating, or even possessing, on one's premises, during the holy week.

Easy it isn't. It came as no surprise to me, then, when my ten-year-old daughter, Tzivie, asked why we just don't lock up the house and spend the holiday in a hotel. She'd seen the ads in many of the Jewish papers for hotels offering an "authentic Passover experience," complete with non-gebrokts meals, a common Chasidic stricture, for those who so desired. Wouldn't that save us so much time and energy?

I had to admit that, yes, it was actually an enticing idea. But, no, it simply wasn't doable. We will experience Passover the way our parents and grandparents did, and the way our ancestors have been doing it for generations: Sitting around our family table in our family home.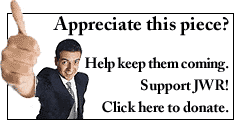 If it could be said that Passover is about one thing, I went on to explain to my daughter — who looked longingly at the pile of unread library books she'd rather be reading than listening to my sermons — it's Tradition.

Not surprisingly, customs and traditions evolved over the past centuries into an entire set of rules to make sure there isn't a chometz crumb in sight when we usher in the holiday. Those customs might vary with each community, and sometimes even with each family. In our Chasidic community, an important element of Passover is to have the house cleaned and scrubbed the weeks before, and to have all Passover foods prepared within one's own family kitchen.

The previous Rebbe of Skver, Rabbi Yaakov Yosef Twersky, explained the importance of our Passover traditions this way: He asked, is it possible to be sure that even the tiniest speck of chometz doesn't get into our food? Of course not, he said. But if we stick to our traditions we will be doing the best we can — and in return we'll merit Heavenly assistance in the task of avoiding stumbling.

Of all the Jewish holidays, Passover represents the passing along to our children the story of our people and our faith. The Seder, with all of its rituals and ceremonies, make children its focus. It is they, after all, who ask the Four Questions; the Haggadah reading is formally a response to those questions, and, of course, no child would forgo the Afikomen bargaining — a chance to haggle with dad over the price of an important piece of matza, which is, ultimately, cashed in for a prize. It's a game instituted just to keep the child awake with anticipation.

In fact, there is an explicit biblical command, Ve'higadeta Le'vincha, "and you shall tell your child," emphasizing the child's role in the Seder ceremony, and the Haggadah itself devotes a significant portion explaining the nuances of telling the Passover story to children of various inclinations.

According to Chasidism, the night of Passover is a uniquely qualified occasion for instilling in our children's hearts and minds the faith in G-d and His Torah and the commitment to our traditions and values. The saintly Rebbe of Apta tells us that a unique spiritual light shines into the world on Passover night, and the hearts of all Jewish children are open to accepting the message of the Divine's greatness.

And of course, we shouldn't neglect the child within every one of us. The Chasidic masters tell us that Passover is a time for all of us to become children and ask the Seder questions of our Father in heaven. We must ask Him to perform the mitzvah, religious duty, of telling to the children, and he should instill in our hearts the faith, love, and devotion to His service.

The Maggid of Koznitz tells us that each year on Passover, the Exodus occurs if only we let it. The spiritual liberation that accompanied the physical liberation is here for all of us who wish to connect to it.

So we clean and wash and scrub. We stock up on eggs and potatoes, the traditional staples of Passover. We bake the hand-made matzos. We wipe the stinging tears from our eyes while we grate the horseradish for the bitter herbs. And when we recline at the Seder table on Passover night, we know we've at least done our best by clinging to our traditions, and we hope and pray to be faithful transmitters of those traditions to our children and to future generations.
Every weekday JewishWorldReview.com publishes what many in Washington and in the media consider "must reading." Sign up for the daily JWR update. It's free. Just click here.
JWR contributor Israel Zucker is the nom de plume of a thirty-something Chassidic Jew living in upstate New York. Comment by clicking here.
© 2004, Israel Zucker