If 'liberal politics' says it's not okay to be pro-Israel, then the problem is with liberal politics, not Israel
http://www.jewishworldreview.com | A generation ago, Jewish students stormed the citadels of American Jewish power, intent on changing the way our institutions did business.

The focus of the Jewish students of the 1970s was on getting a tired and disengaged organizational world to speak up about the plight of Soviet Jewry, and to infuse more Jewish sensibilities and practice into the arid and elitist alphabet-soup groups that composed the establishment of that time. Jewish kids wanted action and bold leadership.

Though it was often hard to discern then, the protests were heard, and, over the course of time, had a tremendous impact on Jewish life in this country. What are Jewish students complaining about today?

To listen to some of the young people I met at the annual plenum of the Jewish Council for Public Affairs this week, you'd think their main problem is just the opposite — they believe the organized Jewish world is pressuring them for more activism than they find comfortable.

To be more specific, what they are uncomfortable with is what they perceive as a mandate to march in lockstep with the Israeli government and to be gung-ho supporters of anything undertaken by the Jewish state.

An unscientific poll of students who attended a session on how groups should deal with dissent on Israel seemed to indicate that they felt themselves particularly queasy about unapologetic advocacy for Israel. I'm not sure that these kids were that representative. Yet it was significant that many of those I talked with felt that Hillel, the main focus of Jewish life on campus, was too Israel-centric. As one young campus activist put it, students needed a "safe place" to be Jewish that didn't necessarily include support for, let alone advocacy for, Israel.

But even for those who didn't wish to divorce themselves from Israel, a distinct distaste for anything that smacked of allegiance to the position of the government led by Ariel Sharon rippled above the surface.
PRESSURE TO CONFORM
What they wanted was the freedom to express opposition to policies such as the security fence and settlements, and what they consider harsh treatment of Palestinians by Israel.

Their point was that American college campuses are places where hostility to Israel runs deep. So in order to influence those who are not already supportive of Israel — a group that may well include the majority of Jewish students — what they need to do is to soft-pedal advocacy and make it clear that they stand apart from the "hard-core" Jewish position.

Yet interestingly, the culprit for them was not the atmosphere of bias against Israel but what they consider an oppressively pro-Israel agenda that was being foisted upon them. As one participant in the panel on this topic put it, there was "a lot of pain" expressed by these students.

I can sympathize to a certain extent with their dilemma. But only to a point. Because if these kids think they are feeling pain, how would they characterize the emotions of an Israeli people that has undergone 31/2 years of a Palestinian terrorist war that has taken nearly 1,000 Jewish lives?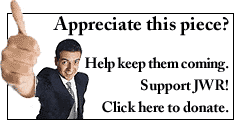 I don't doubt that advocacy for Israel can help isolate them at school.

Nobody wants to be considered hopelessly out of touch with the spirit of their own time. But my not-very-comforting response to these students is that sometimes, that's just what the situation requires.

As one young woman pointed out, the dominant "liberal politics" of the campus "dictates it's not okay to be pro-Israel." My response is that if that is true, then the fault lies with campus "liberal politics," and not with Israel. Even more to the point, I have to wonder why some of these students feel that the only way they can successfully engage the virulent opponents of Zionism at their schools is by joining in the chorus of criticism of Israeli policies.

Israel is an imperfect society, and its politics are rife with all of the usual corruptions and inefficiencies that bedevil any democracy. It has its own diverse political culture, and there is nothing said here about it that isn't a distant echo of some internal Israeli debate.

But none of those concerns have anything to do with the basic argument of the Arab-Israeli conflict: whether or not the Jews have a right to live in peace and sovereignty in their ancient homeland. And it is that point — and not the disputes about the legality of settlements and the location of a security fence — that are at stake here.
WHAT KIND OF DIALOGUE?
If the only kind of Jewish state that a student can support is one that is perfect — or at least in conformity with the sensibilities of the American political left — then what we are effectively saying is that it isn't possible to support any kind of Jewish state.

And why is it that Israel's campus foes are not similarly inclined to note the shortcomings of the Palestinians?

If a Jewish student wishes to engage in dialogue with a pro-Palestinian group, then I say, by all means, speak out about all of your criticisms of Sharon and Israel. But do so only if your dialogue partners are willing to stipulate that the Palestinian Authority is a corrupt, terrorist mafia that routinely abuses the human rights of its own people.

If they are not willing to do that, and if, in fact, they take the position that Israel has no right to exist as a Jewish state, I have to ask why any Jewish student feels the need to establish common ground with them.

And the idea that Jewish organizations are pressuring these students is farcical. The truth is, groups like Hillel welcome anyone who wants to connect with other Jewish kids, with no Sharon loyalty pledges required. The real pressure being felt by some of these Jewish students is the need to conform to left-wing campus fashion.

Despite what I heard from some at the plenum, I still think most Jewish students want to embrace Israel and are willing to speak out in its defense. Those who are unafraid to speak out against the lies and invective of the anti-Israel crowd, even when this faction is led (as it is, more often than not) by faculty rather than other students deserve every bit of help we can give them. As for the pain felt by those whose views keep them on the sidelines of the debate, I say get over it.

Or even better, start questioning your own political assumptions.